You can find a lot of vinyl turntables on the market today, but choosing something that fits your parameters and budget is often the most complicated task. Therefore, I present to you the best turntables under $300 review, which can be a great option if you decide to replace your cheaper device or if you buy it for the first time but are looking for a worthwhile deck for affordable money. Trust me, turntables in this price segment can offer you quality sound without the fear of damaging your vinyl collection. So it will be interesting!
Our pick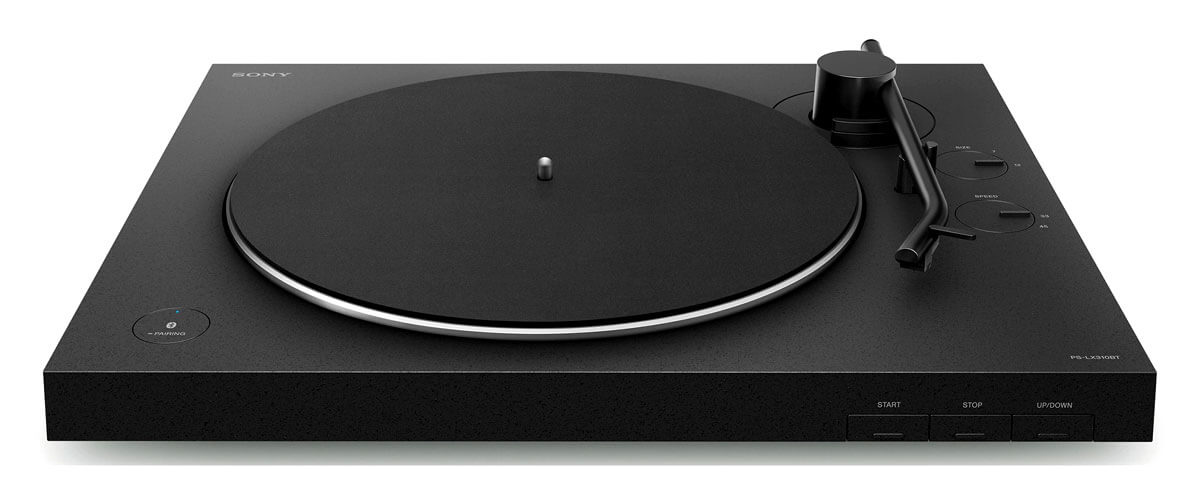 Sony PS-LX310BT
Best record player under $300
With the PS-LX310BT record player, you can enjoy clear, natural sound, whether you're reliving your favorite LP or sharing a stunning reissue with the family.
Read the full review
.
Turntable under $300 comparison table
Name
Drive type
Operation type
Speeds
Phono Pre-Amp
Bluetooth
Review
Sony PS-LX310BT

best overall

belt
fully-automatic
33 1/3, 45
yes
yes
Review
Audio-Technica AT-LP60X

budget

belt
manual
33 1/3, 45
yes
no
Review
Electrohome Kingston 7-in-1
belt
semi-automatic
33 1/3, 45, 78
yes
yes
Review
1byone H009
belt
manual
33 1/3, 45
yes
yes
Review
Are turntables under $300 worth their money?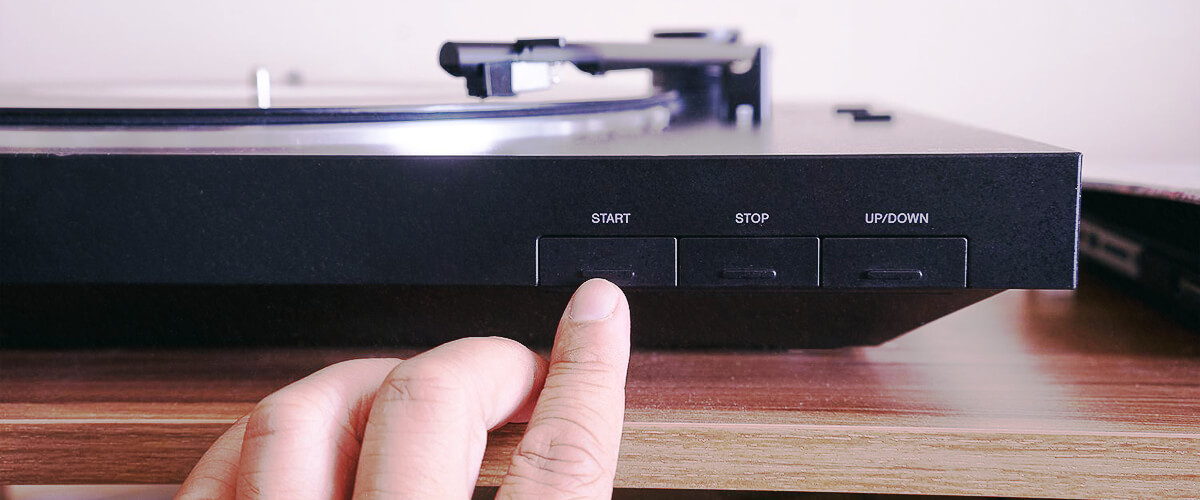 You might ask yourself, why not buy a cheaper vinyl turntable? What is so special about vinyl players under $300 that you can't find in players under $200? There is not much difference in cost! But it is considerable in quality, I'll answer you.
The turntables for $300 really have better components than the economy-class models, which means they are more durable. In addition, the build quality, manufacturing materials, and parts significantly impact the sound and integrity of your records. For example, the record player's plinth, platter, and feet will affect the sound's stability, while the cartridge and stylus will affect the quality of sound extraction. Quite a good component base is used in this price segment.
Of course, top turntables are pretty expensive, but everyone has their own financial means, and turntables under $300 are a very good option for those who don't want to risk buying expensive stuff out-of-pocket right away.
Of course, all decks are different, and so are the manufacturers. That's why I offer you a list similar in quality but very different in functionality, great affordable turntables, which in my opinion, can serve you well!
Best record player under $300 reviews
Today I bring to your attention the Sony PS-LX310BT review. It is a mid-priced player that takes into account all the needs for easy installation and use. Moreover, Sony has long been a mark of quality in modern technology production, which means you are supposed to hope for a really good product. Let's see if this is true.
Design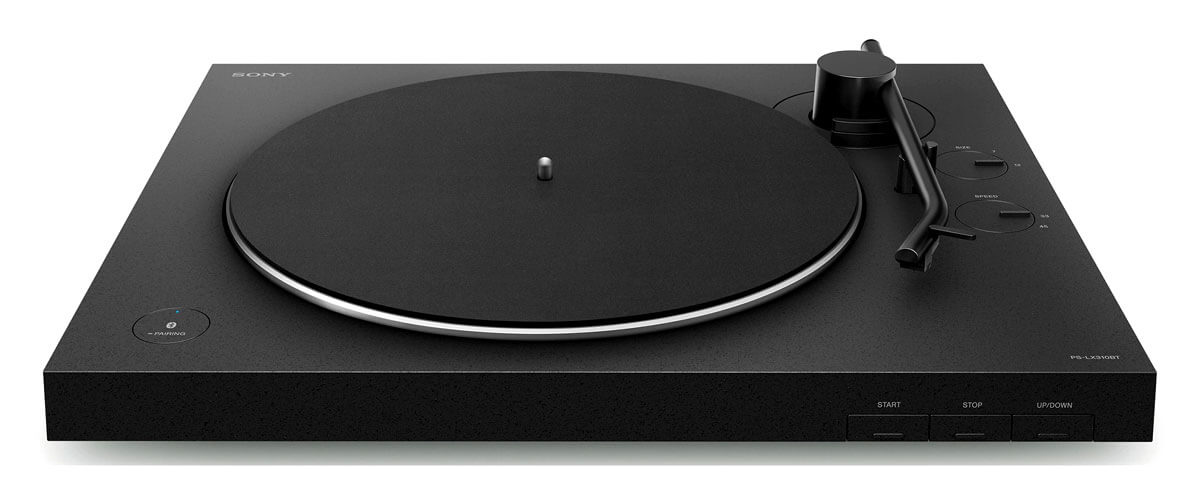 Weighing approximately 7.7 pounds, the record player is a rather elegant device made of black plastic. An understated style, suitable for any room. All the buttons and controls are also located on the cabinet, so you don't have to look all over the enclosure for the needed controls. Everything is simple: start, stop, gear shift, as well as switching the size of the used records (7" and 12") and the tonearm control button. I don't see the difficulty in controlling the tonearm manually, but full automation means you don't do anything by hand (except set the record).
To the touch and appearance, the deck doesn't look cheap, though it rather gives the impression of having been produced somewhere in the 90s of the last century. It's even nice. An 11.65-inch cast aluminum disc and a dust cover complete the design.
Features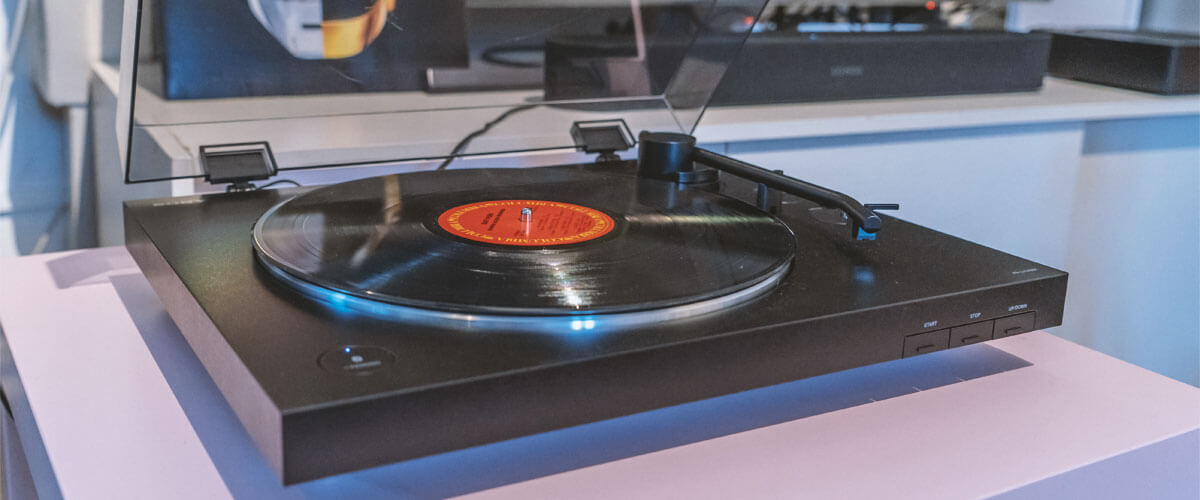 The Sony turntable is simple not only in exterior design but also in setup. All you have to do after taking it out of the box is install the belt, motor pulley, and platter. All settings are already in order, including anti-skating and downforce of the already built-in cartridge as well. The Moving Magnet cartridge is easy to replace or install - it's removable. Records can be played at 33 1/3 rpm and 45 rpm. I should point out that the materials for this model are inexpensive and fragile, so handle them gently.
The PS-LX310BT comes with a built-in phono stage. Of course, for this price, you shouldn't expect something fantastic from it, but the manufacturer tried to make a fully automatic "plug and play" vinyl player. So the phono preamp is more of a plus. The more so is that you can always connect an external one with the RCA cable, which is included in the package, through the phono output on the deck's rear panel.
I consider the USB Type-B output jack and the Bluetooth feature to be a nice bonus. Although I'm not a fan of digitized sound, it's still a plus for those who prefer to listen to music on headphones but don't want to be tethered to the source by a wire.
Sound
As for the sound, as you have guessed, you should not expect anything supernatural or highly professional. The parts on which the sound depends are inexpensive and not of the highest quality. But if you know about sound and want to improve its detail, it is worth spending a little money on upgrading, and the system will sound in a new way. For example, a good external phono preamp and a more advanced cartridge will change the situation beyond recognition.
On the other hand, if you are not a professional, you will be satisfied with the sound in the standard package. In fact, the PS-LX310BT produces a tight, rich, clear performance. I did not hear any noticeable perceptible crackling or buzzing. The sound is stable, with a wide range of musical colors. As a musician, I missed the detail, but I think the turntable is up to the task for its segment.
Key specs
Drive type: belt.
Operation type: fully-automatic.
Speeds, RPM: 33 1/3, 45.
Phono Pre-Amp: yes.
Phono out: yes.
Speakers: no.
Bluetooth: yes.
USB: output port Type-B.
AUX: no.
The Sony PS-LX310BT is the best overall turntable under $300. This lightweight, elegant turntable will provide you with a standard stable sound with a wide range of musical colors. In addition, you will have the opportunity to upgrade some of its parts and improve its capabilities.
Pros
Built-in phono stage.
Fully automatic "plug and play".
Bluetooth and USB Type-B output jack.
Cons
The plastic case is not the most rugged.
Audio-Technica AT-LP60X – budget
In this Audio-Technica AT-LP60X review, I will examine a turntable, an advanced version of the previous AT-LP60 model. It is an inexpensive deck with some interesting features worthy of attention. So let's take a closer look at it.
Design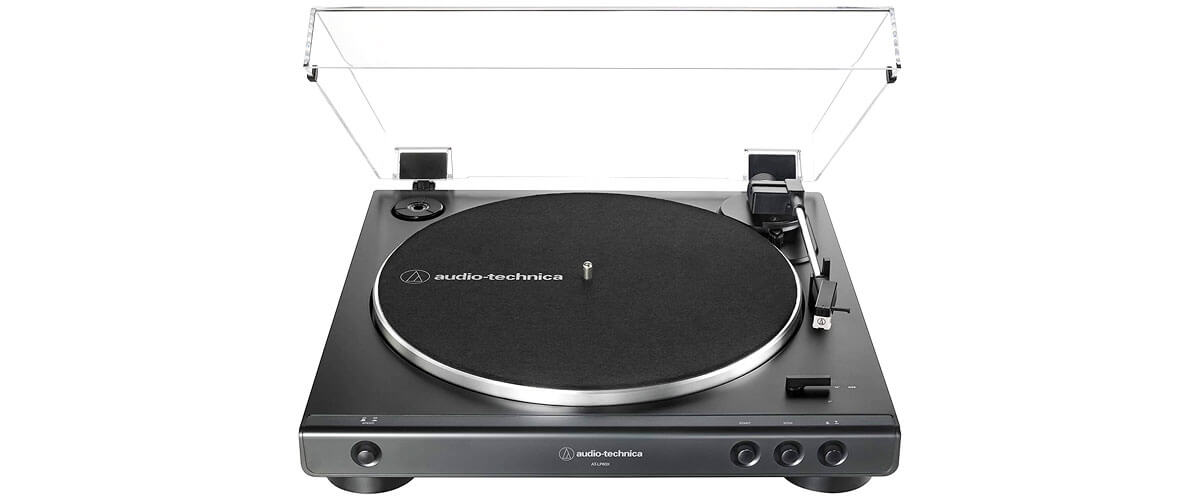 The fully automatic record player weighs only 5.6 pounds. The line has four colors, but only the front panel is different: Black, Red, Brown, and Gun Metal. Nevertheless, you can choose the one that fits your interior better. Of course, the weight of the AT-LP60X suggests that the body material is plastic. The deck doesn't look cheap, and it's stylish and easy to move around the room. The round start, stop, and gearshift buttons on the front panel add elegance. They are not distracting and make it easy to use.
A dust cover is included, which is always a bonus for me because you don't have to worry about cleanliness and minor external influences on fragile parts. The cast aluminum disc, as well as the redesigned tonearm base and headstock, provide tracking and resonance reduction. The tonearm is straight and lightweight, and there is a handy plastic holder on the panel.
Features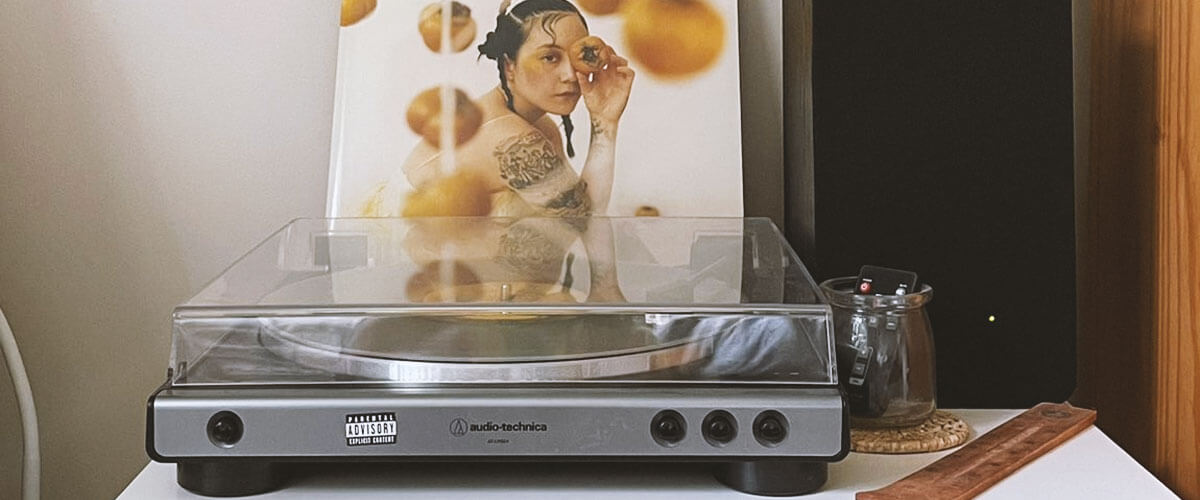 The AT-LP60X turntable is very simple. It has a belt drive, but the 33-1/3 rpm, 45 rpm switching is done by a button on the panel. So you don't have to remove the plate, and you don't have to shift the belt manually. The servo-controlled DC motor isn't noisy and doesn't interfere with listening to your favorite tracks. And the AC adapter provides AC/DC conversion outside the cabinet, reducing noise in the signal circuit.
The AT-LP60X comes with a built-in phono stage. So no additional instant spend is required, which is important if you're counting on "plug and play." But if you're not satisfied with the quality, you can always buy an external preamp and create your own audio system to your preference. There is a PHONO/LINE switch button on the rear panel for this purpose.
A built-in Dual Magnet phono cartridge with an interchangeable diamond stylus (ATN3600L) is also included with the turntable. But it can also be replaced by your choice. You'll also find a removable RCA output cable (3.5mm to two RCA connectors) and a 45 RPM adapter.
Sound
Of course, this model is not a professional deck and is unlikely to appeal to advanced audiophiles. But if you want to own a turntable, and have a limited budget, believe me, it is a decent value for money. The AT-LP60X plays records well. Some users complain that it doesn't like 10" records, but I haven't tested it. I didn't test it for too long, and it lived up to my expectations of the sound of an inexpensive deck. The balance and timing are pretty good. The dynamic range is capable of surprising. The lower and upper frequencies sound quite clean, with no hum or ringing. You probably will not hear clear detail, but the overall picture is very good. In addition, you can always buy an external phono preamplifier, which can positively affect sound quality.
Key specs
Drive type: belt.
Operation type: manual.
Speeds, RPM: 33 1/3, 45.
Phono Pre-Amp: yes.
Speakers: no.
Bluetooth: no.
USB: no.
AUX: no.
I can call the Audio-Technica AT-LP60X the best budget record player under $300 on my list. During my testing, it lived up to my expectations. The dynamic range can surprise; the lower and upper frequencies sound quite clear, without hum and ringing.
Pros
Built-in phono stage.
Diamond stylus.
Dust cover.
Cons
Straight tonearm is worse than a curved one.
Electrohome Kingston 7-in-1
Are you one of those music lovers with a million devices and wires, and you can't decide whether to listen to digital or analog music? In this Electrohome Kingston 7-in-1 review, I'm going to tell you about an interesting player that will help you organize your audio collection in one place. After all, this stereo system includes Record Player, Bluetooth, Radio, CD, Aux In, USB, and Vinyl to MP3 Recording (RR75). And all these at an affordable price! Isn't it interesting? Well, let's take a closer look at this versatile device.
Design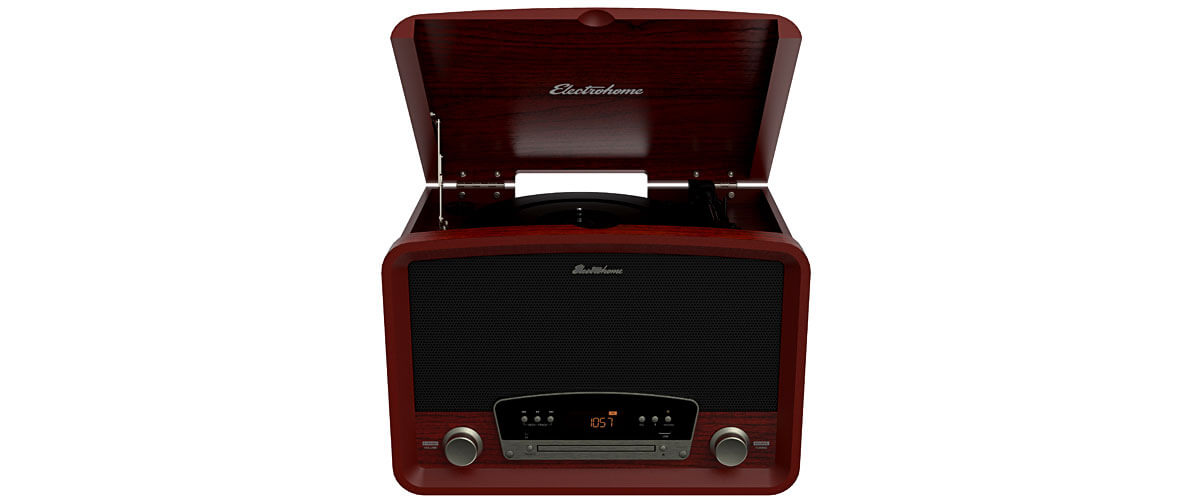 Externally, the stereo system is a radio from the 50s and 60s of the last century, an absolute vintage, which many retro design fans might like. The case is made of MDF with a hinged lid, finished with a natural wood veneer (Walnut, Black, or Mahogany). The construction weighs quite a bit, 23.75 pounds, and measures 12.25 x 17.3 x 13.5 inches. Therefore, it is important that you understand how much space you will need to install it. A hard plastic platter and a ceramic stylus with a sapphire tip are also included.
All the buttons and controls are on the front panel: equalizer, Bluetooth, CD control, volume controls, and radio tuning, as well as USB and headphone output. Under the small LED, there is a hidden CD drive.
The package includes detailed manuals, a power cable, remote control, and 2xAAA batteries. You may have to tinker with the installation, but then, you will not have to do anything at all to use Kingston 7-in-1. Just change the records and press the buttons.
Features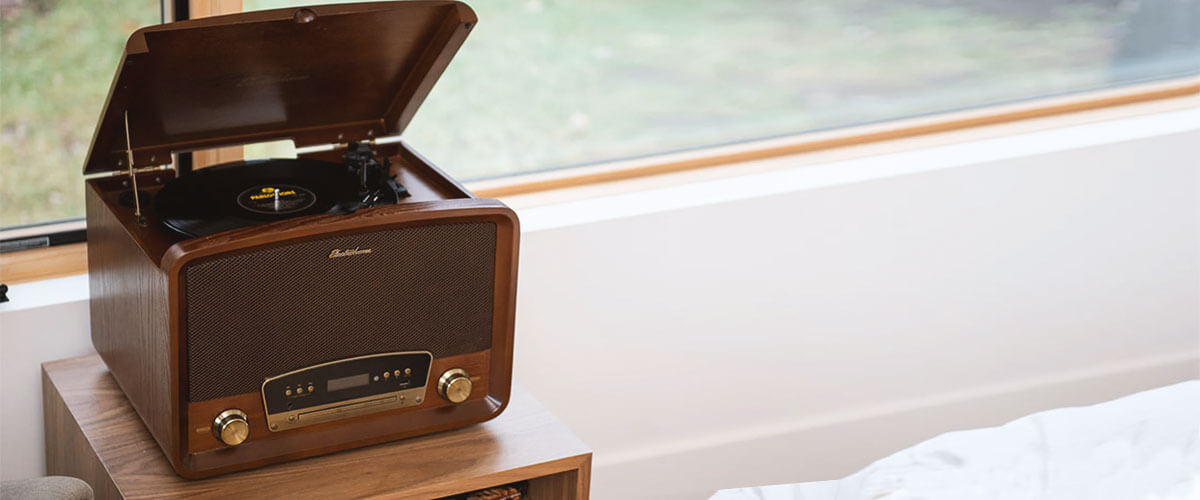 The Electrohome turntable plays records at 33 1/3, 45, and 78 rpm and also features an auto-stop function. But most importantly, with the RR75 recording, you can transfer tracks in MP3 format to other media, for example, to an ordinary flash drive. With the USB inputs, you can listen to them from the media again through the Kingston 7-in-1 review system. You can listen to music through headphones or use wireless headphones or external speakers with Bluetooth 4.2. The CD player is the primary device for playing/pausing, stopping, skipping forward/backward, and ejecting.
You can even listen to AM/FM radio. The FM frequency range is 87.5-107.9MHz and 530-1710kHz for AM. All in all, it is a ready-made system with a built-in amplifier and speakers, on which you can listen to music from almost any source without having problems with a lot of wires and connections. Amp power is 40 watts, total power consumption is 50 watts, and power input is 120V, 60Hz
Sound
Let's be honest. If you hear "all-in-one" and see a relatively low price, you immediately understand that you can't expect anything exclusive. I would recommend this device to those who like to keep "all their music" in one place. On the other hand, if you are an experienced musician, it is doubtful that you will choose this device. It is more of an entertainment device than a serious vinyl player. But it is really very nice on the outside. Its vintage style brings a smile of delight.
But to be fair, it's not bad at all! When I started trying it out, I was even pleasantly surprised. After all, the company has been making such things for over 100 years, which means it knows exactly what it is doing. First of all, the sound is surrounded; it is enough for listening in small rooms. It doesn't hum, and it doesn't make an unpleasant rattle. Moreover, you can adjust the frequencies right on the Electrohome Kingston 7-in-1 panel. The sound is warm and clear but not detailed, which, in my opinion, is quite acceptable for this particular model.
Key specs
Drive type: belt.
Operation type: semi-automatic.
Speeds, RPM: 33 1/3, 45, 78.
Phono Pre-Amp: yes.
Speakers: yes.
Speakers power, W: 40.
Bluetooth: yes.
USB: yes.
AUX: yes.
The vintage turntable Electrohome Kingston 7-in-1 is suitable for those who do not like wires, are not going to assemble their audio system, and prefer "all in one." After all, it includes Record Player, Bluetooth, Radio, CD, Aux In, USB, and Vinyl to MP3 Recording (RR75).
Pros
No wires.
You can adjust the frequencies right on the front panel.
1byone H009
In this 1byone H009 review, I want to tell you about a nice retro-style all-in-one record player. The turntable is inexpensive but has features that many people might like. It's more of an out-of-the-box audio system, so you also get rid of the extra spending and hookups. Let's go!
Design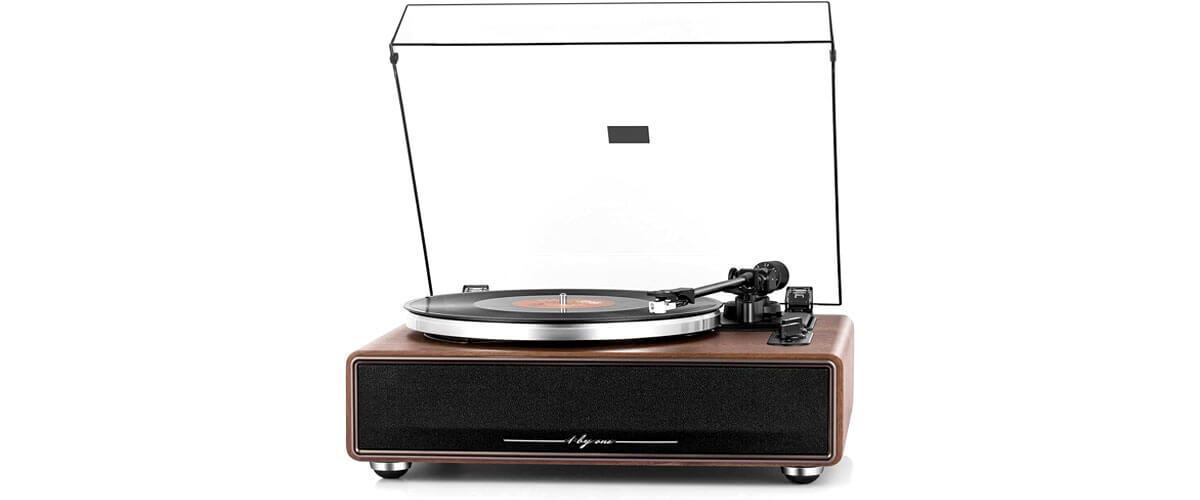 Well, the turntable's plinth is made of wood and metal in a streamlined shape with rounded corners. It is very transportable as it weighs only 13,3 pounds and measures 14.57x17.32x7.56 inches. The H009's natural wood veneer finish is pleasant to the touch, and its retro-style design is eye-catching.
On the front of the case, there is a speaker with a sleek 1byone logo. The control buttons are located on the top panel and are a playback speed switch, a switch to Bluetooth, and a start button, which must be pressed and held for the system to turn on.
A 30 cm diameter Aluminum die-cast platter that weighs about 1.2 pounds, a slip mat, a dust cover, and an instruction manual are included.
Features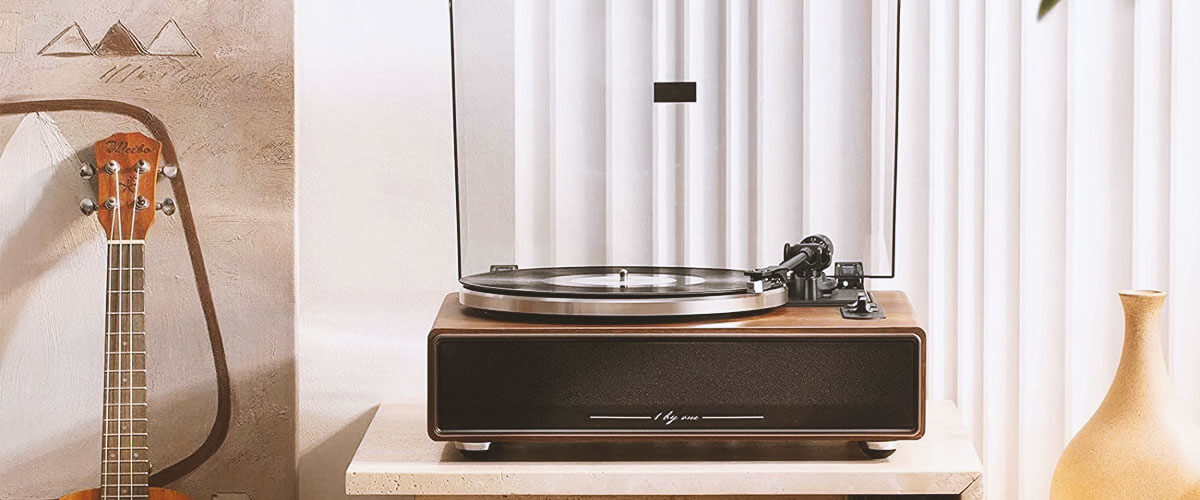 1byone is an all-in-one audio system that includes a turntable, receiver, and speakers. The manual belt-driven control ensures that records rotate at 33-1/3 and 45 RPM and dampens vibration well. Stable operation is ensured by a DC motor and an anti-skating function.
The 8.6" long static balanced straight tonearm has a very good Audio-Technica Moving Magnet AT3600L cartridge with a diamond tip stylus. It glides precisely over the groove and extracts a clear, crisp sound.
The H009 has a built-in switchable phono preamp that will allow you to connect external powered speakers. The proprietary speaker has four speakers, and you can not only listen to vinyl records with it, but you can pair and play music from any device, be it an iPhone and Android smartphone, tablet, PC, the USB-mp3 player through the player speakers using Bluetooth as well as through the Aux-in port.
Sound
Regarding the sound, I think that for its price, the turntable sounds pretty good. I would even say it is more a speaker with a vinyl playback function than the other way around. However, that doesn't make the 1byone a bad record player. In principle, it does its job. The manufacturer has saved money on materials, but the technical parts are of quite good quality. For example, the cartridge really does half the job when extracting sound. Thus, I can conclude that the sound is stable and clear, with no obvious flaws. If you are not a professional musician and don't want to bother with connections, settings, and so on - this H009 may satisfy your desires well.
Key specs
Drive type: belt.
Operation type: manual.
Speeds, RPM: 33 1/3, 45.
Phono Pre-Amp: yes.
Speakers: yes.
Speakers power, W: 36.
Bluetooth: yes.
USB: yes.
AUX: yes.
The retro-style Bluetooth turntable 1byone H009 is a ready-made portable audio system with built-in speakers that does an excellent job. The manufacturer saved on materials, but the technical parts are of good quality. For example, the cartridge really does half the job of extracting stable and clear sound with no obvious flaws. A classy interior attribute. Acceptable option for reasonable money.
Pros
Wood and metal body.
Easy to use.
Can I connect a budget turntable to modern audio systems and speakers?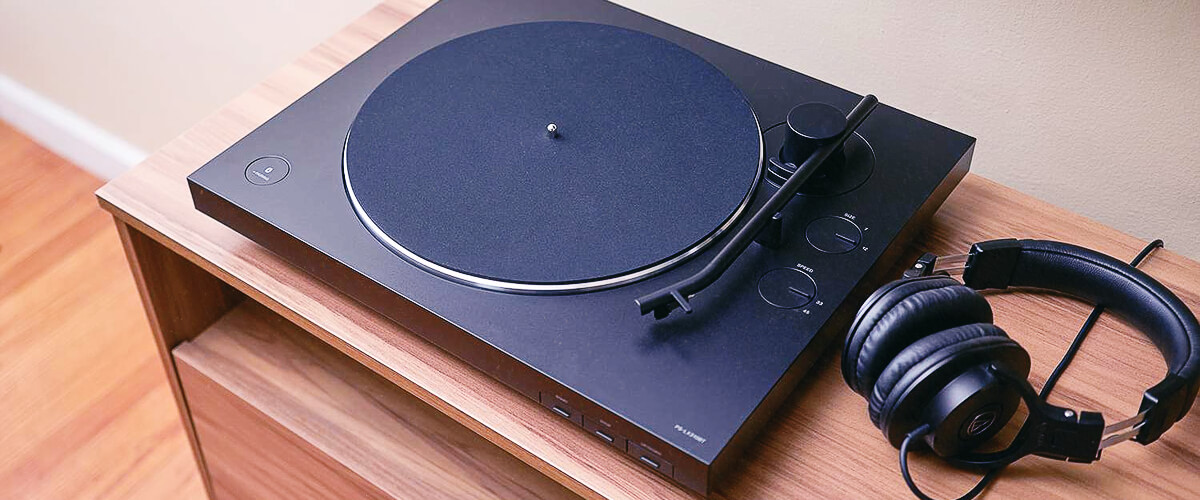 Absolutely, you can! Most turntables in the under $300 category come equipped with standard audio outputs that can be easily integrated into various modern audio systems. Let's break down your options:
RCA outputs: These standard connectors allow you to hook up your turntable to amplifiers, receivers, or active speakers with RCA inputs.
Built-in preamp: Some budget-friendly turntables have an integrated preamp. This means you can directly connect to the line-level inputs of active speakers without the need for an external amplifier.
External phono preamp: If your turntable doesn't have a built-in preamp, don't worry. You can use an external phono preamp. This device amplifies and equalizes the turntable's signal, allowing it to connect to standard line-level inputs.
Bluetooth and USB: For a more modern touch, some turntables in this category also offer Bluetooth or USB connectivity. You can wirelessly connect to Bluetooth speakers or interface with digital devices like your computer.
To sum up, it's important to ensure that the input/output parameters of your turntable align with those of your audio system & speakers. If necessary, you might also want to look into adapters and cables for various connections. So yes, even on a budget, you can absolutely make such a turntable part of your modern audio setup.
Common misconceptions about turntables under $300
Clearing up misconceptions about budget turntables is important for helping consumers make informed decisions. Here are some common myths debunked:
Low quality: A prevalent misconception is that all turntables in this price range are of poor quality. While they might lack some high-end features, many budget turntables offer decent performance and sound quality for everyday listening.
No upgrade path: Some people believe that sub-$300 turntables can't be upgraded. In reality, many budget models allow for needle and cartridge upgrades, and some even offer adjustable tonearms.
Lack of features: Another false notion is that budget turntables skimp on essential features. Contrary to this belief, numerous budget models come with amenities like built-in preamps, USB connectivity for digitizing vinyl, and adjustable tonearms.
So, please, don't fall for the myths. A budget-friendly turntable can still provide solid performance and upgrade potential, along with a reasonable set of features.
FAQ
Built-in preamp vs external for turntable
Built-in preamplifiers are great because you get a finished product that you do not need to bother with. Just take it out of the box and use it.
An external phono cartridge implies a connection, which means extra space and wires. The advantage of an external phono cartridge is that it has a better build quality as a standalone unit. It will help you take your audio system to the next level of sound unless, of course, it's really important to you. Also, when choosing an external preamplifier, you can familiarize yourself in advance with what it offers and choose exactly what you want.
The choice depends on your preference, but a true audiophile will always prefer an external preamplifier, regardless of the cost and the hassle of handling it.
How to listen to vinyl players with headphones?
Here are several reasons why you might want to
listen to a vinyl player with headphones
. Some people like to sit in a chair and feel the music inside of them, others have "non-music" neighbors or housemates, and there is simply no other way to listen to their favorite tracks.
Of course, you can buy a record player with an output for headphones. You just plug it in and listen to it. But how do you listen to a turntable with headphones if a direct connection is not the optimal choice? After all, the record player output isn't strong enough and can rarely give you a decent sound. There are a few ways that can help you, and I'm happy to share them.
A headphone amplifier will provide the sound you need. Simply plug it in between the turntable's preamp (built-in or external) and your headphones.
Use a stereo receiver with a headphone output.
If your turntable has a Bluetooth feature, you can use it. This is probably the worst option, though. You'll need special delayed headphones, but the sound still won't be of high quality.
Do cheap turntables ruin records?
Yes, sometimes they do. Cheap turntables tend to have cheap components, particularly the stylus. It is the stylus that mainly affects the integrity of the record. So when choosing models in this price range, it is worth paying attention to this component or understanding that they can be replaced.
You also can consider other decent turntables in the different price segments:
best turntable under $300
best turntable under $400
best turntable under $500
We are supported by our audience. When you purchase through links on our site, we may earn an affiliate commission at no extra cost to you.
Our newsletter
* We will never send you spam or share your email with third parties