Today I decided to tell you about my list of the four best turntables under $400, i.e., mid-budget ones that correspond to their price, have good quality, and of course, allow you to enjoy the authentic sound of vinyl. After all, among the many different record players, it is easy to get confused, especially if you are a beginner in this field. And budget doesn't mean cheap as many people think, so I'll also answer some questions related to the price and quality of turntables at the same time. You'll learn to understand what parts to look at when choosing a deck and which of those parts are really worth paying more for. So, if you're in search of pure analog sound at a reasonable price, well, I invite you on this little journey.
Our pick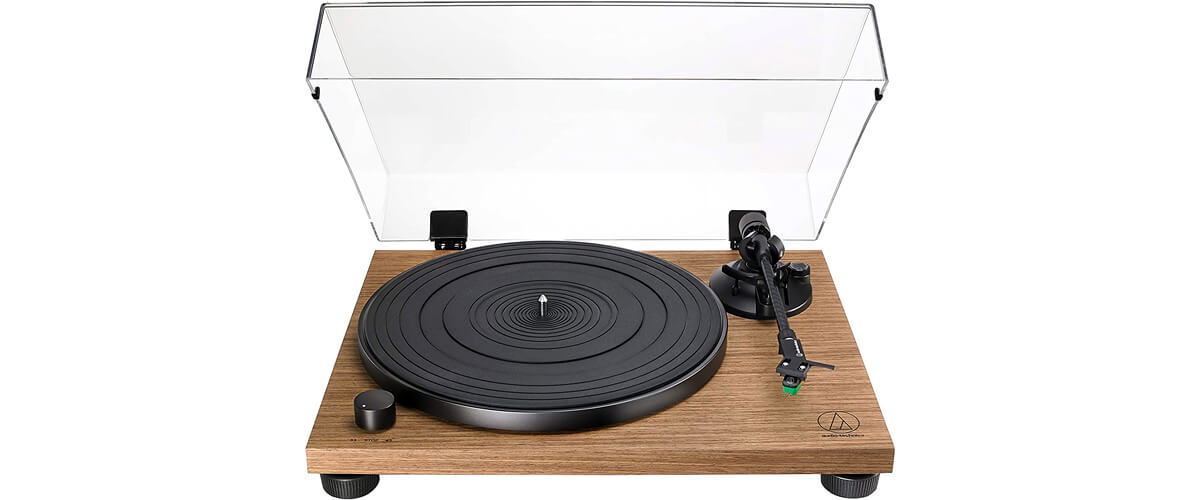 Audio-Technica AT-LPW40WN
Best record player under $400
The AT-LPW40WN is a fully manual, belt-drive turntable designed to give you optimal high-fidelity audio reproduction from vinyl.
Read the full review
.
Turntable under $400 comparison table
Name
Drive type
Operation type
Speeds
Phono Pre-Amp
Bluetooth
Review
Audio-Technica AT-LPW40WN

best overall

belt
manual
33 1/3, 45
yes
no
Review
Sony PS-LX310BT

budget

belt
fully-automatic
33 1/3, 45
yes
yes
Review
Electrohome Kingston 7-in-1

all-in-one pick

belt
semi-automatic
33 1/3, 45, 78
yes
yes
Review
What should I look for in a turntable under $400?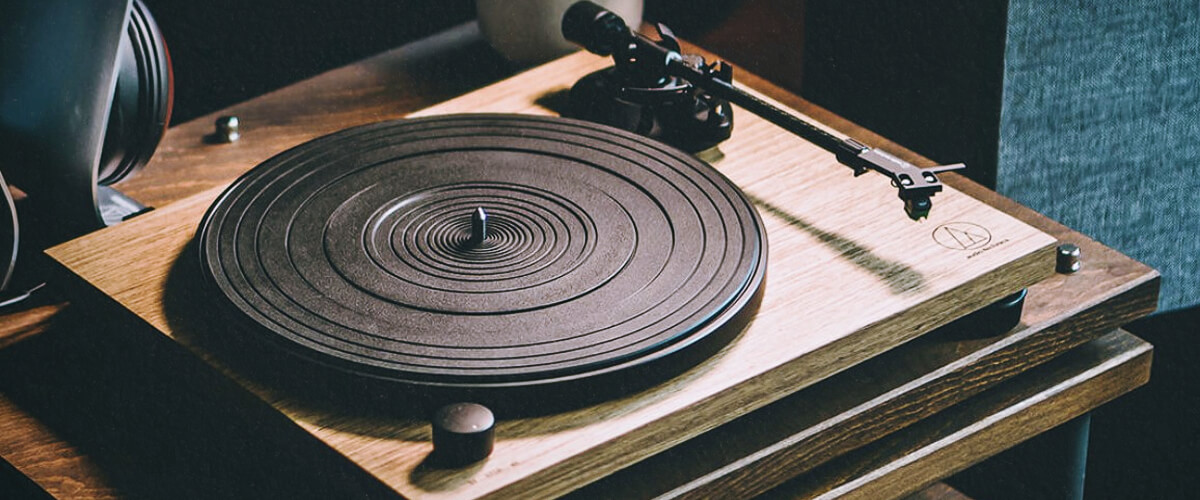 I want to give some important tips so that you understand the key points when choosing a device of this class:
Quality components: Turntables in this range usually have high-quality arms, cartridges, and platters. The presence of such components contributes to improved sound compared to budget models.
Durable construction: Expect a more robust and stable build quality that minimizes vibrations and resonance. This leads to a clearer, more precise audio output.
Longevity: Pay attention to the durability of the entire structure and individual parts. Many turntables of this level are already designed for a long service life.
Adjustable features: Many of these turntables come with adjustable counterweights and anti-skating controls, allowing for precise adjustments that optimize playback.
Upgradeability: Most devices in this price bracket are designed with the future in mind, allowing you to upgrade components like cartridges and needles as your needs evolve.
Investing up to $400 in a turntable isn't just about acquiring a new gadget; it's about making a long-term investment in your musical enjoyment. You can expect good craftsmanship, enhanced audio quality, and the flexibility to tailor the device to your needs. Whether you're a budding audiophile or looking to upgrade your budget model, this range offers both quality and room for future improvements.
Best record player under $400 reviews
In the Audio-Technica AT-LPW40WN review, I will tell you about an entirely handheld mid-priced turntable that is good enough for you to enjoy using it. I'll take a look at its design and features and give my opinion on its sound to make it easier for you to choose when buying. Let's go!
Design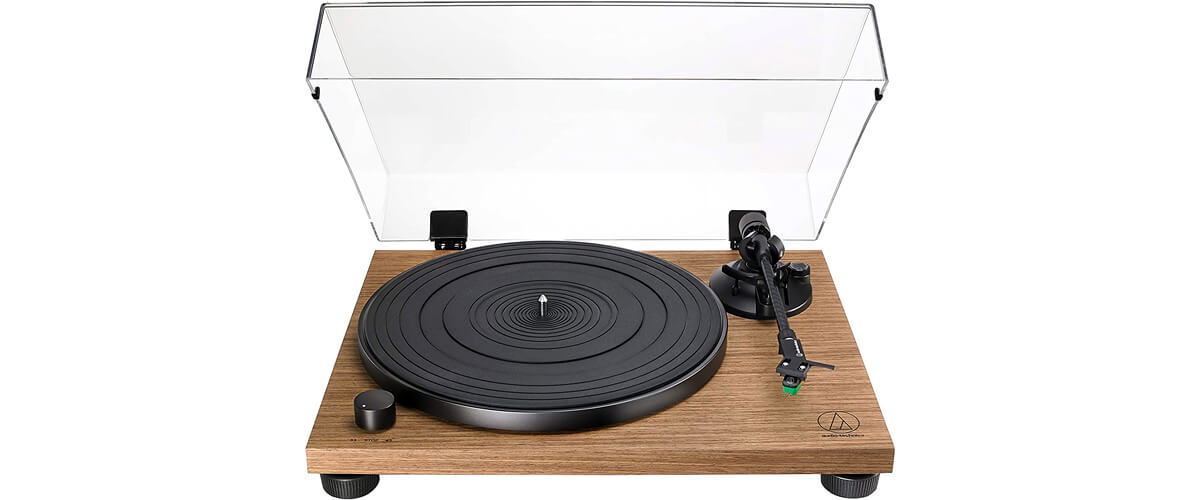 If you're a fan of classic elegance, you'll love the design of this record player at once. A satin-lacquered walnut veneer covers the MDF plinth, giving it a look of understated chic. The top panel features a professional anti-resonance cast aluminum disc with a rubber mat, a straight carbon fiber tonearm with hydraulically damped lift control and lockable stop, as well as a gear shift and shutoff knob. Under the plinth are small covers for access to the mechanisms and electronics and screw-in feet that provide additional protection against vibration. All in all, the entire case and its details are designed so that you won't feel any interference or malfunctions, even if you place the player on an uneven surface.
A stereo cable with two RCAs, a 45 RPM adapter, and a removable dust cover to protect all this beauty are included. The vinyl player is compact, and you can easily move it around when needed. It measures 420 x 117 x 340 mm and weighs only 10 pounds.
Features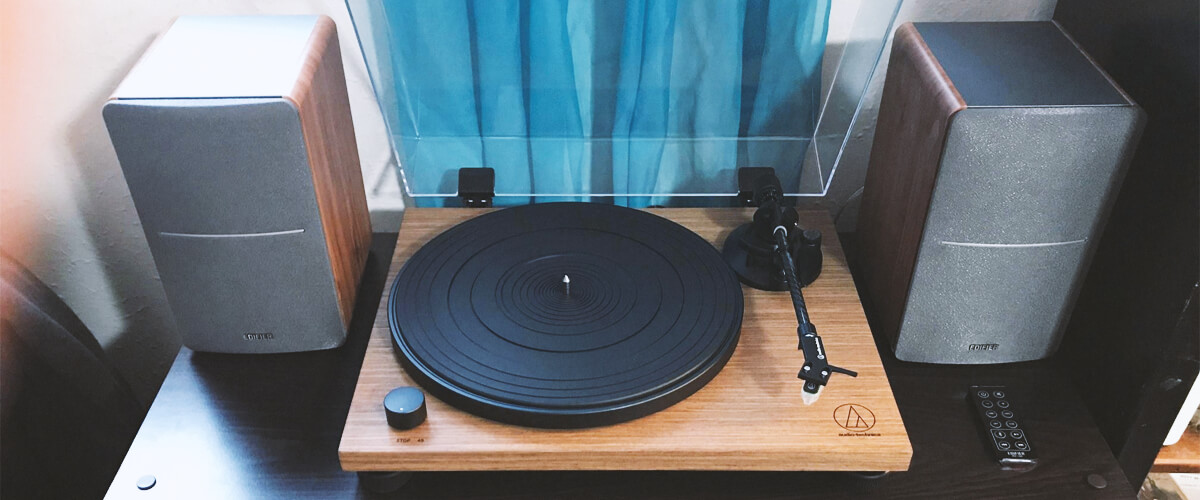 The AT-LPW40WN is a turntable with belt drive operation and a DC motor with a speed sensor system to maintain accurate disk speed at two speeds of 33-1/3 and 45 rpm. In addition, the model has adjustable dynamic anti-skate control and a built-in preamp for plug-and-play capability. At the same time, you can always switch it to connect an external preamp.
The tonearm comes with the AT-HS4 universal ½ inch mount headshell, the AT-VM95E Dual Moving Magnet phono cartridge, and a 0.3 x 0.7 mil elliptical stylus by Audio-Technica. Its special feature is that it is compatible with any interchangeable VM95 series stylus. So you can upgrade your deck or just easily replace the cartridge when you need it. It is important because regardless of your financial means, you're always assured that your favorite records will remain intact.
Sound
Even in its original configuration, AT-LPW40WN provides warm analog sound and has no apparent drawbacks when listening to any record. At least from the ones I listened to - different years of rock and jazz sounded smooth, rich, and stable. At the same time, the sound is quite loud. The RPM is between 1% wow and 0.5%.
In addition to a design that helps avoid vibration, which knowingly improves sound quality, you can connect an external preamp. This fact is always an advantage for inexpensive decks because you choose the external phono stage yourself, which means you can be sure to improve the quality of your audio system.
It is possible to conclude that the sound is not outstanding but will satisfy an unpretentious audiophile for whom this turntable is designed.
Key specs
Drive type: belt.
Operation type: manual.
Speeds, RPM: 33 1/3, 45.
Phono Pre-Amp: yes.
Speakers: no.
Bluetooth: no.
USB: no.
AUX: no.
The best turntable under $400 for me in all aspects is a fully manual turntable with excellent features. Even in its original configuration, the AT-LPW40WN provides warm analog sound and has no obvious drawbacks when listening to any recording. At least from the ones I listened to – different years of rock and jazz sounded smooth, rich, and stable. Yet, at the same time, the sound is quite loud.
Pros
Professional anti-resonance cast aluminum disc with rubber mat.
Straight carbon tonearm with the superior AT-VM95E Dual Moving Magnet phono cartridge.
Cons
The built-in preamp is not of high quality.
Sony PS-LX310BT – budget
Today I bring to your attention the Sony PS-LX310BT review. It is a mid-priced player that takes into account all the needs for easy installation and use. Moreover, Sony has long been a mark of quality in modern technology production, which means you are supposed to hope for a really good product. Let's see if this is true.
Design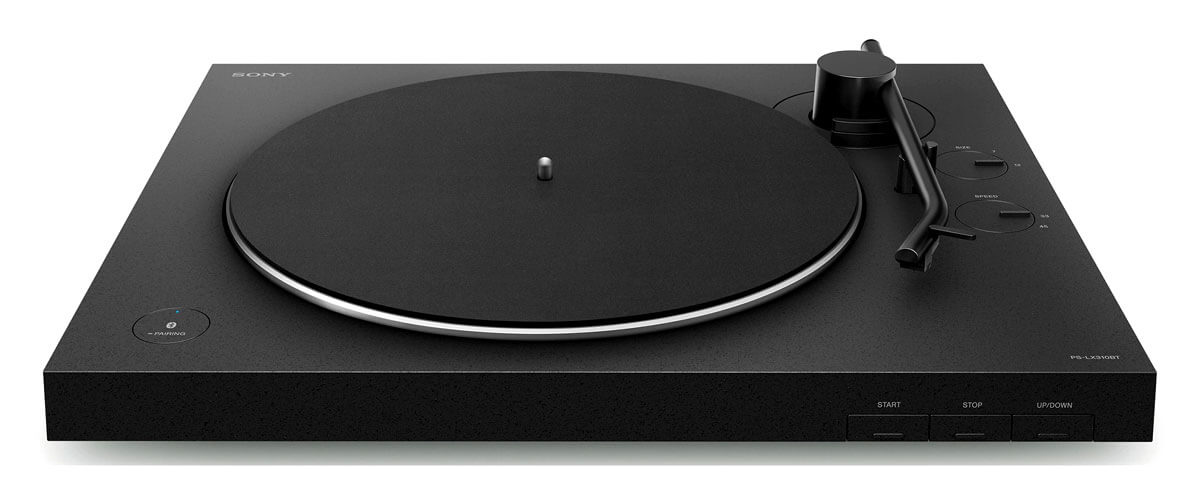 Weighing approximately 7.7 pounds, the record player is a rather elegant device made of black plastic. An understated style, suitable for any room. All the buttons and controls are also located on the cabinet, so you don't have to look all over the enclosure for the needed controls. Everything is simple: start, stop, gear shift, as well as switching the size of the used records (7" and 12") and the tonearm control button. I don't see the difficulty in controlling the tonearm manually, but full automation means you don't do anything by hand (except set the record).
To the touch and appearance, the deck doesn't look cheap, though it rather gives the impression of having been produced somewhere in the 90s of the last century. It's even nice. An 11.65-inch cast aluminum disc and a dust cover complete the design.
Features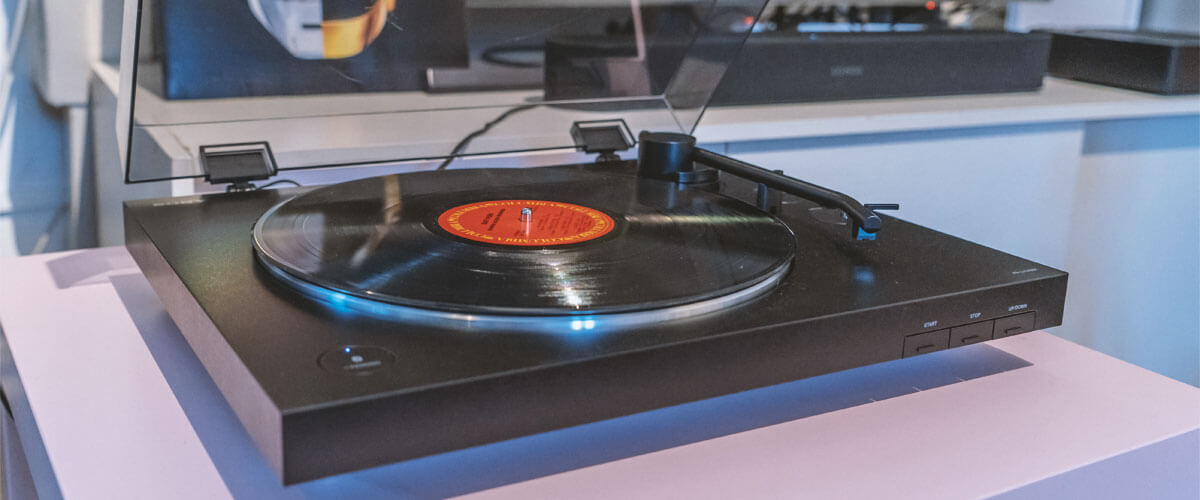 The Sony turntable is simple not only in exterior design but also in setup. All you have to do after taking it out of the box is install the belt, motor pulley, and platter. All settings are already in order, including anti-skating and downforce of the already built-in cartridge as well. The Moving Magnet cartridge is easy to replace or install - it's removable. Records can be played at 33 1/3 rpm and 45 rpm. I should point out that the materials for this model are inexpensive and fragile, so handle them gently.
The PS-LX310BT comes with a built-in phono stage. Of course, for this price, you shouldn't expect something fantastic from it, but the manufacturer tried to make a fully automatic "plug and play" vinyl player. So the phono preamp is more of a plus. The more so is that you can always connect an external one with the RCA cable, which is included in the package, through the phono output on the deck's rear panel.
I consider the USB Type-B output jack and the Bluetooth feature to be a nice bonus. Although I'm not a fan of digitized sound, it's still a plus for those who prefer to listen to music on headphones but don't want to be tethered to the source by a wire.
Sound
As for the sound, as you have guessed, you should not expect anything supernatural or highly professional. The parts on which the sound depends are inexpensive and not of the highest quality. But if you know about sound and want to improve its detail, it is worth spending a little money on upgrading, and the system will sound in a new way. For example, a good external phono preamp and a more advanced cartridge will change the situation beyond recognition.
On the other hand, if you are not a professional, you will be satisfied with the sound in the standard package. In fact, the PS-LX310BT produces a tight, rich, clear performance. I did not hear any noticeable perceptible crackling or buzzing. The sound is stable, with a wide range of musical colors. As a musician, I missed the detail, but I think the turntable is up to the task for its segment.
Key specs
Drive type: belt.
Operation type: fully-automatic.
Speeds, RPM: 33 1/3, 45.
Phono Pre-Amp: yes.
Phono out: yes.
Speakers: no.
Bluetooth: yes.
USB: output port Type-B.
AUX: no.
This one is a budget record player in this category. However, the deck does not look cheap, even though it is made of plastic. It gives a dense, rich, clear performance. The sound is stable, with a wide range of musical colors. As an audiophile, I lacked detail, but I think the turntable does the job for its segment.
Pros
Fully automatic.
The aluminum die-cast disc provides just the right balance.
Cons
It is better to replace the cartridge with a better one.
Electrohome Kingston 7-in-1 – all-in-one pick
Are you one of those music lovers with a million devices and wires, and you can't decide whether to listen to digital or analog music? In this Electrohome Kingston 7-in-1 review, I'm going to tell you about an interesting player that will help you organize your audio collection in one place. After all, this stereo system includes Record Player, Bluetooth, Radio, CD, Aux In, USB, and Vinyl to MP3 Recording (RR75). And all these at an affordable price! Isn't it interesting? Well, let's take a closer look at this versatile device.
Design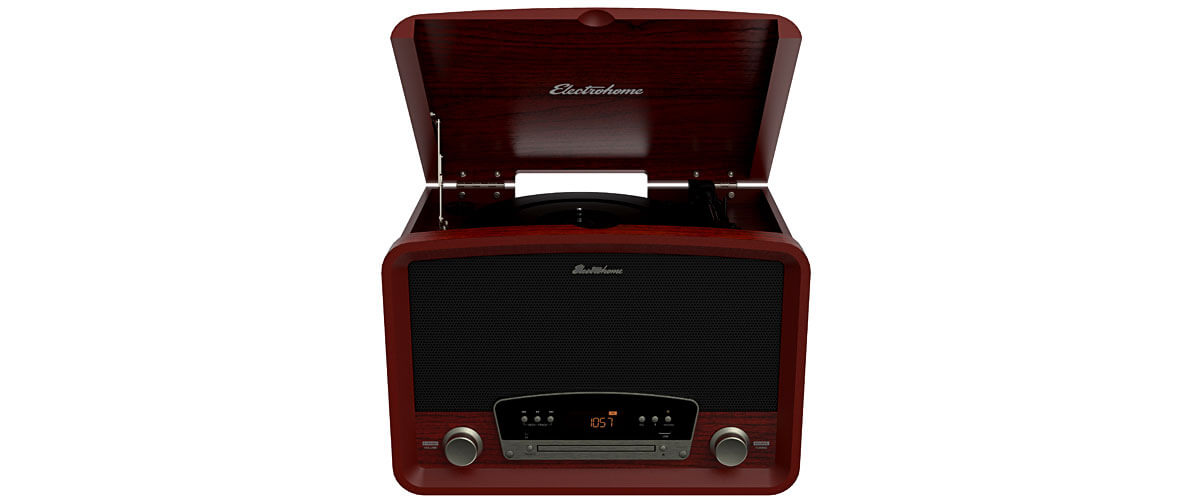 Externally, the stereo system is a radio from the 50s and 60s of the last century, an absolute vintage, which many retro design fans might like. The case is made of MDF with a hinged lid, finished with a natural wood veneer (Walnut, Black, or Mahogany). The construction weighs quite a bit, 23.75 pounds, and measures 12.25 x 17.3 x 13.5 inches. Therefore, it is important that you understand how much space you will need to install it. A hard plastic platter and a ceramic stylus with a sapphire tip are also included.
All the buttons and controls are on the front panel: equalizer, Bluetooth, CD control, volume controls, and radio tuning, as well as USB and headphone output. Under the small LED, there is a hidden CD drive.
The package includes detailed manuals, a power cable, remote control, and 2xAAA batteries. You may have to tinker with the installation, but then, you will not have to do anything at all to use Kingston 7-in-1. Just change the records and press the buttons.
Features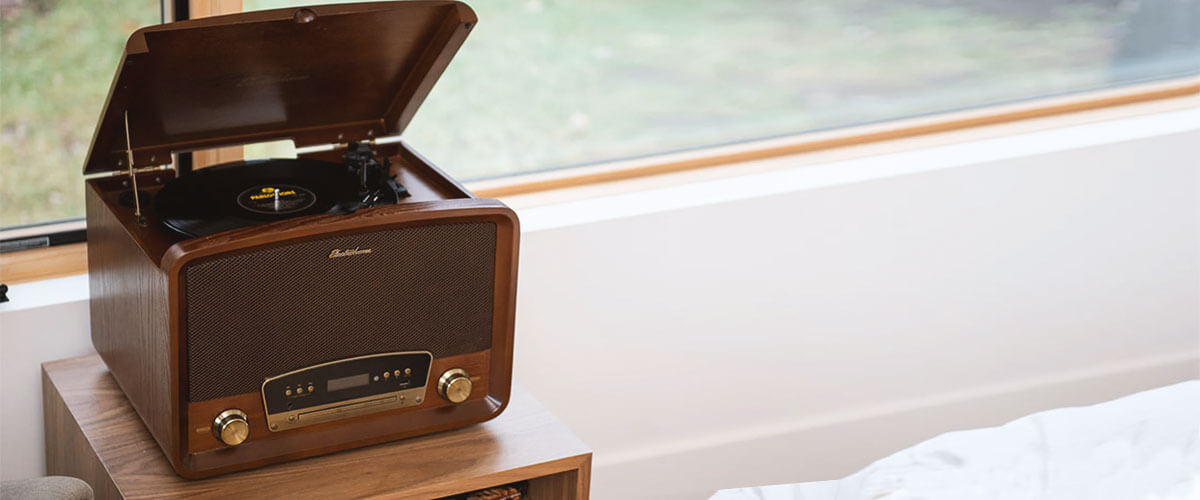 The Electrohome turntable plays records at 33 1/3, 45, and 78 rpm and also features an auto-stop function. But most importantly, with the RR75 recording, you can transfer tracks in MP3 format to other media, for example, to an ordinary flash drive. With the USB inputs, you can listen to them from the media again through the Kingston 7-in-1 review system. You can listen to music through headphones or use wireless headphones or external speakers with Bluetooth 4.2. The CD player is the primary device for playing/pausing, stopping, skipping forward/backward, and ejecting.
You can even listen to AM/FM radio. The FM frequency range is 87.5-107.9MHz and 530-1710kHz for AM. All in all, it is a ready-made system with a built-in amplifier and speakers, on which you can listen to music from almost any source without having problems with a lot of wires and connections. Amp power is 40 watts, total power consumption is 50 watts, and power input is 120V, 60Hz
Sound
Let's be honest. If you hear "all-in-one" and see a relatively low price, you immediately understand that you can't expect anything exclusive. I would recommend this device to those who like to keep "all their music" in one place. On the other hand, if you are an experienced musician, it is doubtful that you will choose this device. It is more of an entertainment device than a serious vinyl player. But it is really very nice on the outside. Its vintage style brings a smile of delight.
But to be fair, it's not bad at all! When I started trying it out, I was even pleasantly surprised. After all, the company has been making such things for over 100 years, which means it knows exactly what it is doing. First of all, the sound is surrounded; it is enough for listening in small rooms. It doesn't hum, and it doesn't make an unpleasant rattle. Moreover, you can adjust the frequencies right on the Electrohome Kingston 7-in-1 panel. The sound is warm and clear but not detailed, which, in my opinion, is quite acceptable for this particular model.
Key specs
Drive type: belt.
Operation type: semi-automatic.
Speeds, RPM: 33 1/3, 45, 78.
Phono Pre-Amp: yes.
Speakers: yes.
Speakers power, W: 40.
Bluetooth: yes.
USB: yes.
AUX: yes.
It is an all-in-one pick record player under 400 dollars. The stereo system includes Record Player, Bluetooth, Radio, CD, Aux In, USB, Vinyl to MP3 Recording (RR75), and built-in speakers. The sound is voluminous, enough for listening in small rooms. It is warm and clear. Moreover, you can adjust the frequencies directly on the control panel.
Cons
The sound is not detailed.
Audio-Technica AT-LP120XUSB
In this Audio-Technica AT-LP120XUSB review, I'll take a look at an inexpensive but interesting deck from the famous Tokyo-based company, which has been making turntables for a long time. The AT-LP120XUSB is a replacement for the original popular model, first released in 2009. The new version not only retained the advantages of the first model but is also equipped with many additional functions, including those for DJs.
Design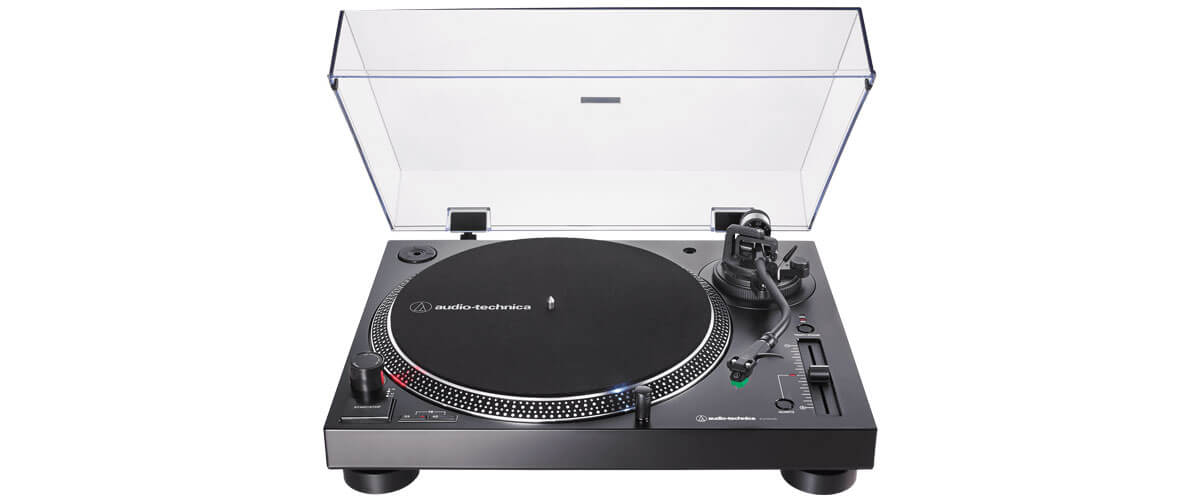 The AT-LP120XUSB record player has a modern style design. The matte black or silver plinth stands on four legs. It is stable and has all the control buttons: start/stop, record rotation speed change, switch the built-in preamp to external, variable pitch control with quartz speed lock. Precisely these features make it easy to control and will be useful to DJs.
An anti-resonance cast aluminum disc with a professional-grade felt mat can dampen any motor vibration. It is an important factor that affects the final result of the played music. And the balanced metal S-shaped tone arm with a hydraulically damped lift regulator and lockable stop, though heavier than the carbon one, is easy to use.
Additional bonuses will be a dust cover and a removable plug-in target indicator for easy aiming in low light.
Features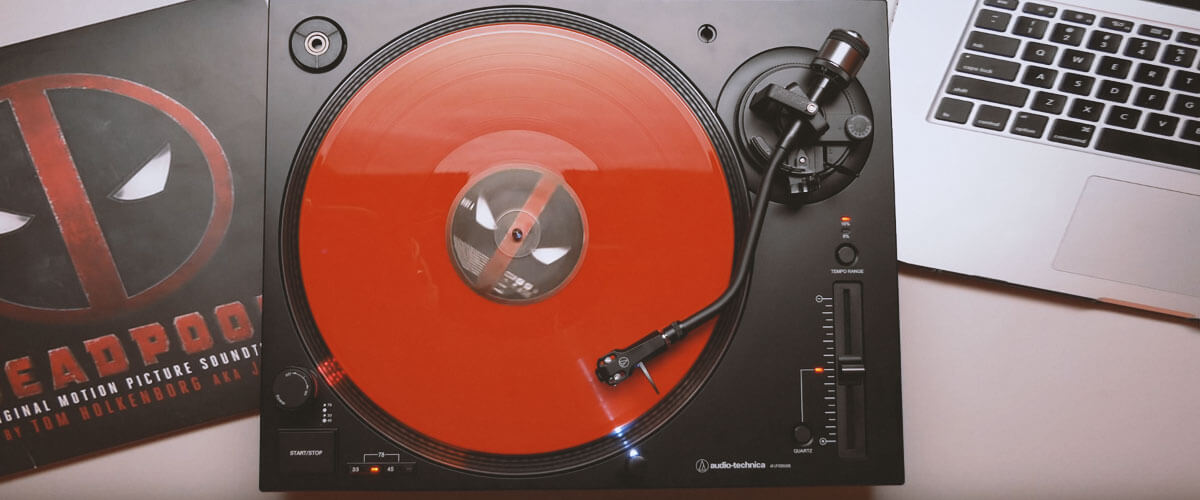 The AT-LP120XUSB is a fully manual vinyl turntable with a direct drive DC servo motor as well as adjustable dynamic anti-skate control and selectable phono preamp. You can always set the preamp externally, just toggle the control. The AC adapter provides AC/DC conversion outside the plinth, reducing noise in the signal circuit.
The player can play records at 33-1/3, 45, and 78 rpm. The AT-VM95E Dual Magnet phono cartridge with the elliptical stylus is very good and also, if necessary, adaptable for replacement. It comes with an AC adapter, an adapter for 45 rpm, and a counterweight.
As you can guess from the name, the vinyl player has a USB output, which you can use to connect directly to your Mac and PC and digitize your recordings without any help. A USB and a removable RCA output cable for dual RCA male output are included.
Sound
The sound was satisfactory when testing the AT-LP120XUSB turntable, as it was clear and pronounced. I purposely listened to the records at different speeds. There are almost no defects typical for vinyl. The tonal balance is even, detailed, and with deep bass. The player is stable, and no vibrations are felt. So I think the results will be very good whether you set up your own system or connect to a computer.
Key specs
Drive type: direct.
Operation type: manual.
Speeds, RPM: 33 1/3, 45, 78.
Phono Pre-Amp: yes.
Speakers: no.
Bluetooth: no.
USB: yes.
AUX: no.
It replaces the original AT-LP120USB vinyl player, a popular model first released in 2009. You will find several additional features that can please you because it is suitable for both home audio systems and DJs. The tonal balance is smooth, detailed, and with deep bass. No matter if you built your own system or connected it to your computer, the result will be very good.
Pros
The S-shaped tonearm is more accurate than the straight one.
Variable pitch control with quartz speed lock.
FAQ
How much should you spend on your first turntable?
To answer this question, you first need to understand what you mean by a vinyl turntable and what you plan to use it for. However, if we are talking about quality for an adequate price, I would say the $300-500 range. There are a lot of record players in this segment for all tastes with pretty high-quality sound and build.
Of course, this range may seem high to some readers, but by choosing such a turntable, you can count on it to last you a lifetime. On top of that, you'll be able to replace broken parts or improve your vinyl player over time. So it's worth looking at it from an investment standpoint.
If the analog sound isn't the only thing you want to buy a deck for, you can also consider cheaper options that offer versatility while saving money on materials and parts. But such turntables can ruin your records.
How do cheap turntables ruin records?
Vinyl records are quite fragile. Especially when it comes to valuable vintage copies, it is very important not to damage them while using them. Let's find out what factors can affect the integrity of a record and what a cheap record player has to do with it.
Actually, the parts are in direct contact with the record – the tonearm (cartridge and needle) and the platter. The main part that the integrity of the record depends on is the stylus. Cheap turntables use a spherical needle and a ceramic cartridge. Sliding along the grooves, such a stylus may destroy them because it does not vibrate like an expensive magnetic cartridge and slides rather than cutting into the track like an expensive diamond needle. Over time, extracting sound from a record often under such a stylus will simply no longer be possible.
The tonearm must be properly balanced. To do this, the more expensive models come with a counterweight. The platter is also important. A heavily balanced platter affects the speed of rotation, damping, and vibration. The cheaper models use lightweight plastic. Otherwise, the plate will lose its shape and just "wipe out.
"
Is there a difference between cheap and expensive turntables?
In fact, I have already explained the difference between expensive and cheap turntables in a previous reply. Cheap ones can simply damage your cherished recordings if the tonearm, stylus, and platter are not of good quality. Add to this the sound, which depends on the phono stage and the overall stability of the turntable. Cheap versions are made of lightweight plastic or chipboard, which means the record can bounce and skip whole sections of songs. Also important is the preamp. The more expensive models don't even have one built-in, as you are given a choice to choose a good quality external phono stage, which is always better than the internal one.
It is very important to pay attention to all of these accessories when buying a vinyl player if you decide to become a "proper" audiophile or a fan of analog music. And if you can't afford to buy a more expensive deck right away, try to find a way to replace every important part over time. You will never regret it.
You also can consider other decent turntables in the different price segments:
We are supported by our audience. When you purchase through links on our site, we may earn an affiliate commission at no extra cost to you.
Our newsletter
* We will never send you spam or share your email with third parties