In this review, I would like to offer you my list of the best Audio-Technica turntables, among which I am sure you will find the most suitable. They all have three important qualities: affordable price, excellent quality, and ease of installation and operation. At the same time, I will indicate each individual's advantages and disadvantages to make it easier for you to orient yourself. But be assured that all models have already won popularity among vinyl fans.
And first, let's get acquainted with the manufacturing company itself. Founded in 1962 in Tokyo, the brand specializes in producing phono cartridges, which is the foundation of the basics of soundtracking. The VM line of cartridges is still top-of-the-line among inexpensive ones, offering variations in replacement and versatility. A short time later, by the mid-'70s, the company had expanded its range with headphones, microphones, and other high-end accessories. And today, they offer a fairly wide and, most importantly, a diverse range of vinyl players in the budget and medium price segment to suit all tastes, capabilities, and wishes in terms of functionality. I won't be wrong to say that Audio-Technica is in the lead among manufacturers in terms of price/quality ratio. Well, let's get started.
Our pick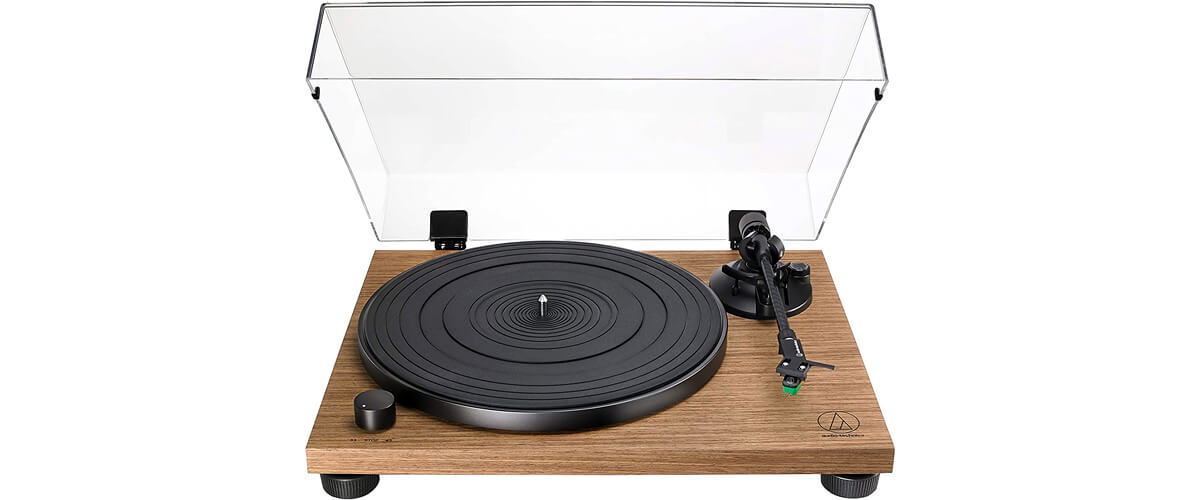 Audio-Technica AT-LPW40WN
Best Audio-Technica turntable
The AT-LPW40WN fully manual belt-drive turntable features an anti-resonance MD, a plinth with simulated walnut wood veneer, and a sensor-monitored motor to ensure proper platter rotation speeds at 33-1/3 and 45 RPM.
Read the full review
.
Audio-Technica turntables comparison table
Name
Drive type
Operation type
Speeds
Phono Pre-Amp
Bluetooth
Review
Audio-Technica AT-LPW40WN

best overall

belt
manual
33 1/3, 45
yes
no
Review
Audio-Technica AT-LP120XUSB

also great

belt
manual
33 1/3, 45, 78
yes
no
Review
Audio-Technica AT-LP60X

budget

belt
manual
33 1/3, 45
yes
no
Review
Audio-Technica AT-LP7

premium

belt
manual
33 1/3, 45
yes
no
Review
Key features of Audio-Technica turntables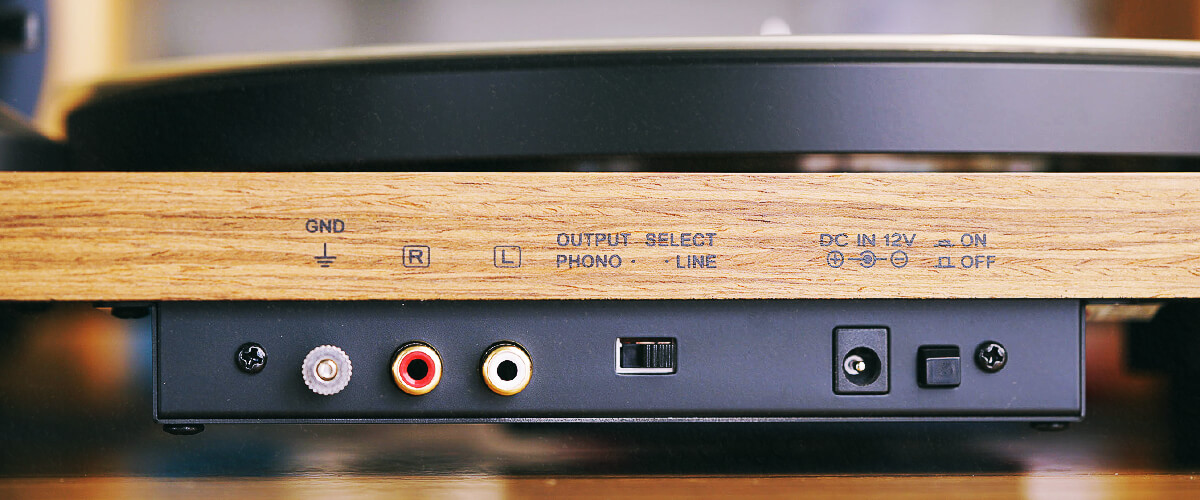 Audio-Technica turntables are renowned for their high-quality components and robust construction. These aren't just record players; they're designed to offer an elevated auditory experience. So, what sets them apart? Let's delve into some of their key features:
Quality cartridges
One of the most striking features of Audio-Technica turntables is the inclusion of quality cartridges. Essentially, the cartridge acts as the first stage in sound reproduction, and a quality one ensures that the sound you hear is as close to the original recording as possible.
Unlike many competitors, Audio-Technica doesn't skimp on this crucial component. Most of their models come pre-fitted with some of the leading cartridges and needles in the market. These high-grade cartridges are often made with unique materials like elliptical diamonds, providing accurate tracking and superior sound fidelity.
DJ-Friendly features
Audio-Technica has a knack for creating DJ-friendly turntables, with the AT-LP120XUSB being a prime example. This model is often compared to the legendary Technics SL-1200 series when it comes to its suitability for DJ use. What makes it so well-suited for DJs? Let's break it down:
Pitch control: DJs require precise control over the pitch to beat match and mix tracks seamlessly. The AT-LP120XUSB offers variable pitch control, allowing you to adjust the speed of the turntable to your liking.
Reverse playback: This feature allows you to play records in reverse, offering a unique tool for DJs who like to experiment with their sets.
Direct-drive motors: Unlike belt-drive turntables, which can take a few moments to reach the desired speed, direct-drive models like the AT-LP120XUSB offer fast start-up and consistent speed, making them ideal for DJing.
So, whether you're an audiophile looking to delve deep into the sonic landscape of your favorite albums or a DJ seeking a reliable tool for your gigs, Audio-Technica turntables offer a range of features designed to meet your specific needs.
Best Audio-Technica turntable reviews
In the Audio-Technica AT-LPW40WN review, I will tell you about an entirely handheld mid-priced turntable that is good enough for you to enjoy using it. I'll take a look at its design and features and give my opinion on its sound to make it easier for you to choose when buying. Let's go!
Design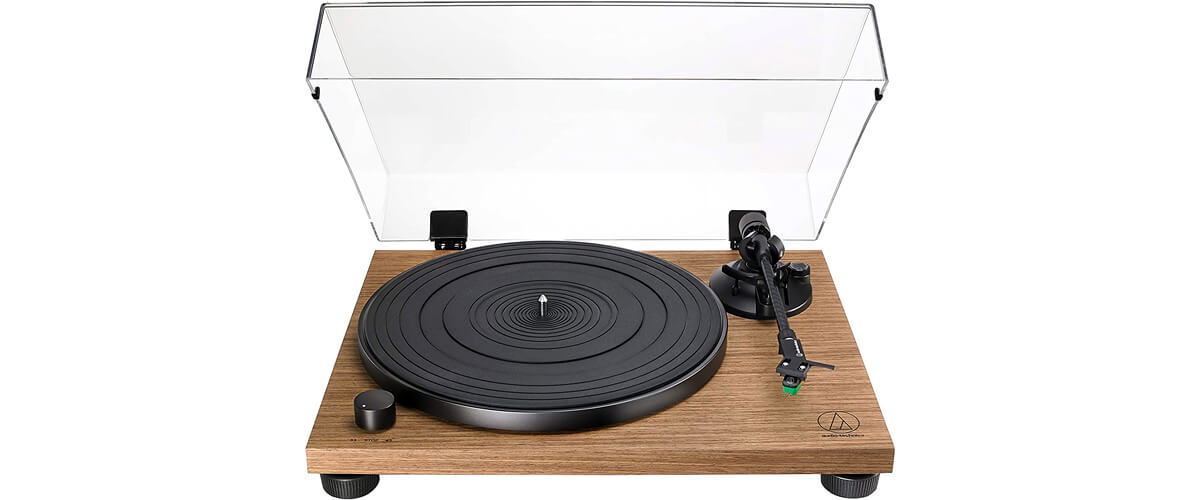 If you're a fan of classic elegance, you'll love the design of this record player at once. A satin-lacquered walnut veneer covers the MDF plinth, giving it a look of understated chic. The top panel features a professional anti-resonance cast aluminum disc with a rubber mat, a straight carbon fiber tonearm with hydraulically damped lift control and lockable stop, as well as a gear shift and shutoff knob. Under the plinth are small covers for access to the mechanisms and electronics and screw-in feet that provide additional protection against vibration. All in all, the entire case and its details are designed so that you won't feel any interference or malfunctions, even if you place the player on an uneven surface.
A stereo cable with two RCAs, a 45 RPM adapter, and a removable dust cover to protect all this beauty are included. The vinyl player is compact, and you can easily move it around when needed. It measures 420 x 117 x 340 mm and weighs only 10 pounds.
Features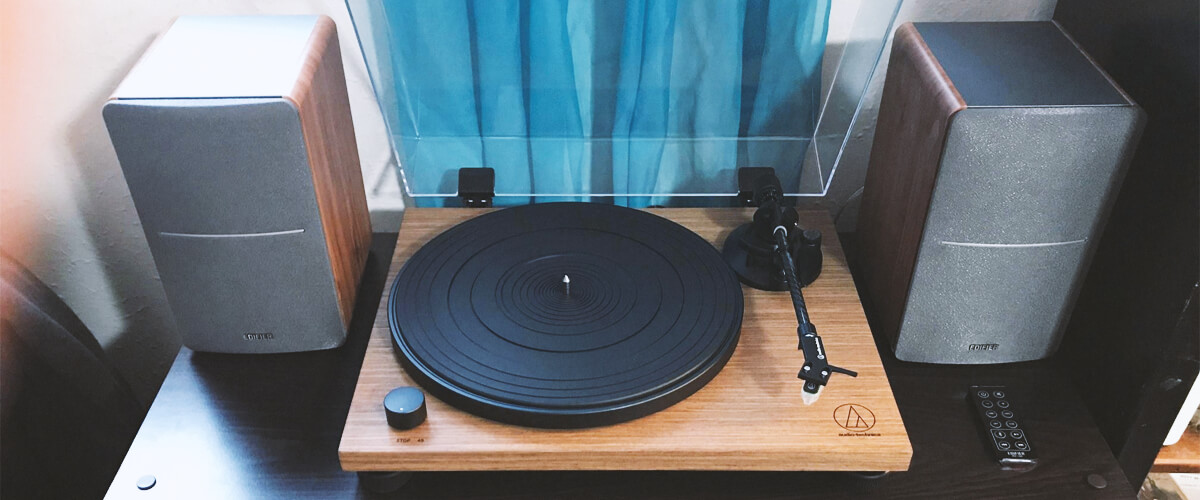 The AT-LPW40WN is a turntable with belt drive operation and a DC motor with a speed sensor system to maintain accurate disk speed at two speeds of 33-1/3 and 45 rpm. In addition, the model has adjustable dynamic anti-skate control and a built-in preamp for plug-and-play capability. At the same time, you can always switch it to connect an external preamp.
The tonearm comes with the AT-HS4 universal ½ inch mount headshell, the AT-VM95E Dual Moving Magnet phono cartridge, and a 0.3 x 0.7 mil elliptical stylus by Audio-Technica. Its special feature is that it is compatible with any interchangeable VM95 series stylus. So you can upgrade your deck or just easily replace the cartridge when you need it. It is important because regardless of your financial means, you're always assured that your favorite records will remain intact.
Sound
Even in its original configuration, AT-LPW40WN provides warm analog sound and has no apparent drawbacks when listening to any record. At least from the ones I listened to - different years of rock and jazz sounded smooth, rich, and stable. At the same time, the sound is quite loud. The RPM is between 1% wow and 0.5%.
In addition to a design that helps avoid vibration, which knowingly improves sound quality, you can connect an external preamp. This fact is always an advantage for inexpensive decks because you choose the external phono stage yourself, which means you can be sure to improve the quality of your audio system.
It is possible to conclude that the sound is not outstanding but will satisfy an unpretentious audiophile for whom this turntable is designed.
Key specs
Drive type: belt.
Operation type: manual.
Speeds, RPM: 33 1/3, 45.
Phono Pre-Amp: yes.
Speakers: no.
Bluetooth: no.
USB: no.
AUX: no.
It's the best Audio-Technica turntable on my list in combination with all parameters! A fully manual turntable with basic features sounds nice and mellow. In addition, it can be upgraded/improved, which makes it a good investment for buyers on a tight budget. That said, it offers a plug-and-play configuration.
Pros
Built-in preamp.
Carbon tonearm.
Replaceable AT-VM95E Dual MM cartridge.
Cons
The sound isn't loud enough.
Audio-Technica AT-LP120XUSB – also great
In this Audio-Technica AT-LP120XUSB review, I'll take a look at an inexpensive but interesting deck from the famous Tokyo-based company, which has been making turntables for a long time. The AT-LP120XUSB is a replacement for the original popular model, first released in 2009. The new version not only retained the advantages of the first model but is also equipped with many additional functions, including those for DJs.
Design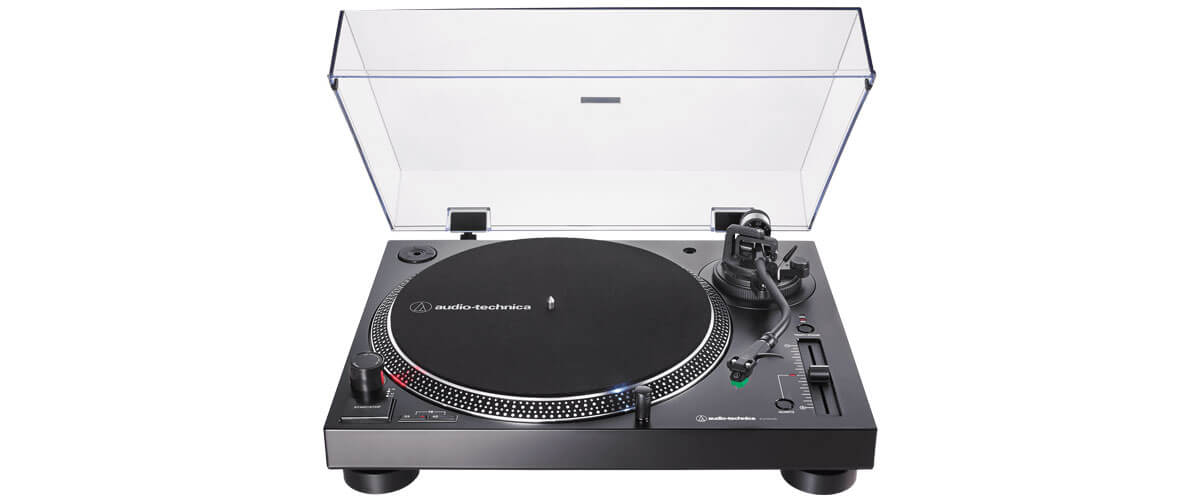 The AT-LP120XUSB record player has a modern style design. The matte black or silver plinth stands on four legs. It is stable and has all the control buttons: start/stop, record rotation speed change, switch the built-in preamp to external, variable pitch control with quartz speed lock. Precisely these features make it easy to control and will be useful to DJs.
An anti-resonance cast aluminum disc with a professional-grade felt mat can dampen any motor vibration. It is an important factor that affects the final result of the played music. And the balanced metal S-shaped tone arm with a hydraulically damped lift regulator and lockable stop, though heavier than the carbon one, is easy to use.
Additional bonuses will be a dust cover and a removable plug-in target indicator for easy aiming in low light.
Features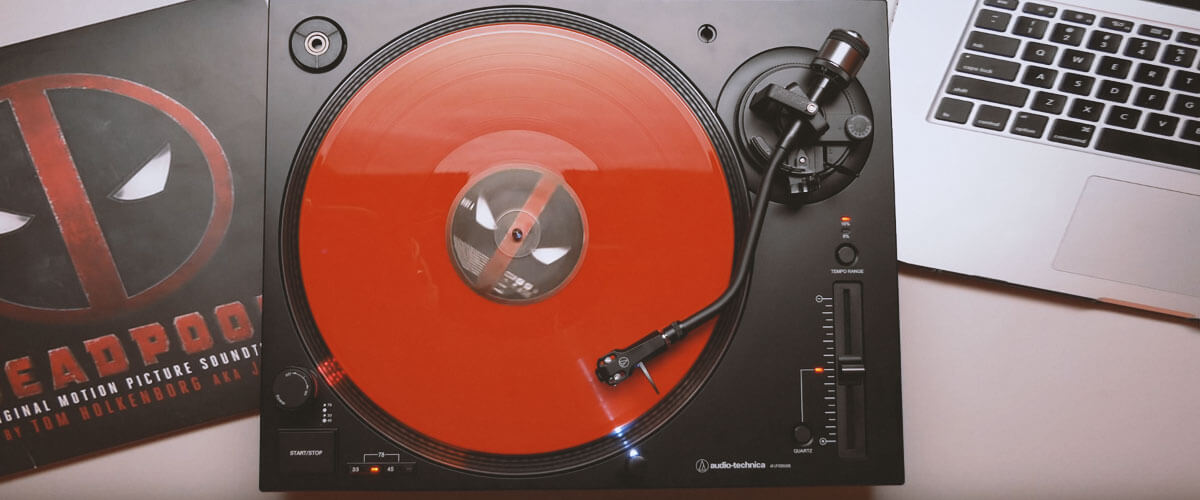 The AT-LP120XUSB is a fully manual vinyl turntable with a direct drive DC servo motor as well as adjustable dynamic anti-skate control and selectable phono preamp. You can always set the preamp externally, just toggle the control. The AC adapter provides AC/DC conversion outside the plinth, reducing noise in the signal circuit.
The player can play records at 33-1/3, 45, and 78 rpm. The AT-VM95E Dual Magnet phono cartridge with the elliptical stylus is very good and also, if necessary, adaptable for replacement. It comes with an AC adapter, an adapter for 45 rpm, and a counterweight.
As you can guess from the name, the vinyl player has a USB output, which you can use to connect directly to your Mac and PC and digitize your recordings without any help. A USB and a removable RCA output cable for dual RCA male output are included.
Sound
The sound was satisfactory when testing the AT-LP120XUSB turntable, as it was clear and pronounced. I purposely listened to the records at different speeds. There are almost no defects typical for vinyl. The tonal balance is even, detailed, and with deep bass. The player is stable, and no vibrations are felt. So I think the results will be very good whether you set up your own system or connect to a computer.
Key specs
Drive type: direct.
Operation type: manual.
Speeds, RPM: 33 1/3, 45, 78.
Phono Pre-Amp: yes.
Speakers: no.
Bluetooth: no.
USB: yes.
AUX: no.
It is also a great Audio-Technica record player that offers you a decent initial package that requires no initial investment. The turntable delivers clean, warm sound, good frequency range, and deep bass. And with the USB function, you can digitize your favorite tracks from records.
Pros
Good anti-resonance characteristics of the case.
Balanced metallic S-tone arm.
Built-in preamp.
Three speeds of records playback.
USB function to digitize records.
Cons
It may seem complicated at first to use.
Audio-Technica AT-LP60X – budget
In this Audio-Technica AT-LP60X review, I will examine a turntable, an advanced version of the previous AT-LP60 model. It is an inexpensive deck with some interesting features worthy of attention. So let's take a closer look at it.
Design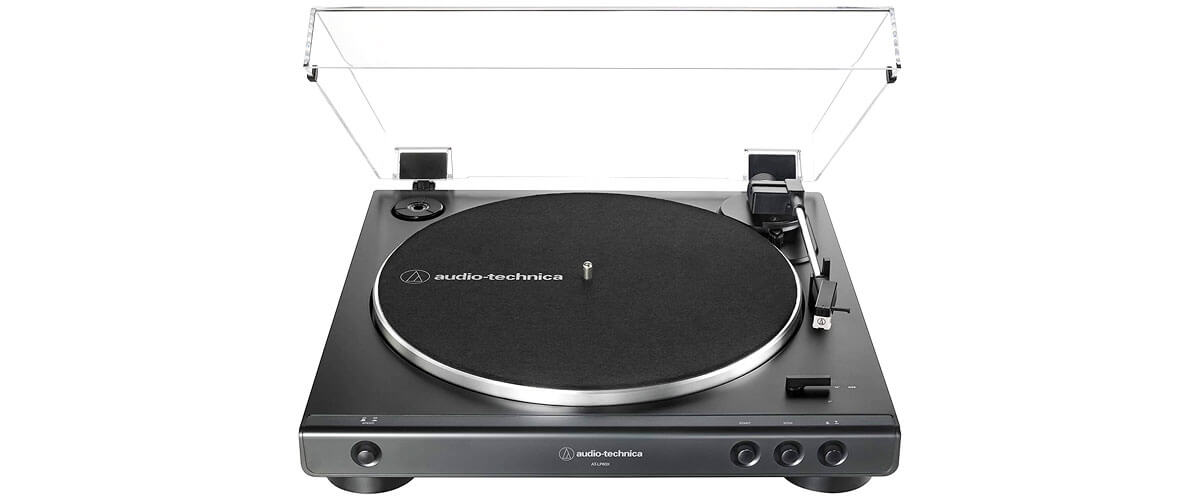 The fully automatic record player weighs only 5.6 pounds. The line has four colors, but only the front panel is different: Black, Red, Brown, and Gun Metal. Nevertheless, you can choose the one that fits your interior better. Of course, the weight of the AT-LP60X suggests that the body material is plastic. The deck doesn't look cheap, and it's stylish and easy to move around the room. The round start, stop, and gearshift buttons on the front panel add elegance. They are not distracting and make it easy to use.
A dust cover is included, which is always a bonus for me because you don't have to worry about cleanliness and minor external influences on fragile parts. The cast aluminum disc, as well as the redesigned tonearm base and headstock, provide tracking and resonance reduction. The tonearm is straight and lightweight, and there is a handy plastic holder on the panel.
Features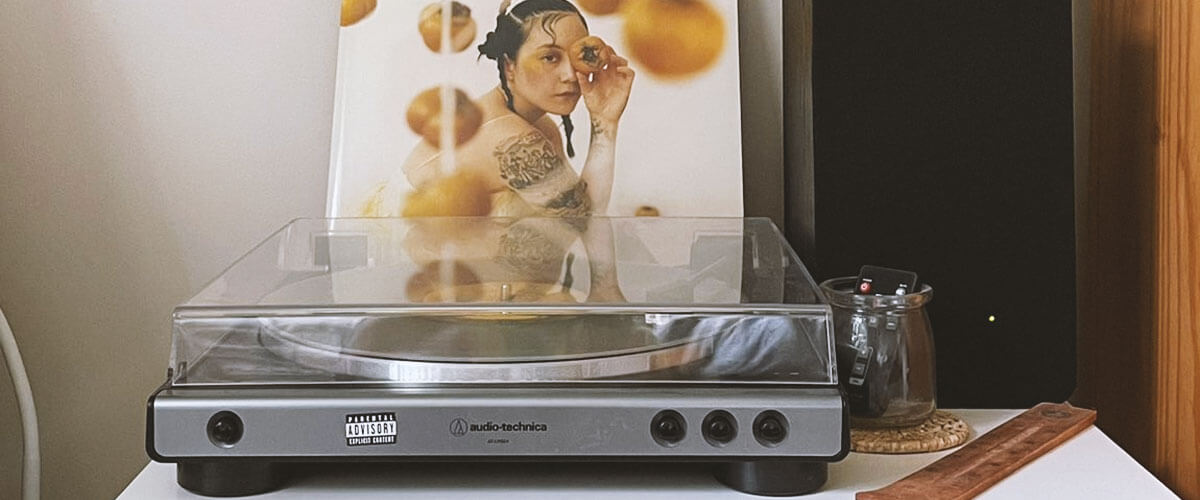 The AT-LP60X turntable is very simple. It has a belt drive, but the 33-1/3 rpm, 45 rpm switching is done by a button on the panel. So you don't have to remove the plate, and you don't have to shift the belt manually. The servo-controlled DC motor isn't noisy and doesn't interfere with listening to your favorite tracks. And the AC adapter provides AC/DC conversion outside the cabinet, reducing noise in the signal circuit.
The AT-LP60X comes with a built-in phono stage. So no additional instant spend is required, which is important if you're counting on "plug and play." But if you're not satisfied with the quality, you can always buy an external preamp and create your own audio system to your preference. There is a PHONO/LINE switch button on the rear panel for this purpose.
A built-in Dual Magnet phono cartridge with an interchangeable diamond stylus (ATN3600L) is also included with the turntable. But it can also be replaced by your choice. You'll also find a removable RCA output cable (3.5mm to two RCA connectors) and a 45 RPM adapter.
Sound
Of course, this model is not a professional deck and is unlikely to appeal to advanced audiophiles. But if you want to own a turntable, and have a limited budget, believe me, it is a decent value for money. The AT-LP60X plays records well. Some users complain that it doesn't like 10" records, but I haven't tested it. I didn't test it for too long, and it lived up to my expectations of the sound of an inexpensive deck. The balance and timing are pretty good. The dynamic range is capable of surprising. The lower and upper frequencies sound quite clean, with no hum or ringing. You probably will not hear clear detail, but the overall picture is very good. In addition, you can always buy an external phono preamplifier, which can positively affect sound quality.
Key specs
Drive type: belt.
Operation type: manual.
Speeds, RPM: 33 1/3, 45.
Phono Pre-Amp: yes.
Speakers: no.
Bluetooth: no.
USB: no.
AUX: no.
The best budget Audio-Technica turntable is incredibly simple and easy to operate. Of course, you shouldn't expect high-quality sound from it, but you won't hear outright shortcomings during listening. Over time you will have to buy an external preamplifier, but at the initial stage, you get a device "plug and play" with the possibility of configuration in the future.
Pros
Fully automatic.
Replaceable diamond stylus ATN3600L.
Requires no additional investment at the beginning.
Cons
Too lightweight design does not provide stability or anti-resonance.
Requires replacement parts over time.
Audio-Technica AT-LP7 – premium
In my Audio-Technica AT-LP7 review, I will tell you about an amazing turntable. The manufacturer itself is very high on the positioning of its record player, and I must say, not for nothing. One of the most expensive and unusual in the Audio-Technica range, the model has top-notch visual and technical features and offers something you won't find in other vinyl turntables of this rank. Proceed with pleasure.
Design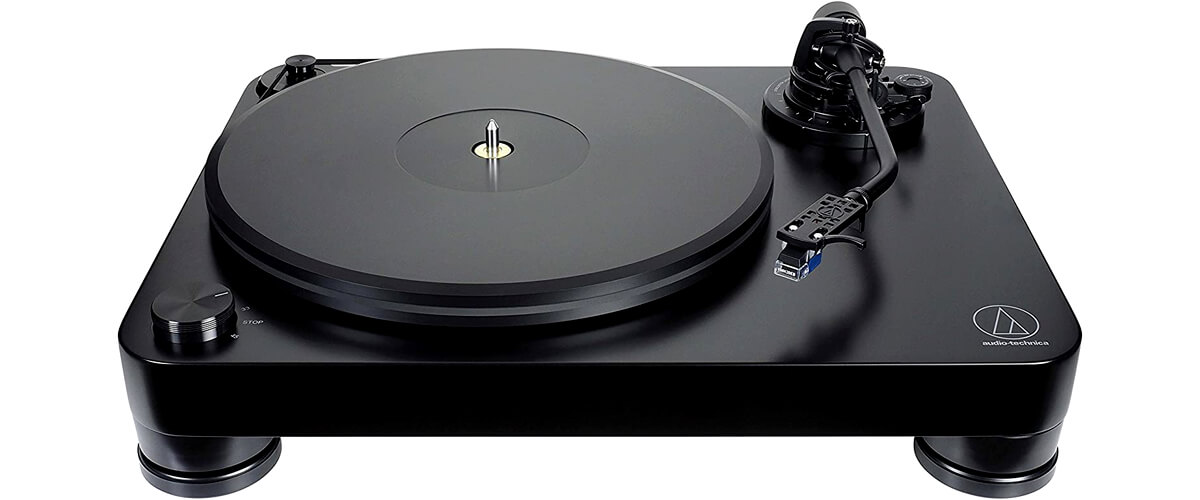 The AT-LP7 turntable offers excellent anti-resonance data. The 40mm thick black matte MDF body with rounded corners weighs 18.30 pounds (dimensions 17.72 "W x 13.86 "D x 6.18 "H), and that alone ensures stable performance on any surface. In addition, the turntable has a 20mm polyoxymethylene anti-resonance platter. An unusual material that I liked in appearance, to the touch, and during operation proved smooth and silent. However, no slip-mat is included, so you install the platen directly on the platter. But the height adaptability of the tonearm allows you to install any thickness mat you want.
The turntable is called completely manual, but it is not. A knob on the cabinet simultaneously stops the deck's operation and changes the record scrolling speeds. But everything else you have to do yourself, although I consider it an advantage in this case. Expensive models have to be like this because automatics tend to fail often. The rear panel has a Phono/Line switch, a MM/MS switch (I'll talk about this feature separately), a ground spindle, and RCA jacks.
The tonearm of the AT-LP7 deserves special praise. Thanks to its J-shape with an effective length of 247 mm, metal gimbal suspension system, and precision bearings, it provides stunningly accurate placement on a record. In addition, the manufacturer claims a maximum tracking error angle of less than 2.5°. Impressive specs. It's also pretty easy to assemble, install and adjust. Assembling the turntable myself, I am always proud of this fact. These are not all the advantages of the tonearm, but I will describe them in the next paragraph.
Concluding the description of the vinyl turntable package, a stereo cable with two RCA (jack) to two RCA (jack), an adapter for 45 rpm, and a dust cover are worth mentioning. From the reviews, many people don't like that the cover doesn't attach to the case. But for me, on the contrary. The plastic at the attachment points loosens and cracks, collecting dirt and dust. I love fiddling with turntables, so it's no problem to spend 1 minute more time on it.
Features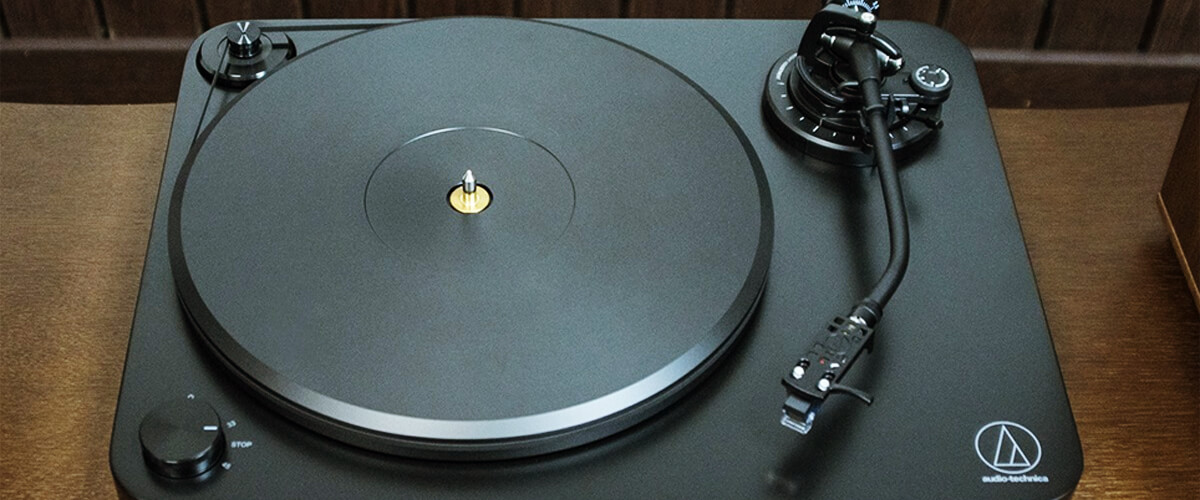 The Audio-Technica AT-LP7 is a turntable with a DC motor, belt drive, and two speeds of 33-1/3 RPM and 45 RPM. It is a pity that there is no third speed, though not strange for this price range. Also, the vinyl player does not offer a USB digitizing feature, which some reviewers cite as a drawback. Perhaps I agree that it would come in handy. But this model is suitable for DJs, among other things, so all of these parameters are standard.
Among the features is the built-in preamplifier. It's not that it was of any unreal quality, just that many turntables of this rank do not offer a "plug and play" option. And, of course, you can connect an external phono stage, thus increasing the sound level of your audio system.
But the most amazing thing about the AT-LP7 again is the tonearm. Or rather, its AT-HS10 lightweight headshell with a pre-installed VM520EB Dual Moving Magnet stereo cartridge with a replaceable stylus (can be replaced with any VM stylus). Besides the fact that this cartridge itself is very good, offering extended frequency response and quality channel separation, Audio-Technica, unlike many other manufacturers, offers its replacement not only with a higher quality MM cartridge but also with Magnet Coil configuration cartridges. It is a very cool option because most turntables don't allow you to change the cartridge and keep using the built-in preamp. Now, remember the switch I mentioned earlier. It changes the gain from 36dB for MM to 56dB for MC.
Sound
You probably noticed my enthusiastic tone in some parts of the review, and I do not hide it. But I never tire of repeating that the built-in phono stage cannot provide perfect sound, so I strongly recommend investing in an external one. I would also replace the cartridge over time, or at least the stylus, because according to Audio-Technica's claim, its lifetime is limited to 1000 hours, although it initially performed very well.
I even jumped next to the turntable, checking its stability, but I did not notice any lack of stability, vibration, motor noise, or extraneous noise. Also, the AT-LP7 has a great acceleration speed. The Dance Fever album by Florence + The Machine gave my body goosebumps. The bass is deep (no hum), the frequencies are clear and clean (no tinkling), and the vocal techniques' detail was terrific. A definite recommendation considering the quality, the price with no additional investment in the first phase, and the possibilities of upgrading in the future.
Key specs
Drive type: belt.
Operation type: manual.
Speeds, RPM: 33 1/3, 45.
Phono Pre-Amp: yes.
Speakers: no.
Bluetooth: no.
USB: no.
AUX: no.
The last, but by no means least, Audio-Technica vinyl player on my list. In addition to its unusual appearance, the turntable provides many differences from the usual configurations of the company's and competitors' assortment. The AT-LP7 sounds beautiful and detailed even in its entry-level configuration, but it offers multiple upgrade options.
Pros
Heavy, stable design.
Built-in preamp.
The AT-LP7's quality J-shaped tonearm.
Ability to replace the cartridge with Magnet Coil configuration without switching to an external preamplifier.
Cons
No slip mat for the record.
No 78 RPM record speed.
Audio-Technica turntables buying guide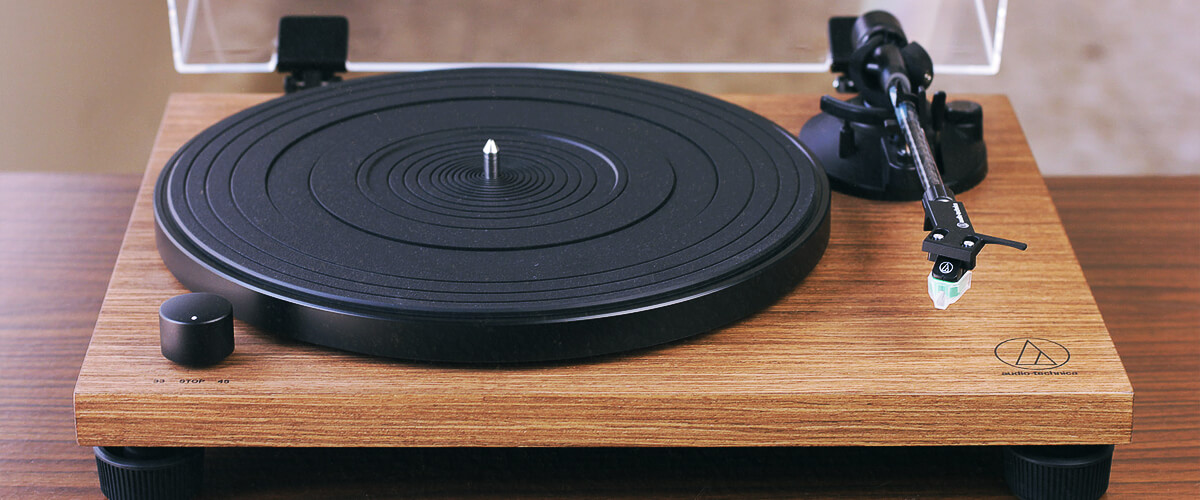 Choosing the right turntable can be a nuanced decision, influenced by your specific needs, be it listening to vinyl records at home or DJing at a club. Audio-Technica offers a variety of options, but how do you decide which one is right for you? Below, we explore some key considerations to guide your purchase.
Drive type
Belt drive: If your primary goal is to enjoy high-fidelity music at home, belt-drive turntables are an excellent choice. They are known for their quieter operation and superior sound quality, as the elastic belt absorbs motor vibrations that could otherwise be transmitted to the spinning record.
Direct drive: If you're into DJing or want quicker start-up times, direct-drive turntables like the AT-LP120XUSB should be your go-to option. They provide consistent speed and allow for scratching, a common DJ technique.
Upgradability
It's a good idea to think long-term when you're investing in a turntable. Some Audio-Technica models offer easy upgradability, especially when it comes to the cartridge or needle. This means you can improve your sound quality as you go along without needing to purchase an entirely new unit. Opt for models that have easily replaceable parts to make your life easier down the line.
USB functionality
To digitize your vinyl records, look for turntables with USB outputs. Models like the AT-LP60XUSB allow you to connect directly to a computer, making it easy to convert your favorite tunes into digital formats.
Automatic vs. manual
Manual: For those who relish the tactile experience of handling vinyl and want to engage with the "classic" way of listening a manual turntable might be the best choice. You'll be responsible for placing the needle and lifting it at the end of a record.
Automatic or semi-automatic: If you prefer more automated functions or are into DJing, consider automatic or semi-automatic turntables. These units take care of some or all of the processes, like returning the tonearm when the record has finished playing, giving you one less thing to worry about.
With these pointers in mind, you'll be better equipped to choose an Audio-Technica turntable that aligns with your needs and lifestyle.
FAQ
Are Audio-Technica good turntables?
The short answer is yes. These great mid- to budget-priced devices offer easy operation, versatility, and excellent quality of the main component, the cartridges they produce. In addition, all important parts can be replaced and found on the market quickly and easily. So if you're interested in an inexpensive device that will last you a long time – Audio-Technica is a good choice.
Is Audio-Technica a good player for beginners?
Not all, but most Audio-Technica models are fully automatic or semi-automatic. So if you're an inexperienced user or have never even dealt with vinyl players, there are models in the company's range that require no knowledge or effort. Once you take it out of the box and plug it in, you can enjoy your favorite records immediately. In addition, the company's pricing policy is aimed just at people with a limited budget or those not ready to spend large sums of money on equipment without experience.
Is the Audio-Technica turntable better than Sony?
I wouldn't compare the two brands simply because vinyl implies pure analog sound. Sony, on the other hand, specializes in wireless. So if you are not a vinyl connoisseur and see it as a trend or appreciate technology, there is no difference in the turntables of these companies of the same rank. Regarding quality construction and functionality related to playing records, I would also pay more attention to Audio-Technica. However, I give credit to Sony on the spectrum of other devices.
Do Audio-Technica turntables damage records?
Who put you on to that question? No, no, and no. Originally a cartridge manufacturing company, Audio-Technica takes care of the integrity of your record in the first place by incorporating cartridges of its own manufacture. Most are interchangeable and require no separate manipulation during installation. What's more, the brand's cartridges are used by many other famous manufacturers. So you can be calm about this issue.
We are supported by our audience. When you purchase through links on our site, we may earn an affiliate commission at no extra cost to you.
Our newsletter
* We will never send you spam or share your email with third parties