Today's world is rich with modern technology, and Sonos is a vivid confirmation of that. With it, you can connect to a smart home system, listen to the same music in many rooms, or connect to different sources and listen to various music in separate rooms. You can even connect it to your home theater. But is connecting the turntable to Sonos possible? And if so, how do you do it? What does it require? How to combine analog and digital sound? I'll give the answers to all these questions in this article. So let's go!
Connecting TT to Sonos
First, let's break it down: Is a specific record player compatible with Sonos? And the answer is no. Any player with a built-in preamp can be connected to Sonos. However, if you don't have a built-in preamp, all you have to do is connect to an external one. You should also know that the Sonos system is compatible with traditional wired speakers.
It's pretty easy, especially for those who know about technology. Below I'll take a closer look at three ways to connect using Sonos products: Five (+ stereo mini on RCA Y-Audio cable), Amplifier, and Port. All the same connection techniques are valid for Sonos Connect if you already have these devices.
Connecting with Five/Play:5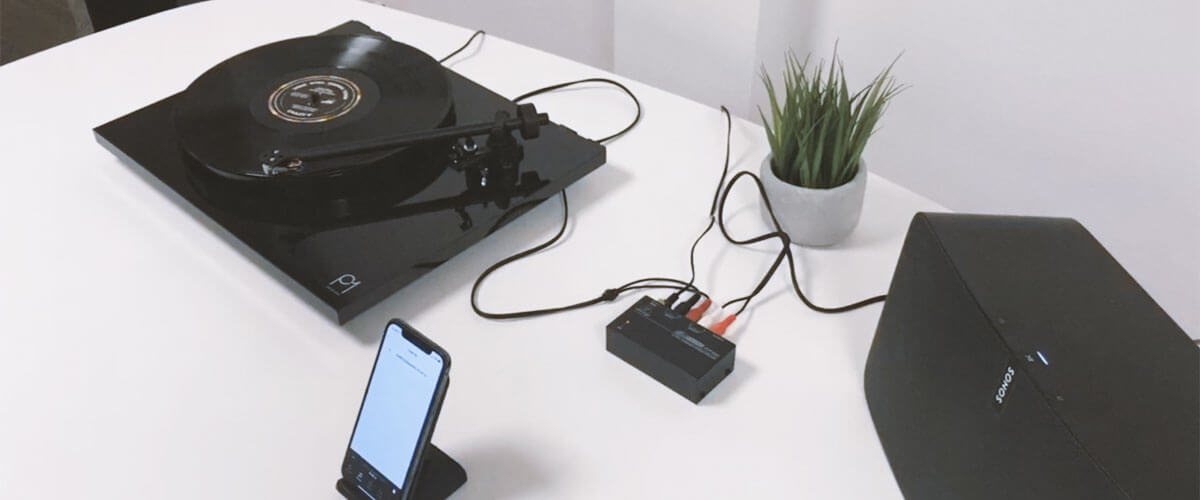 This is a wired and the easiest hook-up method:
First, connect your turntable to a preamp (unless, of course, you have a built-in preamplifier).
Connect the RCA Y-cable with one end to the Sonos Five Line Input, and attach the split end to the L/R audio outputs of the preamp (or player with a built-in phono stage).
You can't use any other speakers in this case, but you can pair the Five with any other Sonos speakers.
Connecting with Sonos Amp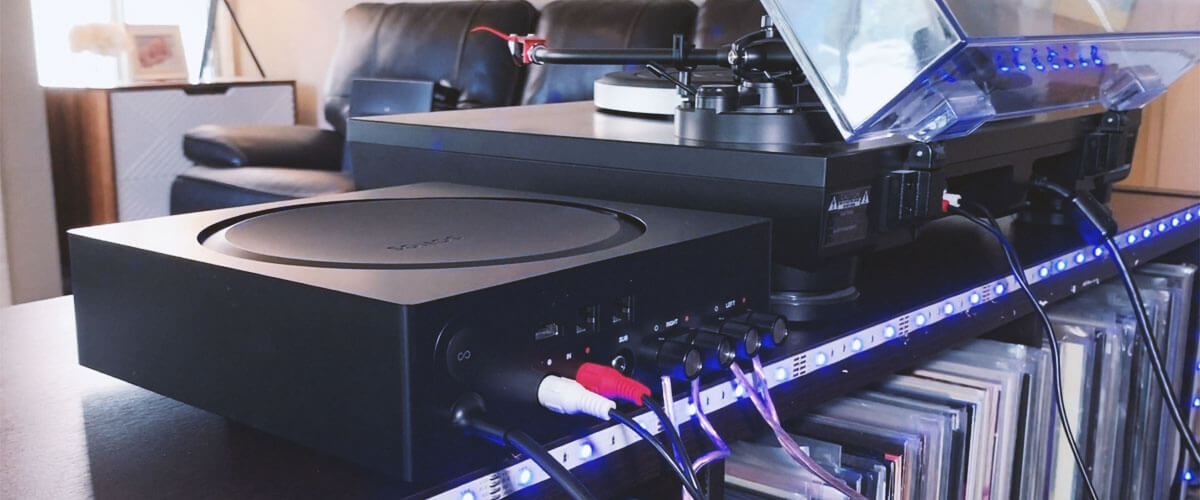 You can use this method when you have a turntable and speakers (not Sonos), but no amplifier:
The Sonos Amp comes with an audio cable, which you connect first to the record player (or external amplifier) and second to the L/R audio inputs of the appropriate color on the Sonos amplifier.
Next, you simply connect the speakers to the Amp. Done!
Connecting with Port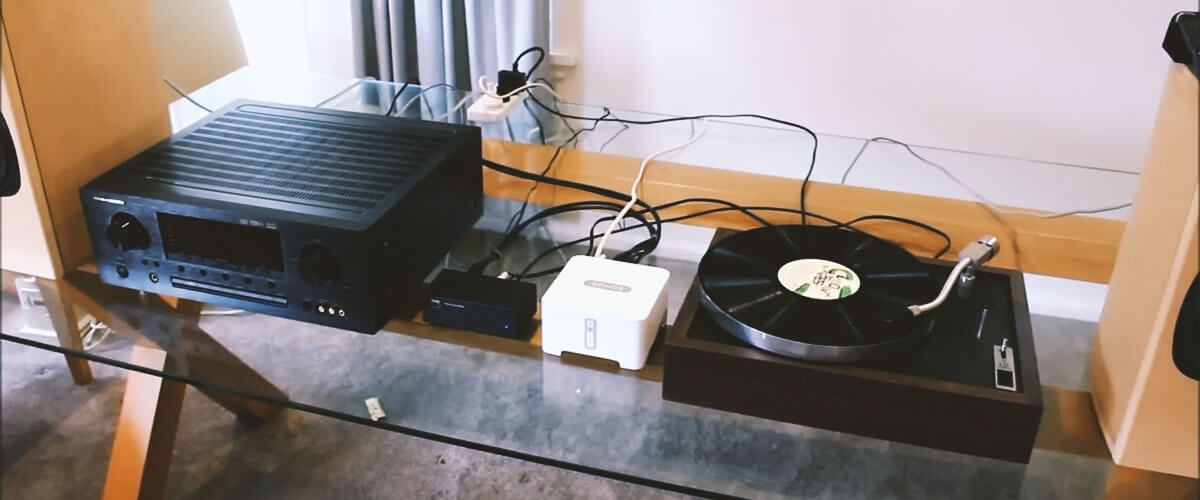 This method is for when you already have a record player, speakers, and amplifier, but not Sonos. The Sonos Port here works as a translator for other Sonos speakers, for example, for playback in different rooms.
The Sonos Port comes with an audio cable. Therefore, you should connect your turntable/preamp to the L/R inputs on the back of the Port in the appropriate color.
Connect the Port to your amplifier. Enjoy your music everywhere!
Next Step
Open the Sonos app on your phone or tablet and switch its sound source to Line-in. You can rename this mode in the app. You can also use the AutoPlay function if you want the system to work automatically when a vinyl player is connected. There you can either adjust the volume or combine Sonos devices in different rooms for a shared broadcast from the turntable.
The latter can be a problem because when you combine other speakers using the app, the Sonos network transmits a compressed digital signal to all the rooms in your house. And in the turntable, the sound, as you understand it, is uncompressed. So you end up with intermittent sound, pauses, and brakes.
But I wouldn't be writing this article if there wasn't a solution to this problem, right? You can use Ethernet. That way, you broadcast sound to each speaker separately instead of wirelessly. Or, in the application itself, put an automatic setting (you can set it up yourself) that will not compress the audio signals of the line input.
Conclusion
Well, connecting a record player to Sonos is not difficult at all, although it will take a little bit of fiddling. But isn't it worth it? Your favorite vinyl tracks in every room of your house, anytime, in the finest sound!
We are supported by our audience. When you purchase through links on our site, we may earn an affiliate commission at no extra cost to you.
Our newsletter
* We will never send you spam or share your email with third parties