In this article, I offer you a list of the best Pro-Ject turntables, which can satisfy the refined taste and musical ear of experienced audiophiles. Not knowing this brand today is "a crime" because it has long and firmly gained its popularity, thanks to the policy of the company, which also produces components for its vinyl players, providing high quality at a reasonable price
Our pick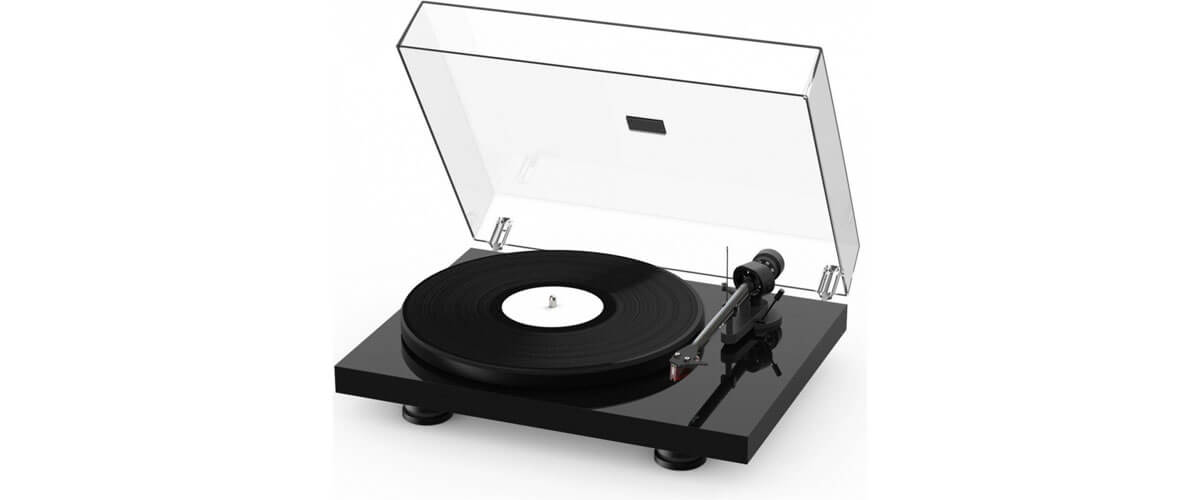 Pro-Ject Debut Carbon EVO
Best Pro-Ject turntable
The Debut Carbon EVO focuses on the core aspects that make a turntable sound great. Technically correct design – expert craftsmanship – handmade in the EU, and the switch on the bottom allows you to change speeds by pushing only a single button.
Read the full review
.
Back in 1991, at the time of the digital breakthrough, founder Heinz Lichtenegger took the liberty to preserve the tradition of analog sound, and he did not fail. Today, the company, which has production facilities in Germany, the Czech Republic, and Slovakia, offers models of any price and configuration, whether you want a multifunction or a premium, a turntable with two or three speeds, a manual or fully automatic, you will find the model that suits you here. Pro-Ject's reputation and consistent quality are what you should look for when choosing a deck. So whether this is your first record player or you are upgrading your audio system, you've come to the right place.
Pro-Ject turntables comparison table
Name
Drive type
Operation type
Speeds
Phono Pre-Amp
Bluetooth
Review
Pro-Ject Debut Carbon EVO

best overall

belt
manual
33 1/3, 45, 78
no
no
Review
Pro-Ject T1 Phono SB

also a great choice

belt
manual
33 1/3, 45
yes
no
Review
Pro-Ject X2

premium

belt
manual
33 1/3, 45, 78
no
no
Review
Best Pro-Ject turntable reviews
In this Pro-Ject Debut Carbon EVO review, I will tell you about a turntable that has taken a strong position among the models in the mid-range. It is essentially an upgraded version of the popular Debut Carbon (DC), in which the manufacturer has improved almost every aspect and, respectively, slightly increased the price. It is a worthwhile model; let's make sure of it soon.
Design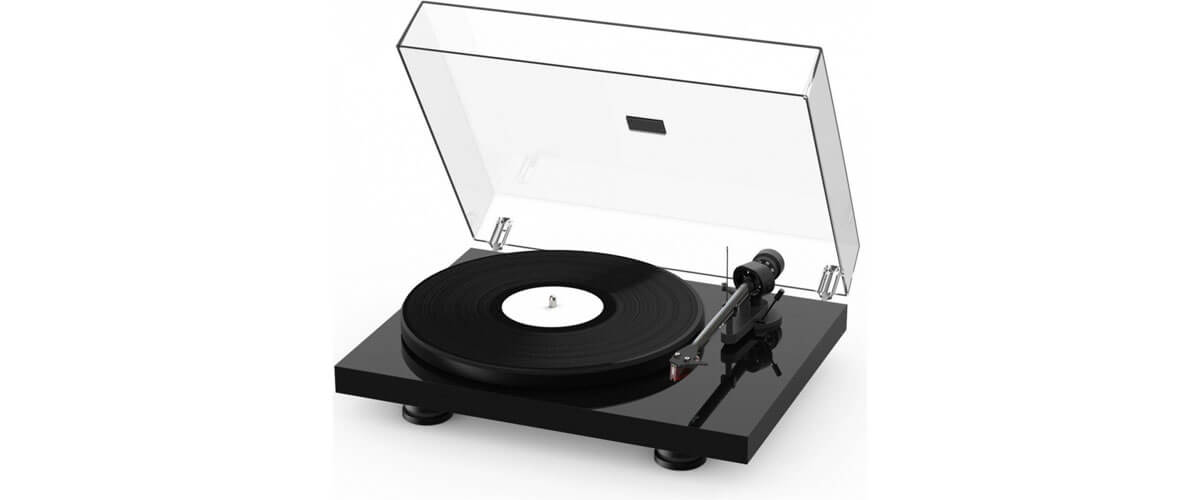 The sleek MDF cabinet is available in 9 colors, including glossy black, white and red, real walnut veneer, and new satin finishes. So the DC EVO will suit any interior. Especially if you're a fan of minimalism because there are no unnecessary details on the deck. Just a 12-inch steel TPE disc with a damping ring and a chic 8.6-inch carbon straight tonearm. The speed button has been moved to the bottom of the plinth, which is protected by a dust cover.
The new Debut Carbon Evo turntable stands on three height-adjustable damped aluminum feet, providing stability on uneven surfaces. In combination with the other elements, the turntable is vibration-free and does not produce any extraneous noise when listening to your records. In addition, it's easy to install and operate and weighs only 12.35 pounds.
Features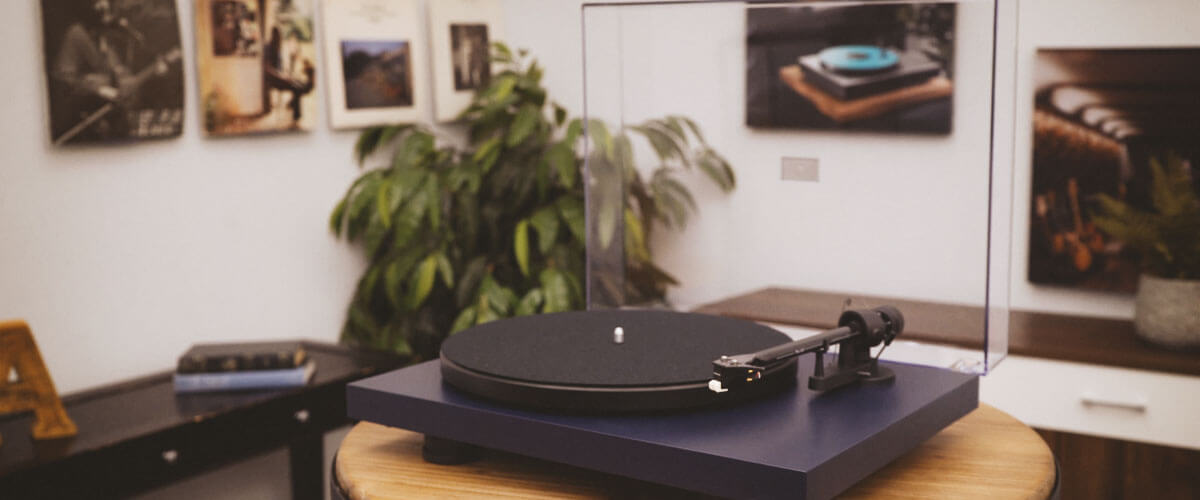 The new engine suspension design was the first improvement, making the Debut Carbon EVO even less noisy. And also the automatic gear shift (33, 45, and 78 rpm), with just one small button under the housing. No more disassembling the system to move the belt.
The previously mentioned tonearm deserves attention not only because it is very light and sturdy but also because it has a built-in Sumiko Rainier cartridge of the highest quality. The gold-plated RCA connectors complement the simple chic of the turntable, which are easy to replace (as are the rest of the Pro-Ject EVO). A high-quality RCA phono cable, a low capacitance, half-balanced cable with excellent shielding are also included.
As I previously said, nothing is superfluous. Neither in design nor hardware. The most essential are high-quality parts with a luxurious simplicity and sense of style.
Sound
I thoroughly enjoyed testing the Pro-Ject Carbon EVO, and I can say that I heard no vibrations, buzz, or motor noise in its performance. Instead, excellent soft midrange, high voice detail, and clear bass are what the Debut Carbon Evo record player sounds like. I played dynamic rock songs, mellow blues songs, and rich classical songs, and in each case, I got a great result of deep expressive sound.
Key specs
Drive type: belt.
Operation type: manual.
Speeds, RPM: 33 1/3, 45, 78.
Phono Pre-Amp: no.
Speakers: no.
Bluetooth: no.
USB: no.
AUX: no.
The Pro-Ject Debut Carbon EVO is the best Pro-Ject turntable in the brand range. It offers excellent options and a quite high sound quality in the mid-range price segment. The price-performance ratio of the Debut Carbon EVO is perfect, which is why it ranks so high on my list. In addition, the model can be optimized and upgraded (parts that affect the sound are replaceable). And don't forget that you will need an external preamp.
Pros
Silent operation.
Three speeds of 33,45 and 78 RPM.
Connect it E Phono cable included.
Cons
Quite lightweight construction.
No built-in preamp.
Pro-Ject T1 Phono SB – also great
The mid-price segment of turntables offers a very wide range of choices. Unfortunately, it is very easy to get confused or make the wrong choice in such an abundance of models. So you should pay attention to the details that can distinguish a particular device, putting it at a level worthy of your attention. In this Pro-Ject T1 Phono SB review, I will tell you about a record player of good build quality, sound, and straightforward operation, as well as a detailed examination of its features.
Design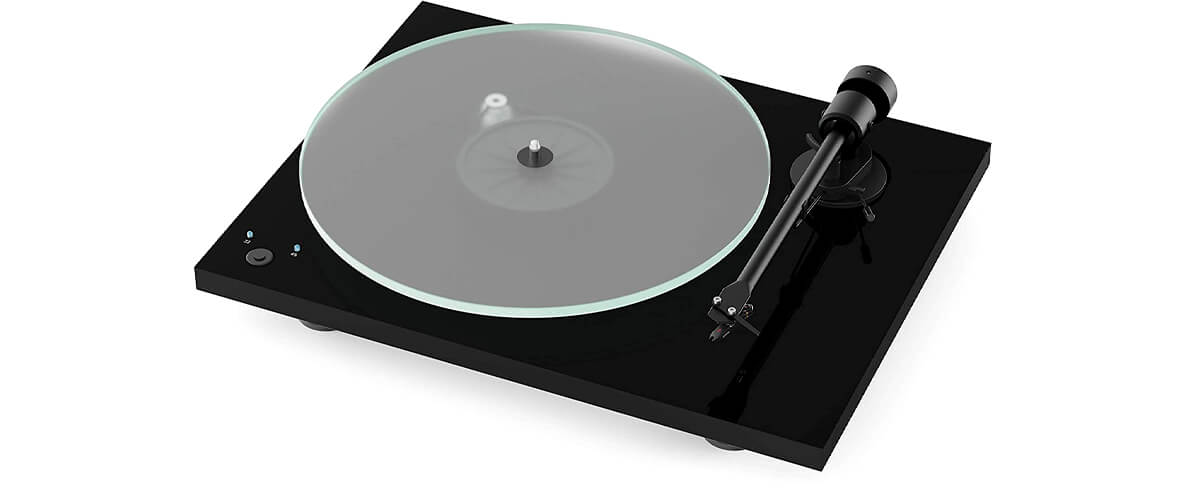 The lightweight and portable Pro-Ject T1 weighs only 8.4 pounds and measures 415x100x335 mm without a single plastic part. The medium-density, cavity-free fiberboard deck is available in three colors: Gloss Black, Satin White, and Walnut Veneer, so you can choose to match your interior. Its very discreet, elegant design is not overloaded with anything. The only On/Off switch is on the bottom left - you don't have to look for it. It's very handy.
Although the manufacturer compensated for the lightness of the turntable with a heavy 8mm abrasive glass plate with a felt mat, and it is quite capable of handling vibration problems, unfortunately, the feet are not adjustable, so you better set the turntable on an as flat surface as possible.
The 8.6" straight aluminum tonearm is also very lightweight but sturdy and will last a long time. The overall visual impression of the deck is very nice and doesn't look cheap. It comes with a dust cover, and a high-quality Connect it E RCA Phono cable.
Features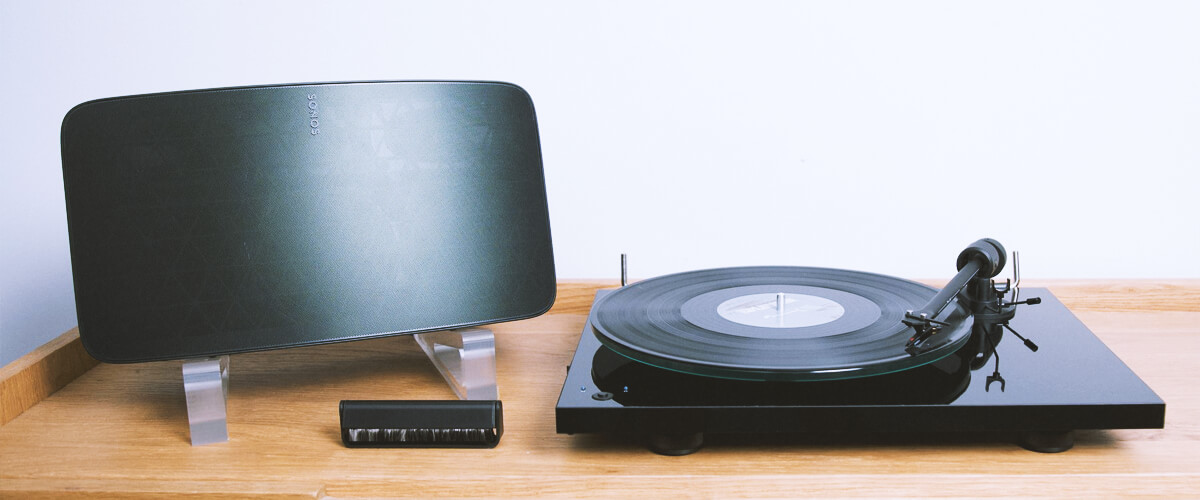 The Phono SB is an upgraded version of the T1, so it has some bonuses. Such as the Precision Belt Drive with precisely adjustable speed stability and 33/45 RPM electronic speed changeover.
The deck also has a built-in preamp, so you don't have to splurge to buy one. But thanks to the RCA Phono/Line output switch, you can always connect an external preamp to enhance your audio system.
The tonearm has a very good built-in Ortofon OM5e moving-magnet cartridge. It is pretty expensive separately, but it's qualitative and durable, so you don't have to worry about replacing it in years to come. In general, the tonearm's design inspires confidence with its anti-resonance action, thanks to the low-friction bearing of the tonearm and the absence of vibrations. The Wow and Flutter provide a range of 0.23% - 0.25%. Considering the price and the handmade European assembly, this is great functionality!
Sound
The T1 Phono SB turntable produces a very warm, enveloping sound. It won't probably satisfy the sophisticated audiophile's needs because its bass is not the cleanest and most detailed, but it is quite compensated by the low and midrange frequencies. The upper frequencies are also quite good, without any outright flaws, creating an overall pleasant picture. I did not hear any outright shortcomings, noise, or blurring, which means that T1 Phono SB copes with its task, suppressing noise and vibrations. And taking into account its elegant appearance, functionality, and ease of setup - I would conclude that it is worth its money.
Key specs
Drive type: belt.
Operation type: manual.
Speeds, RPM: 33 1/3, 45.
Phono Pre-Amp: yes.
Speakers: no.
Bluetooth: no.
USB: no.
AUX: no.
This model is also a great Pro-Ject turntable. Even more affordable than its predecessor, the Pro-Ject T1 Phono SB does not offer any additional features and audiophile-level sound but has a plug-and-play configuration and upgrade options. The sound of the deck is warm and pleasant, with no obvious flaws.
Pros
Fully automatic.
Built-in preamp.
Very good built-in Ortofon OM5e moving-magnet cartridge.
Low friction and vibration-free tonearm bearing.
Cons
Very light to withstand vibration.
Two speeds of records playback.
Pro-Ject X2 – premium
Well, it's time to do a Pro-Ject X2 review, a premium turntable that will be appreciated by those who understand sound quality. Or those who are ready to spend an impressive amount of money but get a VIP audio system for many years. High-quality materials, stunning appearance, endless upgrade potential - we will take a closer look at all of this. Let's go.
Design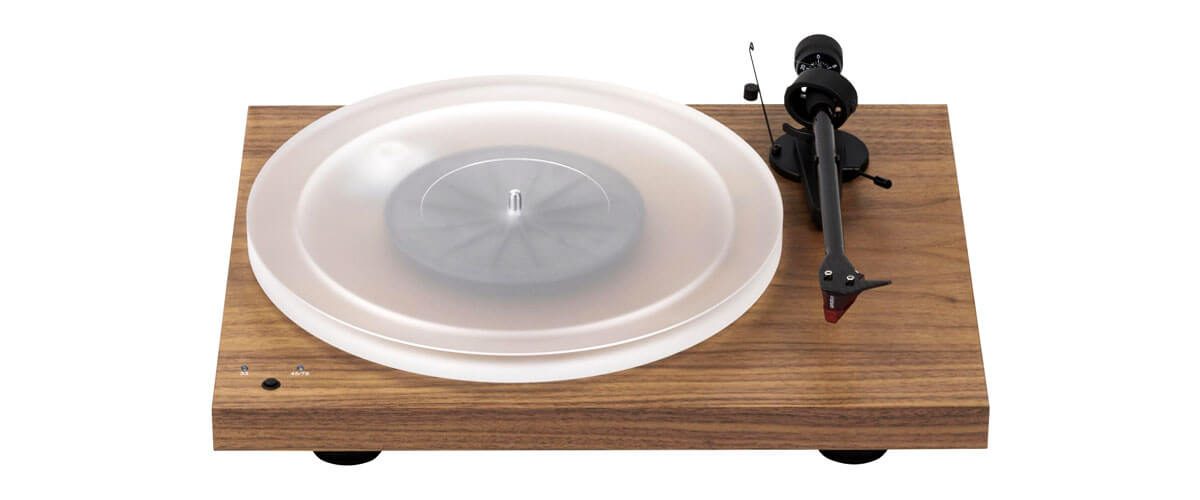 So, being the second in the line, the X2 turntable has a hefty price tag and a few key differences from the less expensive X1, but you get a European hand-built device. For example, its body is made of solid MDF and weighs a staggering 22 pounds, as opposed to the 15 pounds of the previous model. Although, of course, in this case, you don't have to worry about vibrations at all; it will be stable on any surface, thanks, among other things, to the three height-adjustable damped aluminum feet. I tested the turntable in Satin White, and it's awesome. It looks mega-modern and expensive. The manufacturer also offers Black Gloss, Satin Black, and Real Wood.
The case has a single button for switching operating speeds, platter, and tonearm. The 4.4 pounds white acrylic platter 30 mm high is something magical. It looks like something cosmic on a white body, something from the future. It is incredibly smooth and silent. The carbon-coated straight tonearm fits in with the overall design. I'm not a fan of straight tonearms, but I will note that the extension to 9" (as opposed to the standard 8.6") did the trick, and I liked how it fits neatly into the record's groove. The Pro-Ject X2 record player also allows you to modify it to your liking, and it has a fully adjustable azimuth and VTA.
It comes with a 15 volts DC /0.8A power supply, dust cover, and felt mat. As well as the Connect it E Phono cable of amazing quality. All in all, "class" is felt in everything and does not make you think about the cost of the device.
Features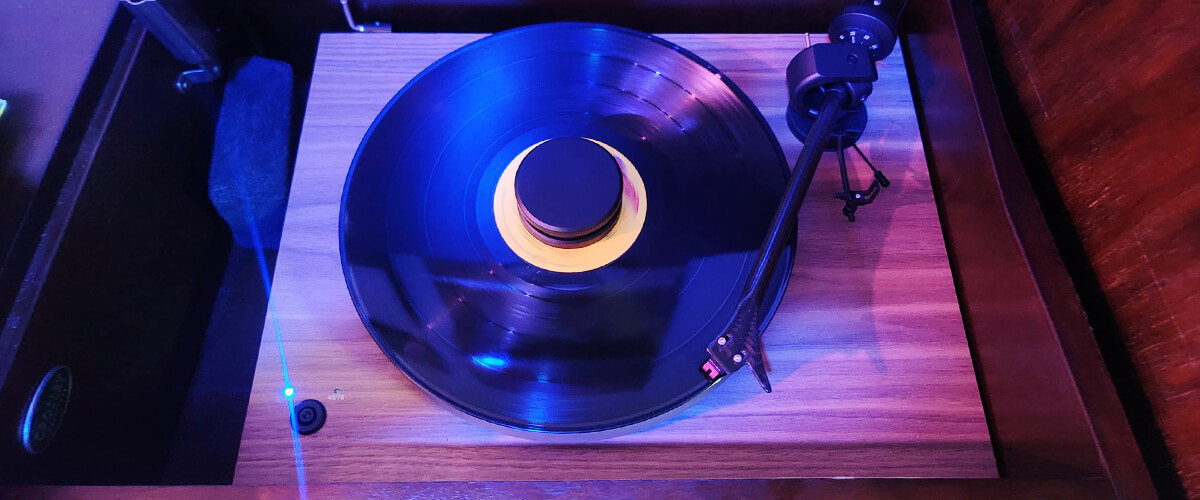 The technical characteristics of the X2 are also impressive. For example, the already initially quiet 4.5 watts max quality engine is isolated and has improved suspension. I could not hear it working, no matter how hard I tried. Of course, it would be surprising in this price range to encounter flaws in this area, but I was meticulous. A plus and bonus, you get all three speeds of 33/45/78 RPM records played with electronic speed change. You don't have to change the belt or look up a particular format record in the store.
The turntable has no built-in phono stage. As I have mentioned many times in my reviews, internal preamps are never better than external ones. Unfortunately, the manufacturer didn't bother to build something not good enough into a great thing. So get ready to add the purchase of accessories to the considerable cost of the deck. After all, claiming to be a vinyl turntable at this level is worth investing in an audio system in all aspects.
Continuing about the tonearm, it comes preloaded with a Sumiko Moonstone cartridge (for the American market) or an Ortofon Pick it 2M Silver MM (for other world markets). Both are expensive and of high quality, but the feature I would call the ability to install an MC configuration cartridge into the tonearm. Such a feature is rare, and I appreciate this fact.
Sound
Don't forget that the sound depends on the cartridge and preamplifier, so that I won't describe my experience in detail. Take your time and choose the optimal components of the audio system; you will not regret it. I played rock, jazz, and blues on it and enjoyed the quality of the detailed, crisp, clear sound, every note, and the nuances of the vocals. Perhaps the bass is a little softened, but I wouldn't want any others for jazz. I won't hide that testing the Pro-Ject X2 made me happy. It's a decent turntable worth every penny, especially with its upgradability and incredible ease of use. Accordingly, it will serve you for years to come.
Key specs
Drive type: belt.
Operation type: manual.
Speeds, RPM: 33 1/3, 45, 78.
Phono Pre-Amp: no.
Speakers: no.
Bluetooth: no.
USB: no.
AUX: no.
Pro-Ject X2 vinyl player is a premium product for true connoisseurs. Accordingly, in addition to its stunning appearance, it provides high-quality sound and can serve as the foundation of any VIP audio system. Furthermore, despite the already superb quality of the parts, they can be replaced if you want to keep up with the times.
Pros
Brilliant anti-vibration construction.
Acrylic platter.
Carbon fiber tonearm.
Adjustable azimuth and VTA.
Three record speeds at 33/45/78 rpm.
MC configuration cartridge can be installed in the tonearm.
FAQ
Are Pro-Ject turntables any good?
Pro-Ject turntables are very good! They are mega-popular among connoisseurs because of their excellent value for money. In addition to the company's range being designed for any customer, offering a price segment ranging from about $350 to $12,000, you can also find configurations from the simplest to the ultra-tech modern models.
Moreover, the manufacturer produces components for its turntables, thus not inflating the price and maintaining high quality. Thus, even the most inexpensive Pro-Ject turntables can be much better than their competitors.
Where are Pro-Ject turntables made?
Today the company boasts exclusively European production of its turntables. For example, production starts from scratch in the Czech Republic and is made entirely by hand. The Automat series is also handmade in Germany. And the micro-sized high-end audio components are made in Slovakia. Meanwhile, all development takes place at the headquarters in Mistelbach, Austria.
Is Rega better than Pro-Ject?
I can't give a precise answer to this question. It would be purely subjective, and I believe musical devices should be chosen according to your musical taste and capabilities. For example, some people find Rega's tonearms the finest, while others appreciate the Pro-Ject's chassis.
Both companies produce high-quality turntables, including premium ones, so anyone who chooses will definitely find something optimal in the range of both. But I advise you to take your time and "listen" to the maximum number of turntables before buying, considering the other components of your home audio system.
Is Pro-Ject a hi-end turntable?
There are several indicators by which I can grant the turntable hi-end status. They are the vibration-resistant construction, the silent motors, the S-shaped tonearm, and the ability to replace the cartridge. So, yes, there are models among the Pro-Ject range that are undoubtedly high-end turntables. For example, these are the Signature 10 and Signature 12 models. But I think it's easy to guess this from their price.
We are supported by our audience. When you purchase through links on our site, we may earn an affiliate commission at no extra cost to you.
Our newsletter
* We will never send you spam or share your email with third parties