Well, it's time to do a Pro-Ject X2 review, a premium turntable that will be appreciated by those who understand sound quality. Or those who are ready to spend an impressive amount of money but get a VIP audio system for many years. High-quality materials, stunning appearance, endless upgrade potential – we will take a closer look at all of this. Let's go.
Design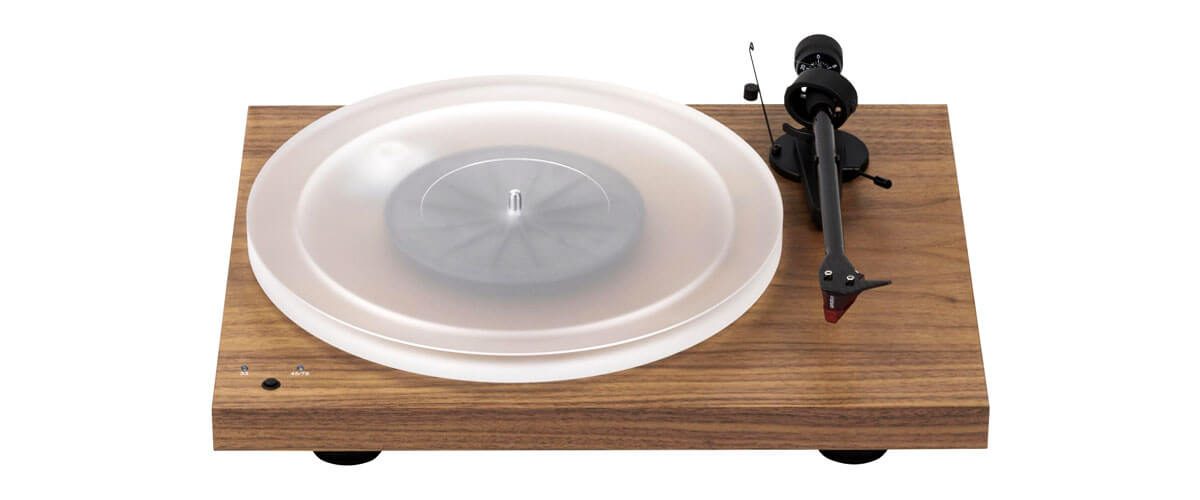 So, being the second in the line, the X2 turntable has a hefty price tag and a few key differences from the less expensive X1, but you get a European hand-built device. For example, its body is made of solid MDF and weighs a staggering 22 pounds, as opposed to the 15 pounds of the previous model. Although, of course, in this case, you don't have to worry about vibrations at all; it will be stable on any surface, thanks, among other things, to the three height-adjustable damped aluminum feet. I tested the turntable in Satin White, and it's awesome. It looks mega-modern and expensive. The manufacturer also offers Black Gloss, Satin Black, and Real Wood.
The case has a single button for switching operating speeds, platter, and tonearm. The 4.4 pounds white acrylic platter 30 mm high is something magical. It looks like something cosmic on a white body, something from the future. It is incredibly smooth and silent. The carbon-coated straight tonearm fits in with the overall design. I'm not a fan of straight tonearms, but I will note that the extension to 9″ (as opposed to the standard 8.6″) did the trick, and I liked how it fits neatly into the record's groove. The Pro-Ject X2 record player also allows you to modify it to your liking, and it has a fully adjustable azimuth and VTA.
It comes with a 15 volts DC /0.8A power supply, dust cover, and felt mat. As well as the Connect it E Phono cable of amazing quality. All in all, "class" is felt in everything and does not make you think about the cost of the device.
Features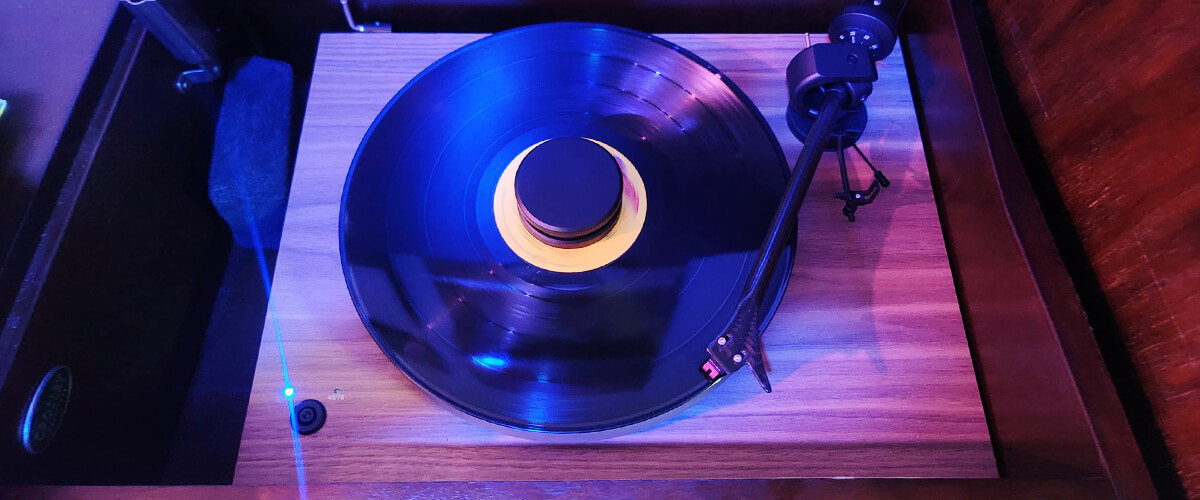 The technical characteristics of the X2 are also impressive. For example, the already initially quiet 4.5 watts max quality engine is isolated and has improved suspension. I could not hear it working, no matter how hard I tried. Of course, it would be surprising in this price range to encounter flaws in this area, but I was meticulous. A plus and bonus, you get all three speeds of 33/45/78 RPM records played with electronic speed change. You don't have to change the belt or look up a particular format record in the store.
The turntable has no built-in phono stage. As I have mentioned many times in my reviews, internal preamps are never better than external ones. Unfortunately, the manufacturer didn't bother to build something not good enough into a great thing. So get ready to add the purchase of accessories to the considerable cost of the deck. After all, claiming to be a vinyl turntable at this level is worth investing in an audio system in all aspects.
Continuing about the tonearm, it comes preloaded with a Sumiko Moonstone cartridge (for the American market) or an Ortofon Pick it 2M Silver MM (for other world markets). Both are expensive and of high quality, but the feature I would call the ability to install an MC configuration cartridge into the tonearm. Such a feature is rare, and I appreciate this fact.
Sound
Don't forget that the sound depends on the cartridge and preamplifier, so that I won't describe my experience in detail. Take your time and choose the optimal components of the audio system; you will not regret it. I played rock, jazz, and blues on it and enjoyed the quality of the detailed, crisp, clear sound, every note, and the nuances of the vocals. Perhaps the bass is a little softened, but I wouldn't want any others for jazz. I won't hide that testing the Pro-Ject X2 made me happy. It's a decent turntable worth every penny, especially with its upgradability and incredible ease of use. Accordingly, it will serve you for years to come.
Key specs
Drive type: belt.
Operation type: manual.
Speeds, RPM: 33 1/3, 45, 78.
Phono Pre-Amp: no.
Speakers: no.
Bluetooth: no.
USB: no.
AUX: no.
We are supported by our audience. When you purchase through links on our site, we may earn an affiliate commission at no extra cost to you.
Our newsletter
* We will never send you spam or share your email with third parties