The mid-price segment of turntables offers a very wide range of choices. Unfortunately, it is very easy to get confused or make the wrong choice in such an abundance of models. So you should pay attention to the details that can distinguish a particular device, putting it at a level worthy of your attention. In this Pro-Ject T1 Phono SB review, I will tell you about a record player of good build quality, sound, and straightforward operation, as well as a detailed examination of its features.
Design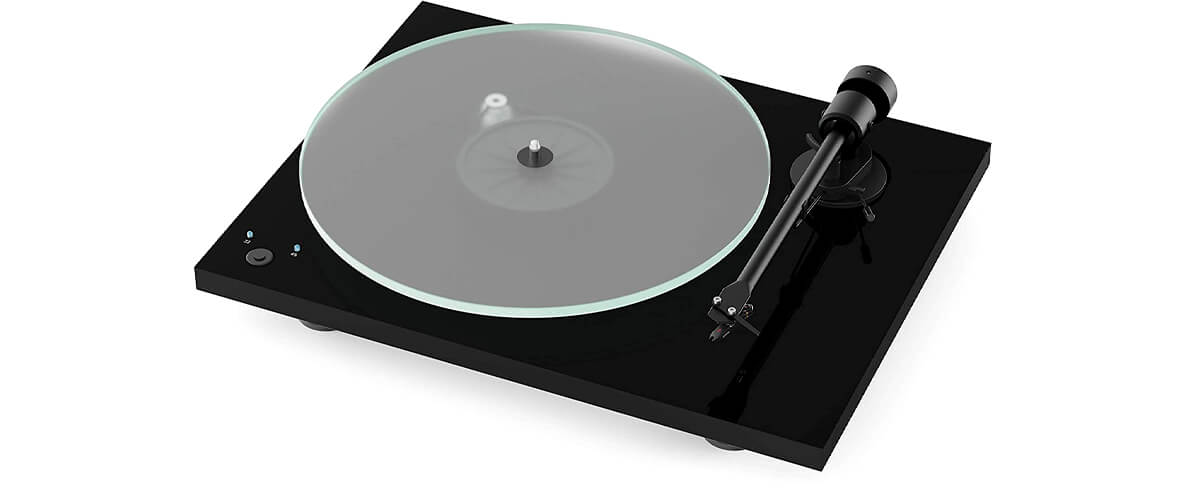 The lightweight and portable Pro-Ject T1 weighs only 8.4 pounds and measures 415x100x335 mm without a single plastic part. The medium-density, cavity-free fiberboard deck is available in three colors: Gloss Black, Satin White, and Walnut Veneer, so you can choose to match your interior. Its very discreet, elegant design is not overloaded with anything. The only On/Off switch is on the bottom left – you don't have to look for it. It's very handy.
Although the manufacturer compensated for the lightness of the turntable with a heavy 8mm abrasive glass plate with a felt mat, and it is quite capable of handling vibration problems, unfortunately, the feet are not adjustable, so you better set the turntable on an as flat surface as possible.
The 8.6″ straight aluminum tonearm is also very lightweight but sturdy and will last a long time. The overall visual impression of the deck is very nice and doesn't look cheap. It comes with a dust cover, and a high-quality Connect it E RCA Phono cable.
Features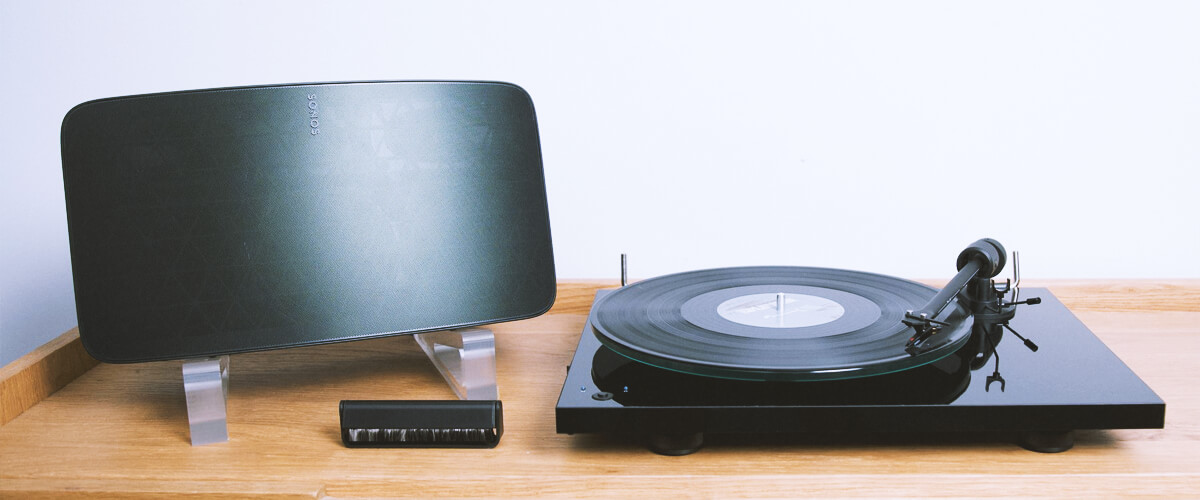 The Phono SB is an upgraded version of the T1, so it has some bonuses. Such as the Precision Belt Drive with precisely adjustable speed stability and 33/45 RPM electronic speed changeover.
The deck also has a built-in preamp, so you don't have to splurge to buy one. But thanks to the RCA Phono/Line output switch, you can always connect an external preamp to enhance your audio system.
The tonearm has a very good built-in Ortofon OM5e moving-magnet cartridge. It is pretty expensive separately, but it's qualitative and durable, so you don't have to worry about replacing it in years to come. In general, the tonearm's design inspires confidence with its anti-resonance action, thanks to the low-friction bearing of the tonearm and the absence of vibrations. The Wow and Flutter provide a range of 0.23% – 0.25%. Considering the price and the handmade European assembly, this is great functionality!
Sound
The T1 Phono SB turntable produces a very warm, enveloping sound. It won't probably satisfy the sophisticated audiophile's needs because its bass is not the cleanest and most detailed, but it is quite compensated by the low and midrange frequencies. The upper frequencies are also quite good, without any outright flaws, creating an overall pleasant picture. I did not hear any outright shortcomings, noise, or blurring, which means that T1 Phono SB copes with its task, suppressing noise and vibrations. And taking into account its elegant appearance, functionality, and ease of setup – I would conclude that it is worth its money.
Key specs
Drive type: belt.
Operation type: manual.
Speeds, RPM: 33 1/3, 45.
Phono Pre-Amp: yes.
Speakers: no.
Bluetooth: no.
USB: no.
AUX: no.
We are supported by our audience. When you purchase through links on our site, we may earn an affiliate commission at no extra cost to you.
Our newsletter
* We will never send you spam or share your email with third parties