The popular Fluance line offers five turntables that differ from each other according to the number in the name. And in this Fluance RT81 review, I'll tell you about the entry-level model of the series. The semi-automatic record player of the plug-and-play configuration can offer you decent quality for a small price, so it will be interesting. Let's begin.
Design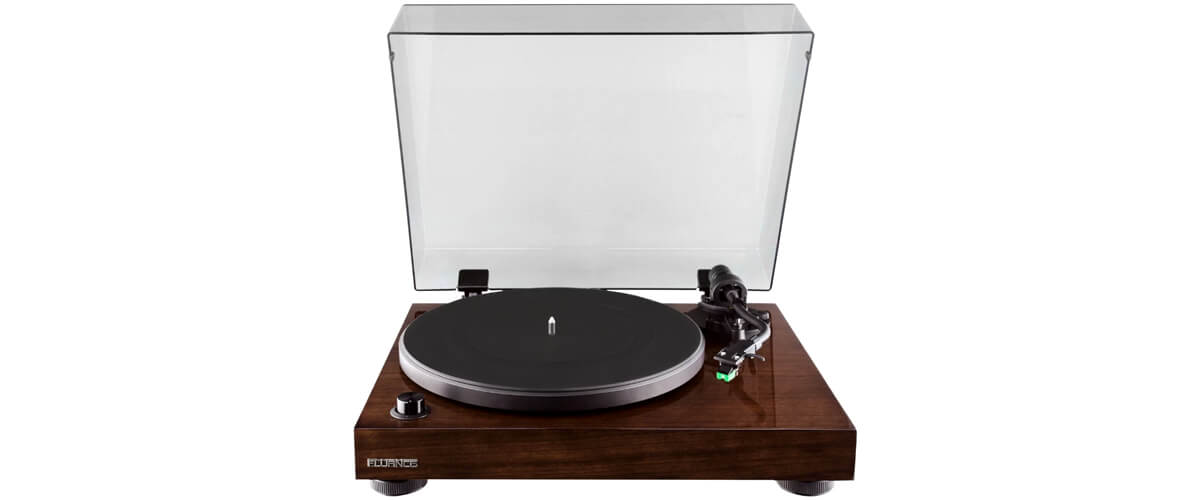 Externally, all turntables in the line resemble twins. The classic, or even retro, MDF plinth measures 5.5 x 16.5 x 13.75 inches and weighs 14.1 pounds, suggesting excellent stability and resistance to external and internal vibration. That's a great value for this price rank. Usually, inexpensive turntables are light and unstable, which requires additional weighting.
As for the other parts, they are also very good for the record player's price. For example, a heavy platter with a rubberized mat and an aluminum tonearm will last a long time. In addition, the S-shaped shape of the tone arm provides more precise hitting and sliding in the record's grooves than a straight one, which I would put in the advantages of the RT81 turntable. And the deck controls are simple and convenient. One single knob on the case changes speeds and turns off the vinyl turntable.
You'll find a dust cover included, which is easy to install. And I would also add that the turntable case is available in three glossy colors: Black, White, and Wood. I like it both externally and to the touch. It looks stylish and reliable.
Features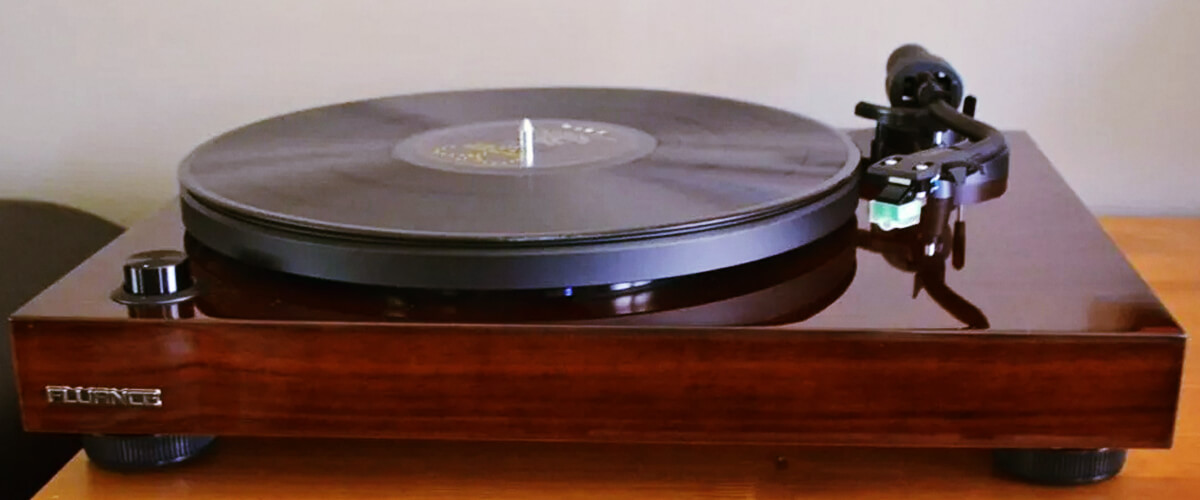 Speaking about the technical characteristics, it is worth noting that the RT81 has a built-in preamplifier. It's great from the point of view that when you take the device out of the box, you can immediately start using it. And also, if a budget was your priority when choosing a turntable, having a built-in phono stage will save you an additional investment. Of course, you will find a switch on the back panel that allows you to connect and use a better external preamp. Another thing worth mentioning here is that the RT81 has two record speeds of 33 1/3 and 45 RPM.
The wonderful tonearm I've already described comes with an Audio Technica AT95E cartridge pre-installed. And even though it doesn't initially offer you high quality for years, the upside is that it can be replaced. I should also note the presence of an auto-stop option, which stops the plate and raises the lever but does not put it back in place.
The deck has gold-plated RCA line outputs, which have a very good effect on the tone, giving it some warmth and softness.
As for the disadvantages, I would mention the poor quality grounding. As a result, you can hear a slight hum when operating, though not very loud. Of course, this disadvantage is insignificant for a turntable of this rank. In addition, you can do some manipulations with the grounding, thus reducing the unpleasant sound. And I have nothing else to "scold" the Fluance RT81 for. For its category, it offers excellent performance.
Sound
Let's not forget that the Fluance RT81 is a very inexpensive turntable. And as you may have noticed, the main parts that directly influence the sound quality are not the good ones. So it doesn't initially offer you audiophile sound. But to be fair, I have to say that it is very good. There are no blatant omissions, tinkling, or loud extraneous noise, as in many budget models. The sound is smooth and warm but not detailed enough. Nevertheless, by installing an external preamplifier and replacing the cartridge with a high-quality one, you can get a cool record player that will please you with its chic style for many years.
Key specs
Drive type: belt.
Operation type: manual.
Speeds, RPM: 33 1/3, 45.
Phono Pre-Amp: yes.
Speakers: no.
Bluetooth: no.
USB: no.
AUX: no.
We are supported by our audience. When you purchase through links on our site, we may earn an affiliate commission at no extra cost to you.
Our newsletter
* We will never send you spam or share your email with third parties