Are you one of those music lovers with a million devices and wires, and you can't decide whether to listen to digital or analog music? In this Electrohome Kingston 7-in-1 review, I'm going to tell you about an interesting player that will help you organize your audio collection in one place. After all, this stereo system includes Record Player, Bluetooth, Radio, CD, Aux In, USB, and Vinyl to MP3 Recording (RR75). And all these at an affordable price! Isn't it interesting? Well, let's take a closer look at this versatile device.
Design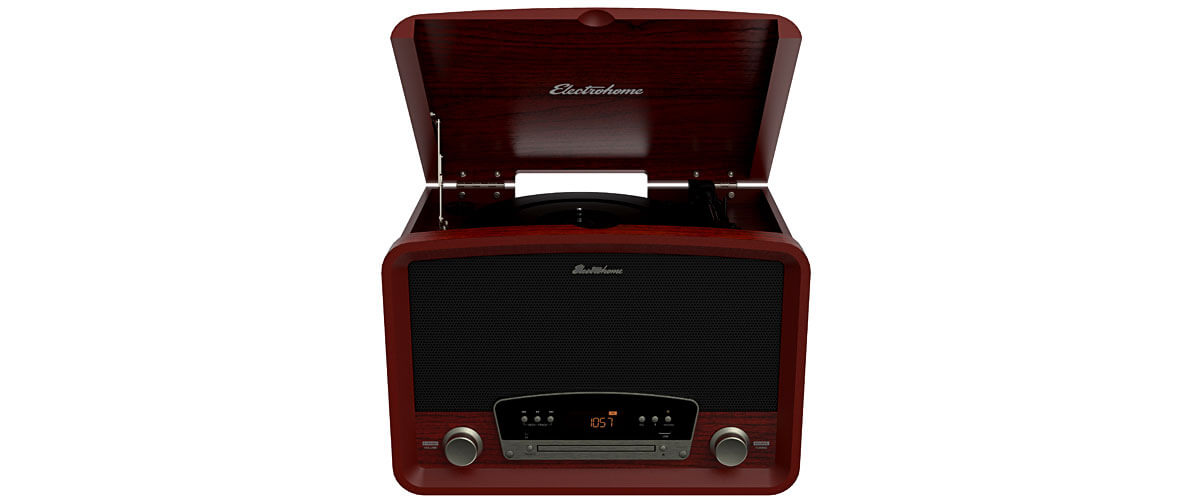 Externally, the stereo system is a radio from the 50s and 60s of the last century, an absolute vintage, which many retro design fans might like. The case is made of MDF with a hinged lid, finished with a natural wood veneer (Walnut, Black, or Mahogany). The construction weighs quite a bit, 23.75 pounds, and measures 12.25 x 17.3 x 13.5 inches. Therefore, it is important that you understand how much space you will need to install it. A hard plastic platter and a ceramic stylus with a sapphire tip are also included.
All the buttons and controls are on the front panel: equalizer, Bluetooth, CD control, volume controls, and radio tuning, as well as USB and headphone output. Under the small LED, there is a hidden CD drive.
The package includes detailed manuals, a power cable, remote control, and 2xAAA batteries. You may have to tinker with the installation, but then, you will not have to do anything at all to use Kingston 7-in-1. Just change the records and press the buttons.
Features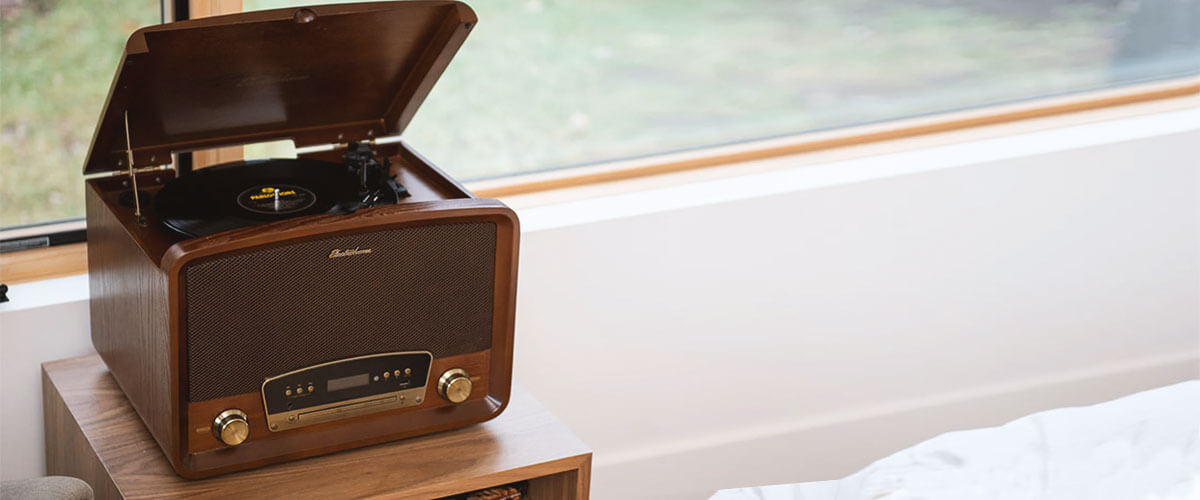 The Electrohome turntable plays records at 33 1/3, 45, and 78 rpm and also features an auto-stop function. But most importantly, with the RR75 recording, you can transfer tracks in MP3 format to other media, for example, to an ordinary flash drive. With the USB inputs, you can listen to them from the media again through the Kingston 7-in-1 review system. You can listen to music through headphones or use wireless headphones or external speakers with Bluetooth 4.2. The CD player is the primary device for playing/pausing, stopping, skipping forward/backward, and ejecting.
You can even listen to AM/FM radio. The FM frequency range is 87.5-107.9MHz and 530-1710kHz for AM. All in all, it is a ready-made system with a built-in amplifier and speakers, on which you can listen to music from almost any source without having problems with a lot of wires and connections. Amp power is 40 watts, total power consumption is 50 watts, and power input is 120V, 60Hz
Sound
Let's be honest. If you hear "all-in-one" and see a relatively low price, you immediately understand that you can't expect anything exclusive. I would recommend this device to those who like to keep "all their music" in one place. On the other hand, if you are an experienced musician, it is doubtful that you will choose this device. It is more of an entertainment device than a serious vinyl player. But it is really very nice on the outside. Its vintage style brings a smile of delight.
But to be fair, it's not bad at all! When I started trying it out, I was even pleasantly surprised. After all, the company has been making such things for over 100 years, which means it knows exactly what it is doing. First of all, the sound is surrounded; it is enough for listening in small rooms. It doesn't hum, and it doesn't make an unpleasant rattle. Moreover, you can adjust the frequencies right on the Electrohome Kingston 7-in-1 panel. The sound is warm and clear but not detailed, which, in my opinion, is quite acceptable for this particular model.
Key specs
Drive type: belt.
Operation type: semi-automatic.
Speeds, RPM: 33 1/3, 45, 78.
Phono Pre-Amp: yes.
Speakers: yes.
Speakers power, W: 40.
Bluetooth: yes.
USB: yes.
AUX: yes.
We are supported by our audience. When you purchase through links on our site, we may earn an affiliate commission at no extra cost to you.
Our newsletter
* We will never send you spam or share your email with third parties