In the Audio-Technica AT-LPW40WN review, I will tell you about an entirely handheld mid-priced turntable that is good enough for you to enjoy using it. I'll take a look at its design and features and give my opinion on its sound to make it easier for you to choose when buying. Let's go!
Design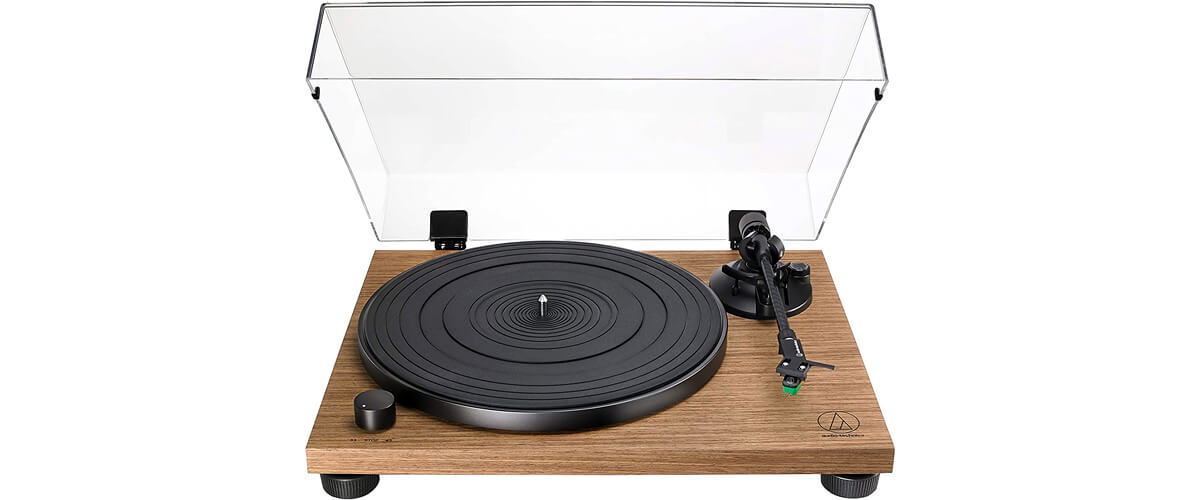 If you're a fan of classic elegance, you'll love the design of this record player at once. A satin-lacquered walnut veneer covers the MDF plinth, giving it a look of understated chic. The top panel features a professional anti-resonance cast aluminum disc with a rubber mat, a straight carbon fiber tonearm with hydraulically damped lift control and lockable stop, as well as a gear shift and shutoff knob. Under the plinth are small covers for access to the mechanisms and electronics and screw-in feet that provide additional protection against vibration. All in all, the entire case and its details are designed so that you won't feel any interference or malfunctions, even if you place the player on an uneven surface.
A stereo cable with two RCAs, a 45 RPM adapter, and a removable dust cover to protect all this beauty are included. The vinyl player is compact, and you can easily move it around when needed. It measures 420 x 117 x 340 mm and weighs only 10 pounds.
Features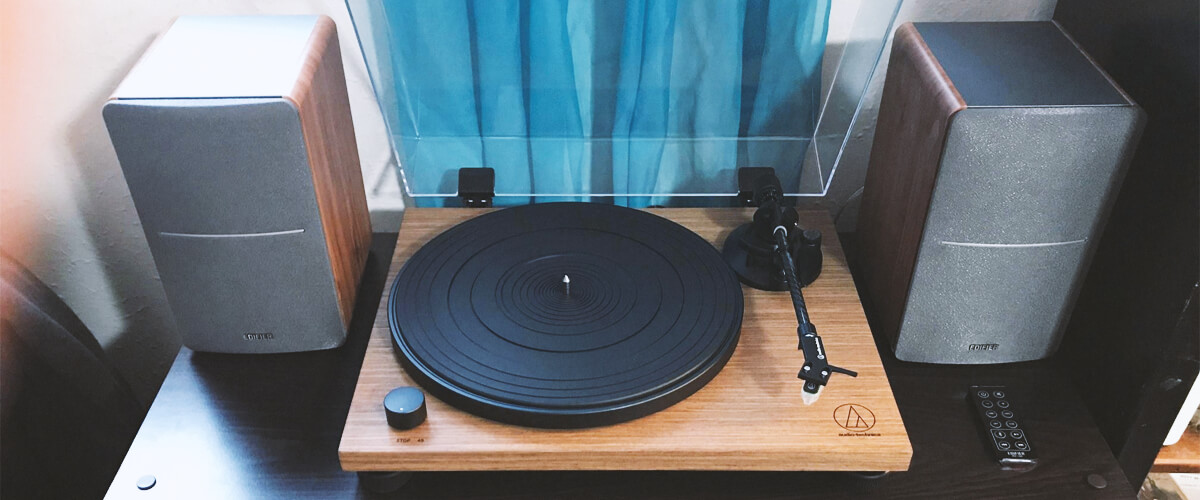 The AT-LPW40WN is a turntable with belt drive operation and a DC motor with a speed sensor system to maintain accurate disk speed at two speeds of 33-1/3 and 45 rpm. In addition, the model has adjustable dynamic anti-skate control and a built-in preamp for plug-and-play capability. At the same time, you can always switch it to connect an external preamp.
The tonearm comes with the AT-HS4 universal ½ inch mount headshell, the AT-VM95E Dual Moving Magnet phono cartridge, and a 0.3 x 0.7 mil elliptical stylus by Audio-Technica. Its special feature is that it is compatible with any interchangeable VM95 series stylus. So you can upgrade your deck or just easily replace the cartridge when you need it. It is important because regardless of your financial means, you're always assured that your favorite records will remain intact.
Sound
Even in its original configuration, AT-LPW40WN provides warm analog sound and has no apparent drawbacks when listening to any record. At least from the ones I listened to – different years of rock and jazz sounded smooth, rich, and stable. At the same time, the sound is quite loud. The RPM is between 1% wow and 0.5%.
In addition to a design that helps avoid vibration, which knowingly improves sound quality, you can connect an external preamp. This fact is always an advantage for inexpensive decks because you choose the external phono stage yourself, which means you can be sure to improve the quality of your audio system.
It is possible to conclude that the sound is not outstanding but will satisfy an unpretentious audiophile for whom this turntable is designed.
Key specs
Drive type: belt.
Operation type: manual.
Speeds, RPM: 33 1/3, 45.
Phono Pre-Amp: yes.
Speakers: no.
Bluetooth: no.
USB: no.
AUX: no.
We are supported by our audience. When you purchase through links on our site, we may earn an affiliate commission at no extra cost to you.
Our newsletter
* We will never send you spam or share your email with third parties