In my Audio-Technica AT-LP7 review, I will tell you about an amazing turntable. The manufacturer itself is very high on the positioning of its record player, and I must say, not for nothing. One of the most expensive and unusual in the Audio-Technica range, the model has top-notch visual and technical features and offers something you won't find in other vinyl turntables of this rank. Proceed with pleasure.
Design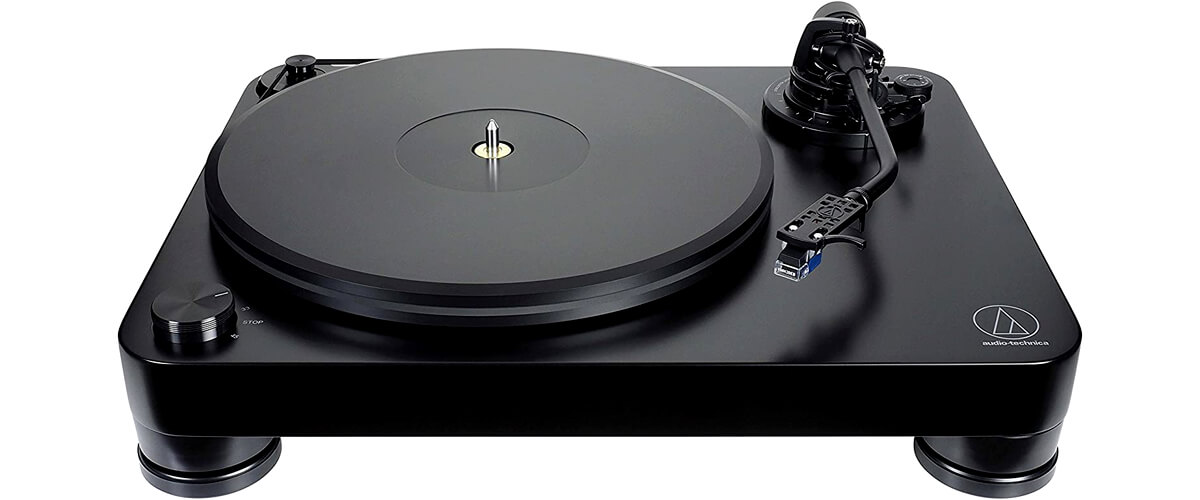 The AT-LP7 turntable offers excellent anti-resonance data. The 40mm thick black matte MDF body with rounded corners weighs 18.30 pounds (dimensions 17.72 "W x 13.86 "D x 6.18 "H), and that alone ensures stable performance on any surface. In addition, the turntable has a 20mm polyoxymethylene anti-resonance platter. An unusual material that I liked in appearance, to the touch, and during operation proved smooth and silent. However, no slip-mat is included, so you install the platen directly on the platter. But the height adaptability of the tonearm allows you to install any thickness mat you want.
The turntable is called completely manual, but it is not. A knob on the cabinet simultaneously stops the deck's operation and changes the record scrolling speeds. But everything else you have to do yourself, although I consider it an advantage in this case. Expensive models have to be like this because automatics tend to fail often. The rear panel has a Phono/Line switch, a MM/MS switch (I'll talk about this feature separately), a ground spindle, and RCA jacks.
The tonearm of the AT-LP7 deserves special praise. Thanks to its J-shape with an effective length of 247 mm, metal gimbal suspension system, and precision bearings, it provides stunningly accurate placement on a record. In addition, the manufacturer claims a maximum tracking error angle of less than 2.5°. Impressive specs. It's also pretty easy to assemble, install and adjust. Assembling the turntable myself, I am always proud of this fact. These are not all the advantages of the tonearm, but I will describe them in the next paragraph.
Concluding the description of the vinyl turntable package, a stereo cable with two RCA (jack) to two RCA (jack), an adapter for 45 rpm, and a dust cover are worth mentioning. From the reviews, many people don't like that the cover doesn't attach to the case. But for me, on the contrary. The plastic at the attachment points loosens and cracks, collecting dirt and dust. I love fiddling with turntables, so it's no problem to spend 1 minute more time on it.
Features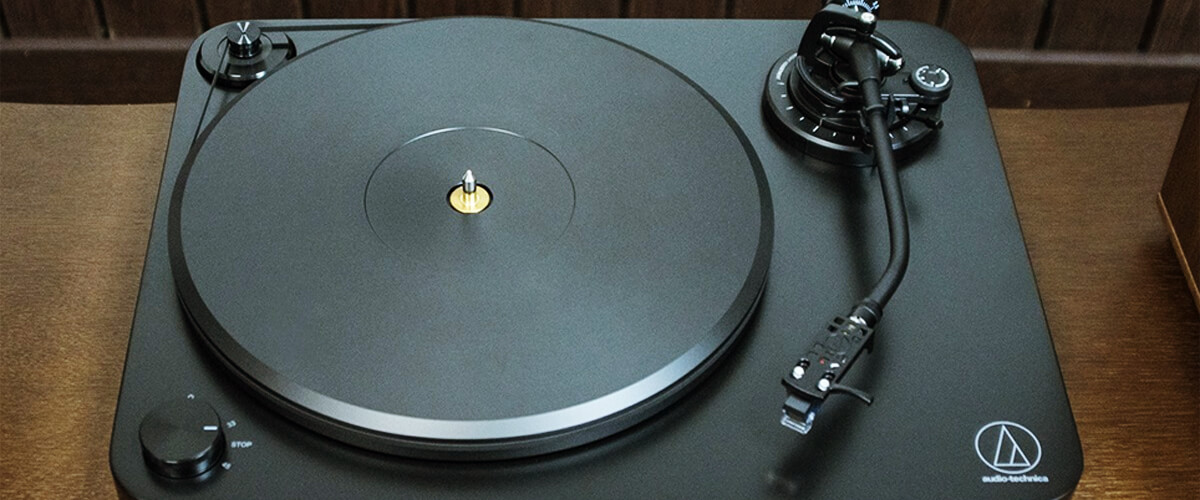 The Audio-Technica AT-LP7 is a turntable with a DC motor, belt drive, and two speeds of 33-1/3 RPM and 45 RPM. It is a pity that there is no third speed, though not strange for this price range. Also, the vinyl player does not offer a USB digitizing feature, which some reviewers cite as a drawback. Perhaps I agree that it would come in handy. But this model is suitable for DJs, among other things, so all of these parameters are standard.
Among the features is the built-in preamplifier. It's not that it was of any unreal quality, just that many turntables of this rank do not offer a "plug and play" option. And, of course, you can connect an external phono stage, thus increasing the sound level of your audio system.
But the most amazing thing about the AT-LP7 again is the tonearm. Or rather, its AT-HS10 lightweight headshell with a pre-installed VM520EB Dual Moving Magnet stereo cartridge with a replaceable stylus (can be replaced with any VM stylus). Besides the fact that this cartridge itself is very good, offering extended frequency response and quality channel separation, Audio-Technica, unlike many other manufacturers, offers its replacement not only with a higher quality MM cartridge but also with Magnet Coil configuration cartridges. It is a very cool option because most turntables don't allow you to change the cartridge and keep using the built-in preamp. Now, remember the switch I mentioned earlier. It changes the gain from 36dB for MM to 56dB for MC.
Sound
You probably noticed my enthusiastic tone in some parts of the review, and I do not hide it. But I never tire of repeating that the built-in phono stage cannot provide perfect sound, so I strongly recommend investing in an external one. I would also replace the cartridge over time, or at least the stylus, because according to Audio-Technica's claim, its lifetime is limited to 1000 hours, although it initially performed very well.
I even jumped next to the turntable, checking its stability, but I did not notice any lack of stability, vibration, motor noise, or extraneous noise. Also, the AT-LP7 has a great acceleration speed. The Dance Fever album by Florence + The Machine gave my body goosebumps. The bass is deep (no hum), the frequencies are clear and clean (no tinkling), and the vocal techniques' detail was terrific. A definite recommendation considering the quality, the price with no additional investment in the first phase, and the possibilities of upgrading in the future.
Key specs
Drive type: belt.
Operation type: manual.
Speeds, RPM: 33 1/3, 45.
Phono Pre-Amp: yes.
Speakers: no.
Bluetooth: no.
USB: no.
AUX: no.
We are supported by our audience. When you purchase through links on our site, we may earn an affiliate commission at no extra cost to you.
Our newsletter
* We will never send you spam or share your email with third parties