In this Audio-Technica AT-LP60X review, I will examine a turntable, an advanced version of the previous AT-LP60 model. It is an inexpensive deck with some interesting features worthy of attention. So let's take a closer look at it.
Design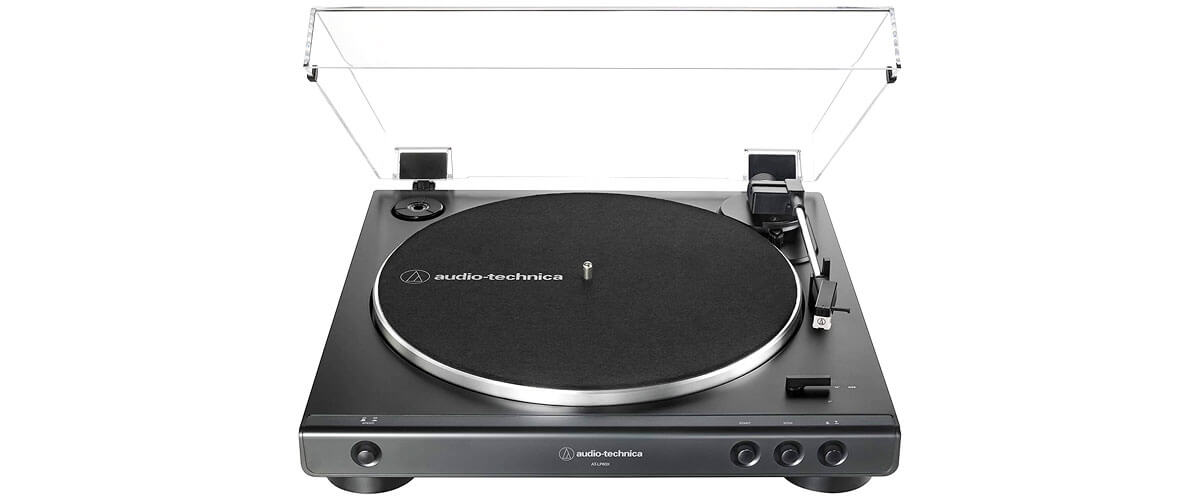 The fully automatic record player weighs only 5.6 pounds. The line has four colors, but only the front panel is different: Black, Red, Brown, and Gun Metal. Nevertheless, you can choose the one that fits your interior better. Of course, the weight of the AT-LP60X suggests that the body material is plastic. The deck doesn't look cheap, and it's stylish and easy to move around the room. The round start, stop, and gearshift buttons on the front panel add elegance. They are not distracting and make it easy to use.
A dust cover is included, which is always a bonus for me because you don't have to worry about cleanliness and minor external influences on fragile parts. The cast aluminum disc, as well as the redesigned tonearm base and headstock, provide tracking and resonance reduction. The tonearm is straight and lightweight, and there is a handy plastic holder on the panel.
Features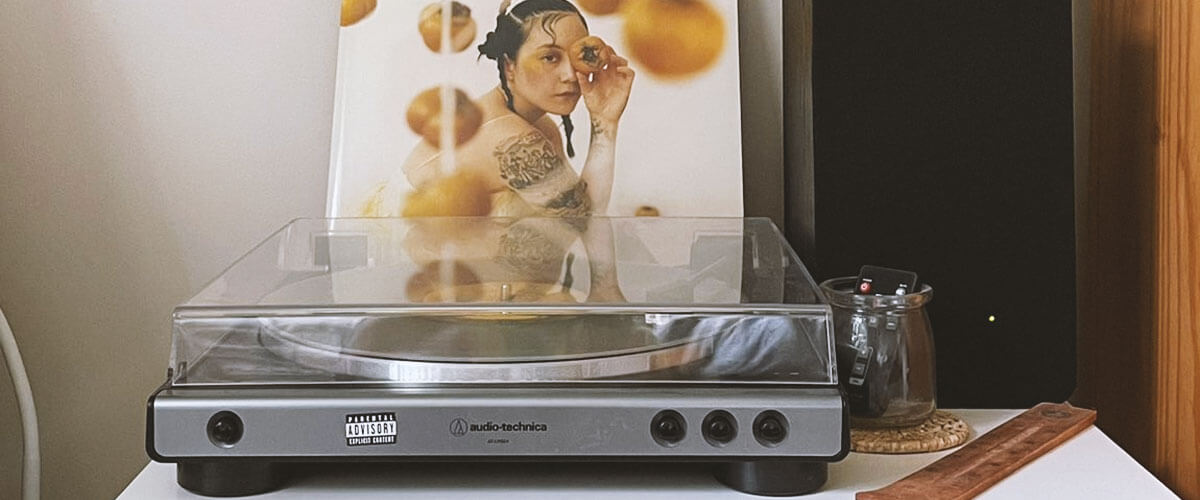 The AT-LP60X turntable is very simple. It has a belt drive, but the 33-1/3 rpm, 45 rpm switching is done by a button on the panel. So you don't have to remove the plate, and you don't have to shift the belt manually. The servo-controlled DC motor isn't noisy and doesn't interfere with listening to your favorite tracks. And the AC adapter provides AC/DC conversion outside the cabinet, reducing noise in the signal circuit.
The AT-LP60X comes with a built-in phono stage. So no additional instant spend is required, which is important if you're counting on "plug and play." But if you're not satisfied with the quality, you can always buy an external preamp and create your own audio system to your preference. There is a PHONO/LINE switch button on the rear panel for this purpose.
A built-in Dual Magnet phono cartridge with an interchangeable diamond stylus (ATN3600L) is also included with the turntable. But it can also be replaced by your choice. You'll also find a removable RCA output cable (3.5mm to two RCA connectors) and a 45 RPM adapter.
Sound
Of course, this model is not a professional deck and is unlikely to appeal to advanced audiophiles. But if you want to own a turntable, and have a limited budget, believe me, it is a decent value for money. The AT-LP60X plays records well. Some users complain that it doesn't like 10″ records, but I haven't tested it. I didn't test it for too long, and it lived up to my expectations of the sound of an inexpensive deck. The balance and timing are pretty good. The dynamic range is capable of surprising. The lower and upper frequencies sound quite clean, with no hum or ringing. You probably will not hear clear detail, but the overall picture is very good. In addition, you can always buy an external phono preamplifier, which can positively affect sound quality.
Key specs
Drive type: belt.
Operation type: manual.
Speeds, RPM: 33 1/3, 45.
Phono Pre-Amp: yes.
Speakers: no.
Bluetooth: no.
USB: no.
AUX: no.
We are supported by our audience. When you purchase through links on our site, we may earn an affiliate commission at no extra cost to you.
Our newsletter
* We will never send you spam or share your email with third parties