In this 1byone H009 review, I want to tell you about a nice retro-style all-in-one record player. The turntable is inexpensive but has features that many people might like. It's more of an out-of-the-box audio system, so you also get rid of the extra spending and hookups. Let's go!
Design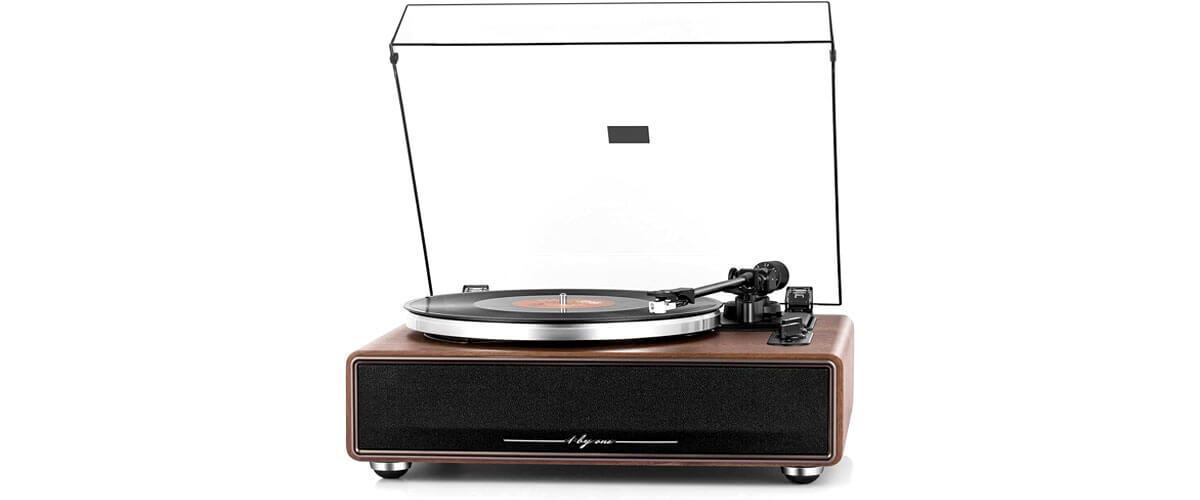 Well, the turntable's plinth is made of wood and metal in a streamlined shape with rounded corners. It is very transportable as it weighs only 13,3 pounds and measures 14.57×17.32×7.56 inches. The H009's natural wood veneer finish is pleasant to the touch, and its retro-style design is eye-catching.
On the front of the case, there is a speaker with a sleek 1byone logo. The control buttons are located on the top panel and are a playback speed switch, a switch to Bluetooth, and a start button, which must be pressed and held for the system to turn on.
A 30 cm diameter Aluminum die-cast platter that weighs about 1.2 pounds, a slip mat, a dust cover, and an instruction manual are included.
Features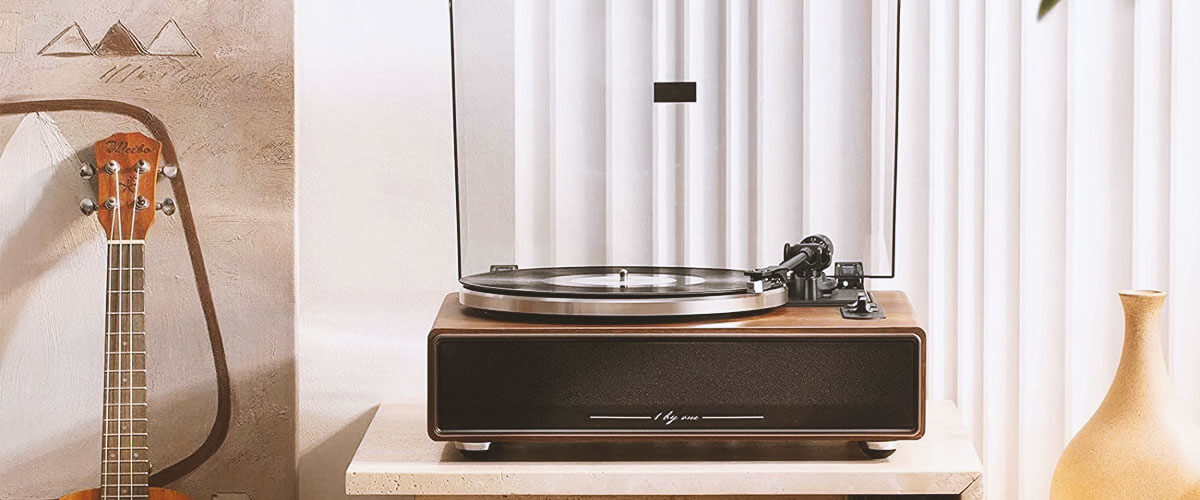 1byone is an all-in-one audio system that includes a turntable, receiver, and speakers. The manual belt-driven control ensures that records rotate at 33-1/3 and 45 RPM and dampens vibration well. Stable operation is ensured by a DC motor and an anti-skating function.
The 8.6″ long static balanced straight tonearm has a very good Audio-Technica Moving Magnet AT3600L cartridge with a diamond tip stylus. It glides precisely over the groove and extracts a clear, crisp sound.
The H009 has a built-in switchable phono preamp that will allow you to connect external powered speakers. The proprietary speaker has four speakers, and you can not only listen to vinyl records with it, but you can pair and play music from any device, be it an iPhone and Android smartphone, tablet, PC, the USB-mp3 player through the player speakers using Bluetooth as well as through the Aux-in port.
Sound
Regarding the sound, I think that for its price, the turntable sounds pretty good. I would even say it is more a speaker with a vinyl playback function than the other way around. However, that doesn't make the 1byone a bad record player. In principle, it does its job. The manufacturer has saved money on materials, but the technical parts are of quite good quality. For example, the cartridge really does half the job when extracting sound. Thus, I can conclude that the sound is stable and clear, with no obvious flaws. If you are not a professional musician and don't want to bother with connections, settings, and so on – this H009 may satisfy your desires well.
Key specs
Drive type: belt.
Operation type: manual.
Speeds, RPM: 33 1/3, 45.
Phono Pre-Amp: yes.
Speakers: yes.
Speakers power, W: 36.
Bluetooth: yes.
USB: yes.
AUX: yes.
We are supported by our audience. When you purchase through links on our site, we may earn an affiliate commission at no extra cost to you.
Our newsletter
* We will never send you spam or share your email with third parties