In recent years, vinyl players are becoming popular again, not only among audiophiles but also among ordinary fans of quality music. And it's no wonder because they offer realistic analog sound, taking the understanding of music to a whole other level. That's why I've prepared a list of the best Fluance turntables that can offer quality, versatility, and affordable prices for various vinyl connoisseurs.
Why Fluance? It is worth mentioning that the Canadian company was originally (since 1999) engaged in the production of home theaters and speaker systems. You should agree that it already says that Fluance masters understand the sound. So, it was no surprise that as vinyl record players grew in popularity, the brand joined other manufacturers and, as a result, released three series of turntables in a retro style with a wide range of features and cost, which has already gained popularity and fans around the world. Today, the company offers the Classic Series consisting of one RT80 model, the Elite Series, also with one RT81 model, and the Reference Series, which includes RT82, RT83, RT84, and RT85 models. Externally, they are very similar, differing in price as the number in the name increases. And in this article, I will consider three of them, simultaneously answering questions related to the Fluance record players.
Our pick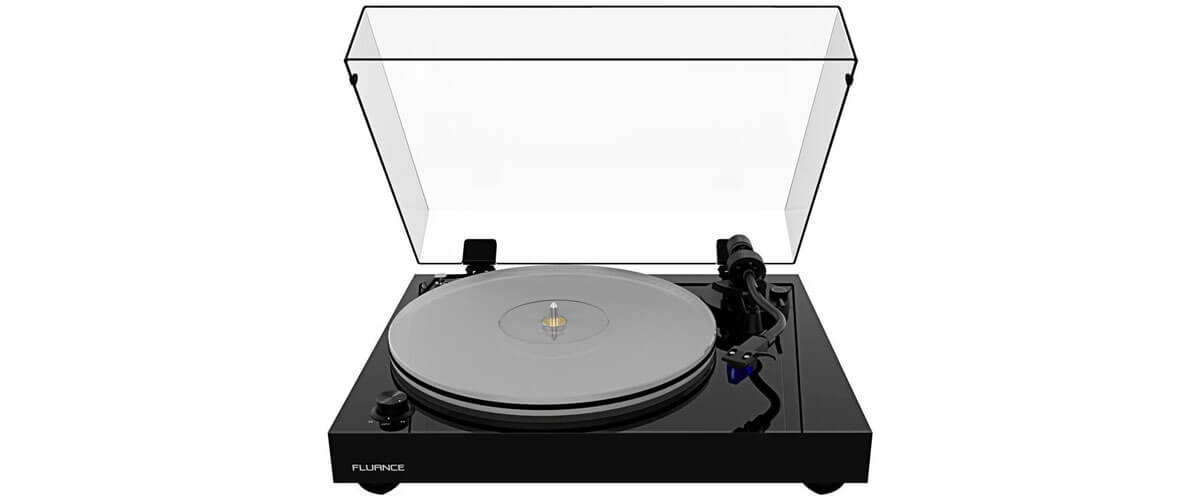 Fluance RT85
Best Fluance turntable
The sound quality of the RT85 Reference high-fidelity vinyl turntable will give you the definitive vinyl record listening experience for beautifully warm and natural music.
Read the full review
.
Fluance turntables comparison table
Name
Drive type
Operation type
Speeds
Phono Pre-Amp
Bluetooth
Review
Fluance RT85

best overall

belt
manual
33 1/3, 45
no
no
Review
Fluance RT81

budget

belt
manual
33 1/3, 45
yes
no
Review
Fluance RT82
belt
manual
33 1/3, 45
no
no
Review
Key features of Fluance turntables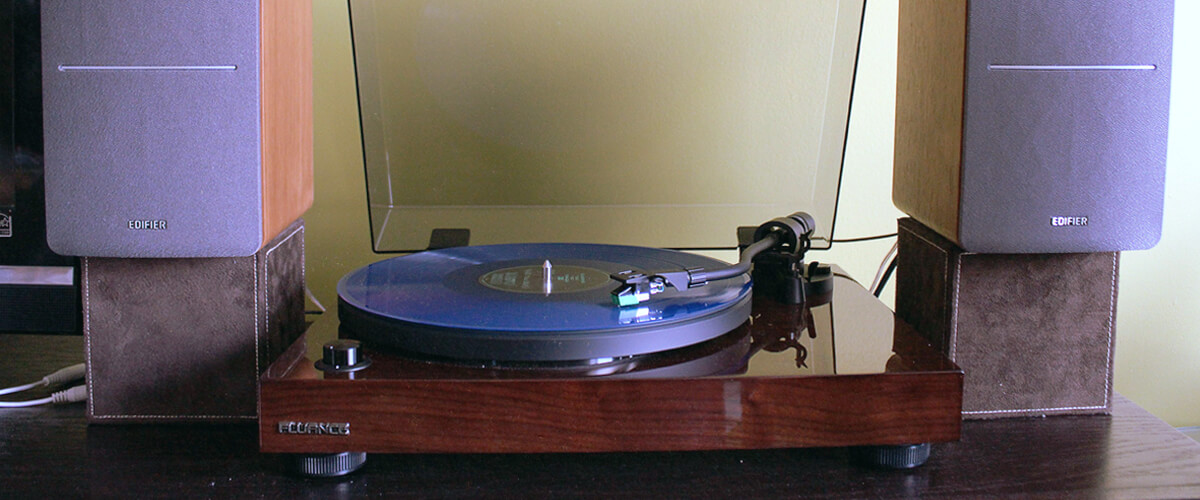 High-quality components
When you invest in a Fluance turntable, you're not just buying a piece of equipment but a high-quality audio experience. Let's dive into some of the features that set these turntables apart from the competition.
Solid wood plinths: Models like the RT80 and RT81 feature a plinth made from solid wood, often crafted from medium-density fiberboard (MDF) or hardwood like walnut. The benefit here is that wood is known for its excellent damping characteristics, reducing vibrations that can distort sound.
Premium cartridges: Quality sound needs a quality cartridge, and some Fluance models come pre-fitted with top-notch cartridges from Ortofon or Audio Technica. These premium cartridges ensure that right out of the box, you're getting exceptional sound quality that's rich, clear, and detailed.
Acrylic platters: If you're looking at higher-end models like the RT85, you'll notice they come with acrylic platters. Acrylic is praised for its ability to reduce resonance compared to metal or MDF platters. Less resonance means purer, clearer sound, allowing you to fully immerse yourself in the music.
Retro-inspired design
Now, let's talk style. Fluance turntables don't just sound good; they look good too. Many models have a retro-inspired design that is both stylish and functional. You can choose from various finishes like piano black, piano white, walnut, and bamboo. Plus, these turntables come with a stylish smoky-colored dust cover that not only protects your device but also adds a touch of class to your home decor.
In a world where modern gadgets often prioritize function over form, Fluance brings you the optimal combination of these aspects. When you opt for one of their turntables, you're not just getting a device to play your vinyl; you're adding a piece of art to your home. So, next time you're in the market for a turntable that offers both high-quality components and an eye-catching design, Fluance should be at the top of your list.
Best Fluance turntable reviews
Today in the Fluance RT85 review, I suggest getting to know the Canadian record player made in Taiwan in detail. On the manufacturer's website, it has a long name: Fluance RT85 Reference High Fidelity Vinyl Turntable. And I will share my opinion about this great worth of your attention device.
Design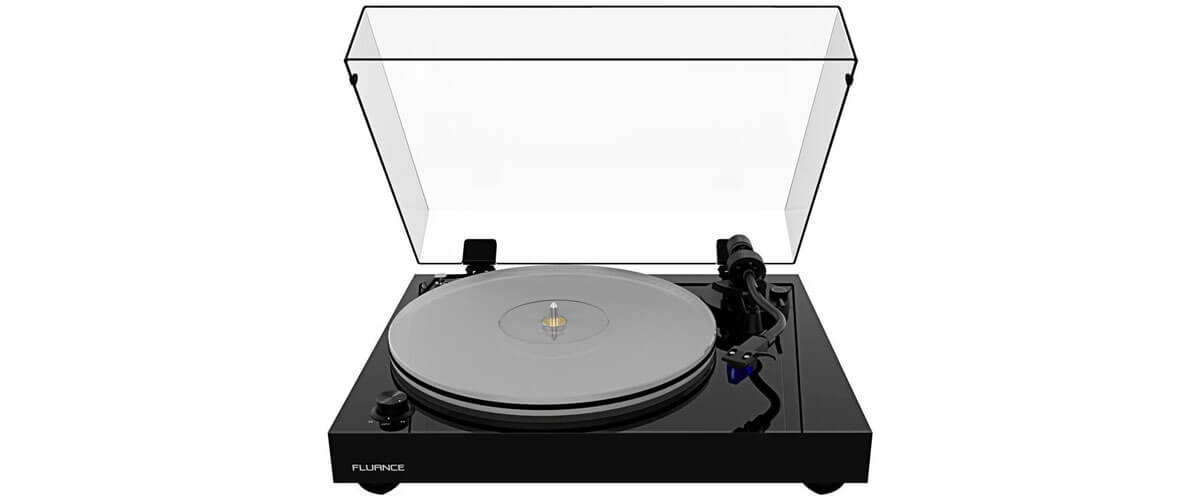 There are four colors in the Fluance RT85 line. You can choose the one that fits your interior: Natural Walnut, Piano Black, Piano White, or Lucky Bamboo. Each comes with an acrylic dust cover and gloves to keep the glossy surface clean. The MDF case is strong and solid, standing on three adjustable rubber feet, and that means assured balance on uneven surfaces and maximum absence of vibration. Its weight is 17 pounds.
The 12-inch diameter acrylic solid (3 pounds) platter is also designed to dampen vibration and speed stability. All in all, every detail is thoughtfully designed to save you the hassle of setting up and using the turntable. All control is performed with a single knob on the cabinet, designed to change speeds and turn the record player off.
Rounding out the image is a static-balanced, S-shaped aluminum tonearm with anti-skating adjustment. So, in general, nothing extra, only restraint, without superfluous details, but so elegant.
Features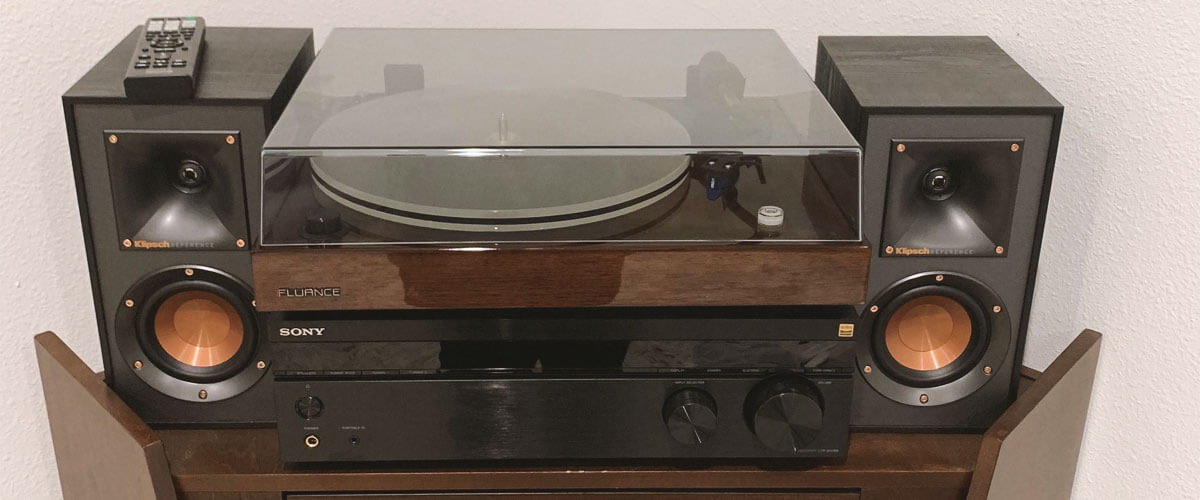 First of all, it is a manual Fluance turntable with a belt drive and insulated motor, so it does not create additional noise during operation. The RT85 has two rotational speeds (33 ⅓ rpm and 45 rpm), which can be switched with a simple knob on the plinth and also has an auto-stop function.
The Ortofon M2 Blue Moving Magnet cartridge with a diamond stylus deserves special attention. It is the true advantage of the Fluance RT85, which is half its price. It will not leave you indifferent because it is accurate and long-lasting.
It is important to know that this model does not have a built-in phono stage. This is more of a plus, as it will allow you to set up your stereo in the best way possible. But it is an additional cost to your budget. The system is connected to the turntable via the two standard RCA outputs on the back panel and the gold-plated RCA cables that come with it.
Sound
You will surely appreciate the clean, undistorted bass and spacious soundstage, the stylish retro design, and the quality of the individual parts of the Fluance RT85. The manufacturer has really tried to eliminate all extraneous factors that can affect noise and vibration as much as possible. The cartridge captures sound in detail and clarity, so you can enjoy the clean analog sound.
Key specs
Drive type: belt.
Operation type: manual.
Speeds, RPM: 33 1/3, 45.
Phono Pre-Amp: no.
Speakers: has stereo outup.
Bluetooth: no.
USB: no.
AUX: no.
The best Fluance turntable on my list is the RT85. Combining affordability, build quality, and sound, it offers you clean, undistorted bass, a spacious soundstage, and a good level of detail. In addition, its quality interchangeable components will last a very long time.
Pros
Massive, vibration-resistant chassis.
Heavy acrylic platter.
S-shaped tonearm.
Very good Ortofon M2 Blue cartridge.
Fluance RT81 – budget
The popular Fluance line offers five turntables that differ from each other according to the number in the name. And in this Fluance RT81 review, I'll tell you about the entry-level model of the series. The semi-automatic record player of the plug-and-play configuration can offer you decent quality for a small price, so it will be interesting. Let's begin.
Design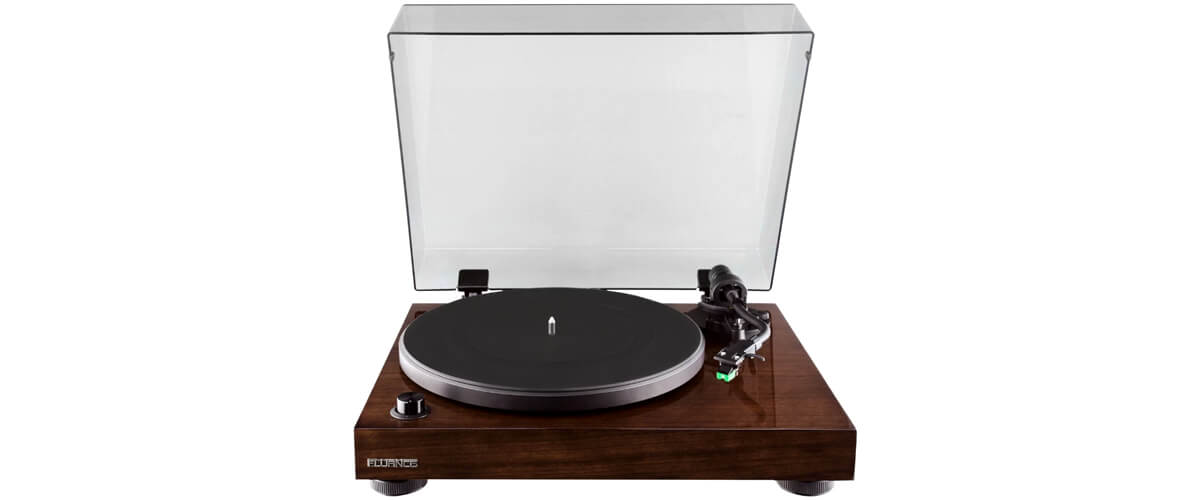 Externally, all turntables in the line resemble twins. The classic, or even retro, MDF plinth measures 5.5 x 16.5 x 13.75 inches and weighs 14.1 pounds, suggesting excellent stability and resistance to external and internal vibration. That's a great value for this price rank. Usually, inexpensive turntables are light and unstable, which requires additional weighting.
As for the other parts, they are also very good for the record player's price. For example, a heavy platter with a rubberized mat and an aluminum tonearm will last a long time. In addition, the S-shaped shape of the tone arm provides more precise hitting and sliding in the record's grooves than a straight one, which I would put in the advantages of the RT81 turntable. And the deck controls are simple and convenient. One single knob on the case changes speeds and turns off the vinyl turntable.
You'll find a dust cover included, which is easy to install. And I would also add that the turntable case is available in three glossy colors: Black, White, and Wood. I like it both externally and to the touch. It looks stylish and reliable.
Features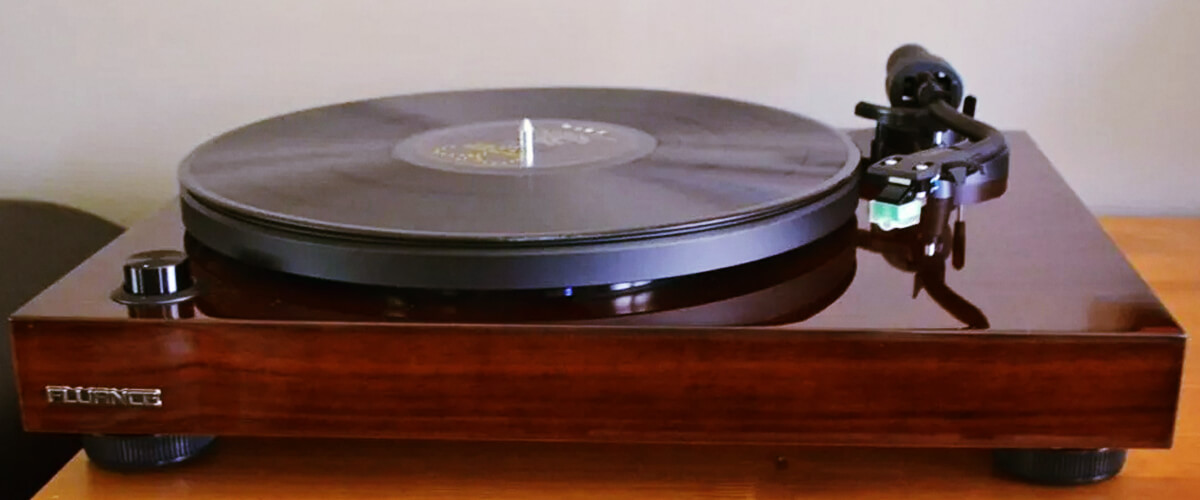 Speaking about the technical characteristics, it is worth noting that the RT81 has a built-in preamplifier. It's great from the point of view that when you take the device out of the box, you can immediately start using it. And also, if a budget was your priority when choosing a turntable, having a built-in phono stage will save you an additional investment. Of course, you will find a switch on the back panel that allows you to connect and use a better external preamp. Another thing worth mentioning here is that the RT81 has two record speeds of 33 1/3 and 45 RPM.
The wonderful tonearm I've already described comes with an Audio Technica AT95E cartridge pre-installed. And even though it doesn't initially offer you high quality for years, the upside is that it can be replaced. I should also note the presence of an auto-stop option, which stops the plate and raises the lever but does not put it back in place.
The deck has gold-plated RCA line outputs, which have a very good effect on the tone, giving it some warmth and softness.
As for the disadvantages, I would mention the poor quality grounding. As a result, you can hear a slight hum when operating, though not very loud. Of course, this disadvantage is insignificant for a turntable of this rank. In addition, you can do some manipulations with the grounding, thus reducing the unpleasant sound. And I have nothing else to "scold" the Fluance RT81 for. For its category, it offers excellent performance.
Sound
Let's not forget that the Fluance RT81 is a very inexpensive turntable. And as you may have noticed, the main parts that directly influence the sound quality are not the good ones. So it doesn't initially offer you audiophile sound. But to be fair, I have to say that it is very good. There are no blatant omissions, tinkling, or loud extraneous noise, as in many budget models. The sound is smooth and warm but not detailed enough. Nevertheless, by installing an external preamplifier and replacing the cartridge with a high-quality one, you can get a cool record player that will please you with its chic style for many years.
Key specs
Drive type: belt.
Operation type: manual.
Speeds, RPM: 33 1/3, 45.
Phono Pre-Amp: yes.
Speakers: no.
Bluetooth: no.
USB: no.
AUX: no.
The best budget Fluance record player is undoubtedly the RT81. In the original package, it does not show high achievements in sound. But that's not to say that the turntable sounds bad. Still, the manufacturer compensated for this with an excellent base, ensuring that the parts that wear out quickly can be replaced if necessary. Plus, you get a plug-and-play device.
Pros
Excellent case weight provides anti-resonance.
Easy to use.
Built-in preamp.
Replaceable cartridge.
Cons
Poor grounding produces a slight hum.
Fluance RT82
In this Fluance RT82 review, I will tell you about the second member of the brand's RT line. All five turntables of this series are similar to each other visually but have differences in price and equipment as the model number increases. And to better understand what this record player is, let's compare it to the first RT81 and the flagship RT85 to make it easier for you to decide if it is right for you.
Design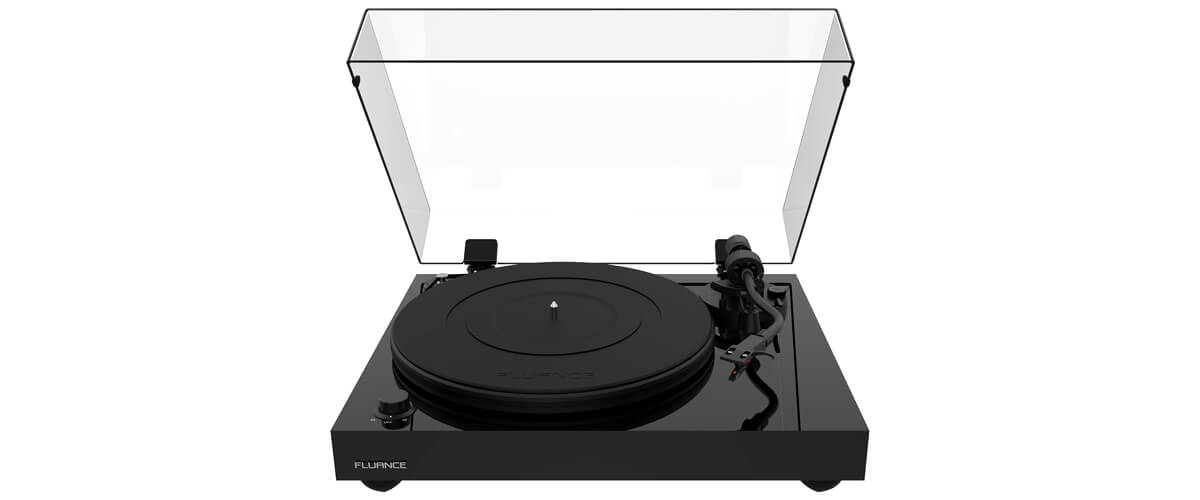 So, in addition to the three existing RT81 colors (Black, White, and Walnut), you can find Lucky Bamboo in the RT82 lineup. It should be noted that the turntable looks amazing in any color. I prefer the wood finish because gloss is, for me, the object of fear: the feeling that all your fingerprints will be a permanent attribute of the device. Perhaps that's why the manufacturer thoughtfully put gloves in the box. A plus to their karma for that.
Like the RT81, the case is made of MDF and weighs 14.99 pounds (the RT85 is even heavier, with 17 pounds). That's enough weight to dampen external and internal vibrations and not worry about deck stability. In addition, the insulated feet, an attribute of every row model, are also good helpers for balancing the vinyl turntable.
The RT82 turntable also has a heavy aluminum platter with a rubberized mat, while the RT85 has an acrylic platter. It's up to you to decide if that makes a difference. Sure, acrylic is a bit better, but I don't see the need to overpay. The tonearm has not changed either, and I am unspeakably happy about that. The S-shape is the one I appreciate the most for the accuracy of the action. However, there was added bubble level, which will make alignment of the tonearm even easier for you.
In terms of accessories, in addition to the acrylic cover, RCA cables, and adapters, the manufacturer included a 3-foot ground cable (probably improving the RT81's deficiency) and Motor Pulley Cover.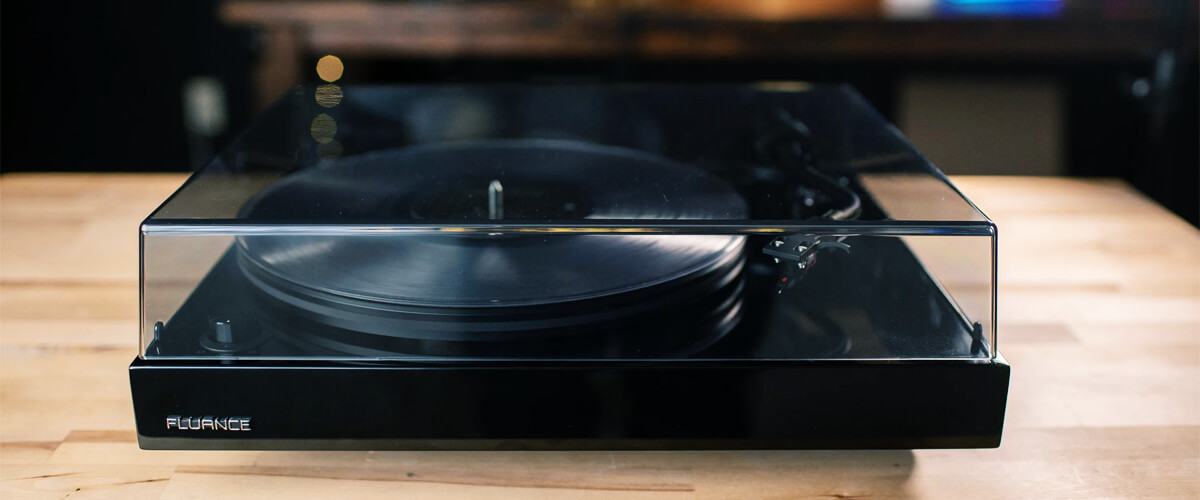 Features
Compared to the Fluance RT81, some changes in the RT82 in technical specifications positively affect the sound quality. First, the motor is separated from the platter, reducing some distortions. And also, the Ortofon OM 10 cartridge, which is not the greatest, increases the sound quality by order of magnitude, unlike the AT95E in the RT81, and offers the option of anti-skating. All this is among the advantages of the turntable that favorably distinguish it from the previous model.
Otherwise, the functions remain the same. These are the two speeds of operation 33 1/3 and 45 rpm. Also, the retained autostop feature is still semi-automatic and does not return the tonearm to the holder but only lifts it off the record.
What makes the RT82 special is that it has no built-in phono preamp. For such a price, I consider this fact a disadvantage. Because if you were budget oriented, you would have to splurge extra. But on the other hand, no built-in phono stage is better than almost any external one. And that means you'll get a much higher quality in your audio system. And, of course, I always recommend buying one and not using an internal one. So, take note that if you didn't take care of the extra purchase up front, you wouldn't be able to use the PT82 right out of the box. So, let's say that for little money, you get a turntable that can be perfected through additional investment.
Sound
As you may have already realized, the RT82 offers better sound quality than the initial RT81 model. Of course, this will ultimately depend on the other components of your audio system, but the initial configuration is worth a bit of an overpriced cost, in my opinion. Nevertheless, as many reviewers have noted, the turntable delivers a bit more bass than I'd like. I noticed that as well. Otherwise, the sound is warm, soft, detailed, and not tinkling on the tops. So, if you are not a sophisticated audiophile and buy a quality external phono preamplifier - you'll get a decent beautiful device for very good money.
Key specs
Drive type: belt.
Operation type: manual.
Speeds, RPM: 33 1/3, 45.
Phono Pre-Amp: no.
Speakers: no.
Bluetooth: no.
USB: no.
AUX: no.
This great Fluance turntable is essentially an improved RT81, which costs a bit more than its predecessor and offers better sound at the expense of the cartridge. Unfortunately, the deck is not a plug-and-play configuration, so it will require extra cost. Nevertheless, for the unsophisticated audiophile, the turntable will be a great base for an audio system.
Pros
S-shaped tonearm.
Ortofon OM 10 cartridge, which is replaceable.
Antiskating function.
Cons
No preamplifier built-in.
Autostop feature does not return tonearm to the holder.
Fluance turntables buying guide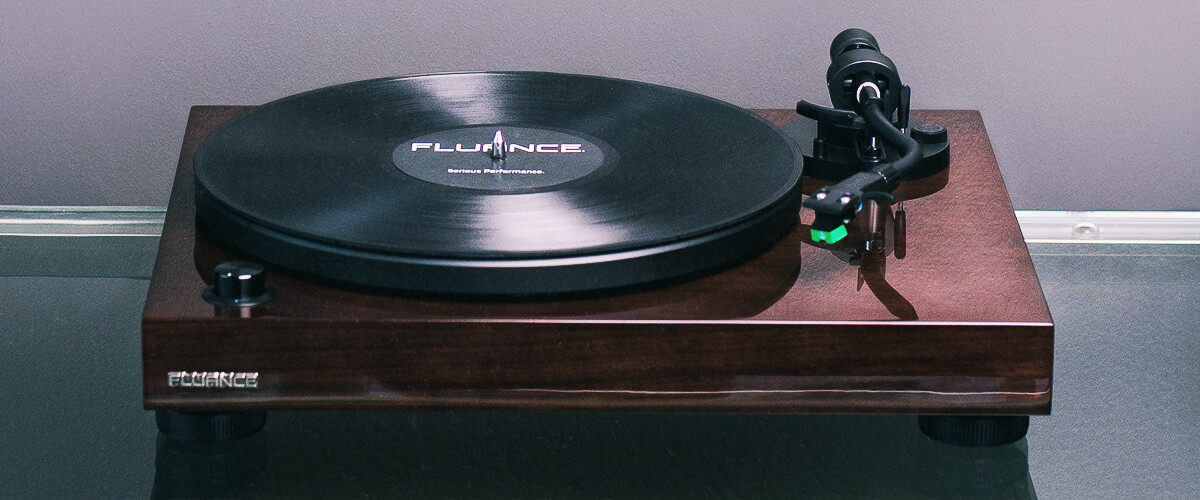 Purpose of use
When selecting a Fluance turntable, your intended use should guide your decision. If you're someone who enjoys the simple pleasures of spinning records at home, Fluance's belt-driven turntables are an excellent choice. These models are not only easy to use but also come equipped with high-quality components that ensure great sound. The aesthetic aspect isn't overlooked either; you get turntables that add a touch of retro flair to your living space.
For audiophiles with refined audio tastes, Fluance offers high-end devices with upgraded features. Advanced cartridges and acrylic platters are a couple of elements that elevate these models. The benefit? A significantly enhanced listening experience with clearer, richer sound.
Features and connectivity
In today's interconnected world, Fluance understands the need for multiple connectivity options. Several models come with Bluetooth capability, allowing you to easily stream your vinyl music to wireless speakers or even Bluetooth headphones. If you're keen on converting your analog vinyl into digital files, look for models featuring a USB output.
Having an inbuilt preamplifier can also be a deciding factor. This eliminates the need for an external preamp and allows you to directly connect the turntable to your speakers or amplifier. If you already have a home audio system, compatibility is key. Lastly, look for additional convenience features, such as auto-stop, that take the manual work out of your musical enjoyment.
Upgrade path
Future-proofing your investment is smart, and Fluance makes it easy. Many of their turntables offer the option to upgrade critical components like the cartridge or the platter. This is particularly advantageous if you see your audio journey as an evolving one. By choosing a model that is easy to upgrade, you ensure that your audio experience can grow and improve over time, just like your music collection.
In sum, whether you're a casual listener or a dedicated audiophile, Fluance offers a range of turntables that combine quality, style, and future-ready features. So, let your purpose guide you, but also think ahead; a Fluance turntable isn't just a purchase — it's a long-term investment in your auditory lifestyle.
FAQ
Is Fluance a good brand?
The Fluance brand produces quality and affordable turntables, does not skimp on important parts, and offers the function of replacing worn ones. The company's lineup considers such a factor as resistance to vibration, and the more expensive models use high-quality cartridges. Using its audio manufacturing experience, Fluance has focused on the basics, offering the customer with any budget the ability to upgrade turntables over time, resulting in a long-lasting decent unit. So yes, I can conclude that this is a good brand. And the proof of that is its popularity among vinyl connoisseurs.
Is the Fluance acrylic platter worth it?
Acrylic platters are considered to be optimal for vinyl turntables because they provide excellent grip on the record, even without the slip mat. Moreover, such a disk also improves sound quality through the smooth operation. So yes, the Fluance acrylic platter is worth it. And even if you can't afford to buy an expensive model with this part right away, I would recommend this modernization over time.
Is the Fluance RT85 an audiophile turntable?
The Fluance RT85 is the flagship model of the Reference line. It has excellent features from the start:
Anti-vibration design.
No low-quality built-in phono stage.
A high-quality cartridge that can be replaced.
Gold-plated quality RCA connectors
Moreover, the turntable can be upgraded over time. So yes, it can safely be positioned as an audiophile turntable.
Do I need a preamp for Fluance RT85?
All Fluance Reference RT82, RT83, RT84, and RT85 models do not have a built-in preamp. As far as the built-in phono stage will never be better than the
external preamp
, it will not provide high-quality sound. So yes, you will have to buy an external phono preamplifier.
Which Fluance player is good for beginners?
In terms of their characteristics, almost any Fluance model will be good for beginners. After all, they are semi-automatic, easy to operate, and install, so they do not require initial knowledge. But let's also consider the budget because beginning audiophiles usually do not want to spend much money on their first turntable. So then I should mention the RT81 model, which, unlike other models of the line, offers a low price without additional investments and a "plug and play" configuration.
We are supported by our audience. When you purchase through links on our site, we may earn an affiliate commission at no extra cost to you.
Our newsletter
* We will never send you spam or share your email with third parties